Who doesn't love a good plushie? Whether you are a kid looking to cuddle up with your favorite characters or an adult looking to add unique items to your collection, the truth is that plushies are popular items. The problem comes in trying to find quality without breaking the bank. Enter Symbiote Studios. 
A few weeks ago, the folks over at Symbiote Studios contacted us and asked if we would check out some new products they had coming out. Being big fans of anything pop culture, we, of course, said yes. Symbiote Studios currently has several different licenses with which they create plushies, pins, and t-shirts. They sent us a package that included four of those franchises. 
'80s Cartoon Classics
The first two plushies came from classic 1980s cartoons G.I.Joe and Transformers. Representing the Transformers in the line is everyone's favorite robot lieutenant, Bumblebee. Meanwhile, everyone's favorite evil despot Cobra Commander represents the G.I.Joe line. Both of these plushies are very high quality. The stitching throughout is tight, with no loose threads along any of the seams. Beyond the seams, each has its iconic symbols embroidered on them. Again, the quality of these is impeccable. They are accurate and perfectly embedded into the fabric. Both are designed with a weight in the bottom so they can easily be set on a shelf or desk without constantly having to reposition them. 
Beyond the high-quality craftsmanship, the designs are also spot on. Immediately upon seeing them, there is no doubt as to who they are. The colors of each are accurate to the source material. The metallic facemask of Cobra Commander is especially striking. Despite it being made of fabric, it has a metallic tint that is reflective. Even small details such as the tire on Bumblebee's back and Cobra Commander's two-tone cape are presented with care and quality. 
Video Game Characters 
The other two plushies came from the video game world. From the fan-favorite restaurant game Overcooked, we have Kevin the dog. Meanwhile, from the fighting game Rivals of Aether, we have Clairen. 
Once again, the craftmanship of both is obvious from the moment that you have them in your hands. The stitching is tight and there are no concerns of them unraveling. The stuffing within them is solid, creating plushies that are easy to pose. Kevin's dog tag makes him easily identifiable, and you are just waiting for him to judge your restaurant skills. Clairen comes with both a removable mask and a sword. The mask is held in place with an elastic strap, while the sword is held in place by magnets that have been embedded in the hand and sword. Again, the color choices are vibrant and make the features of the characters pop.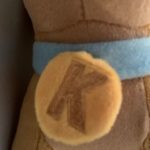 Of the plushies sent to us, three of them are 12 inches tall, while Kevin the dog comes in at 10 inches. The prices vary from $19.99 to $24.99. Each of them also comes with a high-quality enamel pin, and Clairen comes with downloadable content for the game. Overall, any fan of these franchises would enjoy these plushies. The care and quality that the Symbiote Studios team puts into them is obvious at first sight and becomes more pronounced as you check out their features. I would not hesitate to recommend these for anyone, be it an adult or child.