If you're like me, all you'll want to do for Valentine's Day is cuddle up on the sofa munching on your favourite takeaway and watching romantic films all night long. After watching some of my favourites over-and-over every year until I've watched them all to death, I decided to broaden my horizons and see what the far East had to offer. Care to join me? Here I present to you some of the best Romantic South Korean Films.
10. 200 Pound Beauty (South Korea, 2006)
IMDb rating: 6.9/10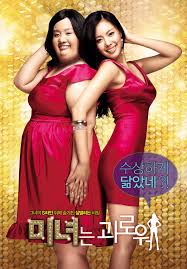 Plot: A talented but obese girl, who ghost-sings for a not-so-talented pop star, undergoes extensive plastic surgery to become a slender beauty with a new identity.
First Impressions: From the trailer it looks like a modern day version of Singing in the Rain. Even though I haven't seen the film I can already tell from the trailer that the film has some depth to it that may be overshadowed by the romantic side of it all. The film was a huge hit in South Korea when it came out so I cannot wait to see what all the hype was about.
09. No Breathing (South Korea, 2013)
IMDb Rating: 6.5/10
Plot: A gifted swimmer rediscovers his talent by entering a competition against his long-time rival after being in a swimming slump
First Impressions: This almost looks like a live-action version of the very popular anime Free! Iwatobi Swim Club. This is definitely on my must-watch list! There is plenty of eye candy in this film which I'm more than happy to admit is one of the main reasons I'm giving this film a go. From the trailer the film has some funny aspects as well. It looks like a really cute film so I cannot wait to give it a watch!! i'm also a massive sucker for a good bromance film and this film has bromance written all over it!!
08. Secretly, Greatly (South Korea, 2013)
IMDb Rating: 6.8/10
Plot: Three undercover North Korean agents live happily in South Korea while waiting for their order. One day, an unexpected order arrives, but it's not what they expected.
First Impressions: From the description, this film seems slightly ominous. Watching the trailer the synopsis doesn't give anything away and there is more to this film than meets the eye. The trailer gives the impression of 'Johnny English' esque caper. We see a undercover spy acting quite silly around his neighbourhood until he gets an order and then the trailer does a 180* and our silly little agent is doing handstand push-ups and is dripping with angst (as well as sweat). I haven't seen any romantic elements in the trailer so I'll have to watch the film as to why it's considered a romantic movie.
07. I'm a Cyborg, But That's Okay (South Korea, 2006)
IMDb Rating: 7.1/10
Plot: A girl who thinks she is a combat cyborg checks into a mental hospital, where she encounters other psychotics. Eventually, she falls for a man who thinks he can steal people's souls.
First Impressions: I've seen this advertised a lot at my local video store. I've always been intrigued by the cover but never read the back. Seems like a serious plot with serious themes, however in the trailer they touch upon them with absolute care. It seems sweet and touching without making too much fun and losing it's sense of purpose.
06. My Little Bride (South Korea, 2004)
IMDb Rating: 7.2/10
Plot: A teenage girl tries to continue her normal social and school life, after her grandfather forces her into an arranged marriage with a man in his twenties.
First Impressions: This is a serious issue for young girls around the world, how they've managed to turn a serious topic into a romantic film I don't know. I am intrigued to find out though. From all the reviews I've read people absolutely love the film, referring to it as 'cute' and 'I'm watching it again'. I couldn't find a trailer with English subs so I felt a bit lost watching it. At one point the female protagonist stabs the guy with a pencil and that made me laugh.
05. 100 Days with Mr. Arrogant (South Korea, 2004)
IMDb Rating: 6.1/100
Plot: Ha-yeong is dumped by her boyfriend on the 100th day of their relationship, an important milestone for every couple. Hyeong-jun is a wealthy and handsome man who melts women wherever he goes, but is not interested in dating. One day, as the later is driving his luxury car, the two will meet.
First Impressions: This looks really good! Our female protagonist isn't some damsel and she has some kick to her! From the trailer the film itself looks really funny and gives the impression of a non sexual version of 50 Shades of Grey, but you know, good. A must for this Valentine's Day.
04. Seducing Mr. Perfect (South Korea, 2006)
IMDb Rating: 6.8/100
Plot: A Korean company analyst rear-ends an American man's car then discovers he's her new boss. Unlucky at love, she begins to take romance lessons from him in order to seduce him.
First Impressions: This is taking the smooth guy to new heights. It looks really cute and our male protagonist is some good piece of eye candy! It was popular enough to deserve the sequel Marrying Mr Right.
03. Antique Bakery (South Korea, 2008)
IMDb Rating: 7.1/100
Plot: As an heir to the family fortune, Jin Hyuk has money, the looks, the charm, everything except finding the love of his life. So he sets up a cake shop where women are sure to come. He hires Sun Woo, a talented patisserie who had a crush on Jin Hyuk back in high school. Along with an ex-boxing champion Gi Beom and a clueless bodyguard Su Young, the four unique and handsome young men stir up the quiet neighborhoods at their cake shop, Antique. Although seemingly careless and happy, each of the four men have unforgettable past that they are afraid to face, but their secrets slowly begin to unravel.
First Impressions: I've seen this film before and I cannot recommend it enough. It's all fluff and humour with some really touching scenes, and the cakes look absolutely beautiful! Even though the trailer gives an impression of being cutesy and fluffy the film itself has a lot of thriller elements as well. They've also managed to stay true to the manga storyline and have crammed a lot in for 110 minutes which is great for any fan of the manga. It's a charming film with a lot of heart so please watch it this Valentine's.
02. Baby and Me (South Korea, 2008)
IMDb Rating: 6.7/100
Plot: A rebellious high school student sees his life take a strange turn when he goes to the grocery store and someone leaves a baby in his shopping cart, along with a note claiming he's the father.
First Impressions: This looks really cute and really funny. The relationship between the baby and our main protagonist appears so authentic! The trailer makes it look kooky, with some obvious plot twists. The little bubba seems absolutely precious!! I cannot wait to watch this film! Again didn't see any romantic elements so can't wait to see what happens there!!
01. Spellbound (South Korea, 2011)
IMDb Rating: 7.0/100
Plot: A magician meets a weird girl and offers her to work together in his magic show. It's only until a year later that he starts to know her personally and develops a feeling towards her despite her own problems.
First Impressions: Described as original and interesting, Spellbound is for those who fancy something different and something unusual. The girl can see dead people and she's at the end of her tether because of it. Again another strong female lead a very handsome leading man. The trailer makes it seem scary, funny and touching all in one go. You I cannot wait to give this film a watch!