Writer: Frank Gogol
Artist/Colorist: Nenand Cveticanin
Letterer: Sean Rinehart
Cover Artist: Criss Madd
Editor: Paul Allor
Publisher: Source Point Press
Being 14 is hard. Being 14 with a difficult home life is even harder. Ben, Amanda, Murphy, and Tank are four best friends who take care of each other and hang out in their club house. But when Ben is found drowned in the lake, having presumably fallen through the ice the morning after his birthday, Murphy is sure it wasn't an accident. It was murder.
Dead End Kids is set in 1999 and is steeped in '90s nostalgia. Chokers and slouch hats, music by The Offspring and Green Day, denim jackets over hoodies, and Y2K fears all evoke that turn-of-the-century-vibe that I remember from high school. The art style is bright with a good use of light and shadow. It works for the time period; just because it's a teenage murder mystery doesn't mean it needs to be all dark and brooding. The colors have a watercolor look that is really subtle and beautiful.
This first issue sets the scene and introduces the characters and their home lives. Right from the start, the narration tells us that these kids are from "screwed-up homes," and this remains something that comes back to again and again. While none of the characters' families are the Cleavers, there isn't the abuse and neglect that you might expect from such a pointed opening line.
Amanda's parents have become preppers in response to Y2K fears. Ben lost his mother as a baby and his father is still lost in his grief (making Ben the caregiver to his father and the group). Tank has a heart condition and parents who work long hours to keep the lights on. And Murphy is an orphan whose own grief causes him to consistently reject his foster parents' love and support. All of these kids come from loving, if sad and imperfect, homes and, as young teenagers do, have created a chosen family among themselves. It will be interesting to see how these dynamics change (and don't change) as the series goes on.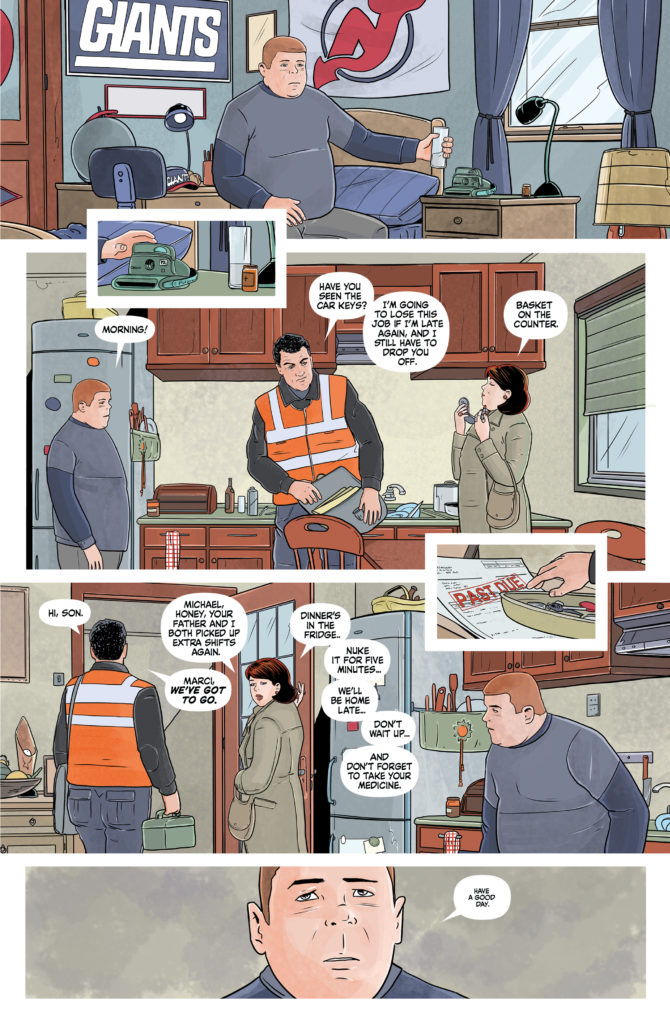 This all changes, of course, with Ben's death. The story sets up two possible suspects, but we won't find out more until the next issue.
---
Dead End Kids #1 hits comic shops July 24. In the meantime, check out The Comics Agenda podcast episode with the writer, Frank Gogol.