By the power of Netflix, Masters of the Universe: Revelation (2021) has arrived! The latest passion project from Kevin Smith, this new series acts as both a reboot and a direct continuation of the classic cartoon He-Man and the Masters of the Universe from Filmation. This series introduced viewers to the land of Eternia and its champion He-Man who, along with his magic sword and trusted friends, defended Castle Grayskull from the evil forces of Skeletor. Revelation honors the source material by respecting the past, acknowledging continuity, and even allowing the occasional reference to the much maligned live-action film.
The first episode, "The Power of Grayskull," is a solid opening chapter that hits a lot of the same beats as a classic episode, but delivers some twists and turns that fans will not see coming. As a result, it suffers from an odd balance of '80s nostalgia and darker, more modern storytelling sensibilities. What it does right, however, is deliver a game-changing last act that seemingly concludes the original cartoon's long-standing conflict, thus shattering any expectations long-time fans may have had. For more on the premiere episode, check out our spoiler-free review here.
With the exposition-heavy first episode out of the way, the series moves forward in time to an Eternia unlike anything we've seen before, one that is woefully out of balance. With Grayskull gone and magic all but depleted, Eternia's champions have disappeared and Skeletor's forces have scattered. Feeling betrayed by those she trusted the most, Teela has forged her own path as a mercenary for hire, accompanied by Adra, an equally tough but more optimistic warrior. When their latest job leads them to back to Grayskull, Teela discovers that the fate of all magic–and perhaps Eternia itself–is in her hands. What follows is a unique take on the getting-the-band-back-together premise, resulting in a surprising group of champions that consists of both heroes and villains. With the main cast in place, this motley crew sets off on their mission, pushing the narrative forward in some unexpected ways that are both fun and heartbreakingly tragic. Our heroes' quest ultimately leads to another earth-shattering twist that once again upends the status-quo and delivers a bone-chilling cliffhanger.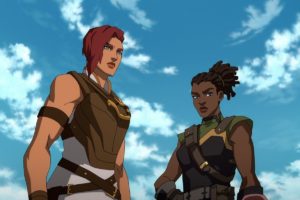 The spirit of both the original series and some dearly departed characters is kept alive through flashback sequences in each episode that ultimately tie into the present. These scenes are particularly enjoyable because they give us a glimpse of what the series could have been had it gone in a traditional direction. They're also a bit frustrating for the same reason; Smith and co. were not content with simply rehashing the old cartoon but also putting their own unique spin on a concept with the primary goal of selling toys. To that end, the showrunners are certainly successful – by keeping the main cast focused on a select few, they're able to give just about everyone some much-needed depth. Of particular note is Evil-Lyn, whose new allegiance allows for some delightfully unexpected developments, including a tense but relatable dynamic with one-time rival Teela, as both are powerful women spurned by seemingly more powerful men. In one of the series' best moments, the former(?) villain even manages to bond with Orko over their mutual loss of magical abilities.
Much like the seemingly random group of characters that feature most prominently, the cast is an odd, yet brilliant mixture of big-name stars and lesser-known, but supremely talented, voice actors. Bridging the gap is Mark Hamill, who is pitch-perfect as the villainous Skeletor. As his second-in-command, Evil-Lyn (Lena Headey of Game of Thrones) brings just the right level of snark and sophistication to the magical femme fatale, while Sarah Michelle Gellar (Buffy the Vampire Slayer) turns in a strong, heartfelt performance as Teela. Former Mac spokesman, Justin Long, turns in a surprisingly emotional performance as the emotionally-bereft Roboto, while Supergirl's Chris Wood rounds out the cast as both He-Man and alter-ego Prince Adam.
Masters of the Universe Revelation Part 1
Credits
Story Editor: Kevin Smith
Directors: Adam Conarroe, Patrick Stannard
Starring: Sarah Michelle Gellar, Lena Headey, Chris Wood, Mark Hamill, Tiffany Smith, Liam Cunningham, Griffin Newman, Justin Long
Network: Netflix