Bounty #2
Writer: Kurtis Wiebe
Artist: Mindy Lee
Colorist: Leonardo Oler
Letterer: Nate Piekos
Publisher: Dark Horse
Review by John Dubrawa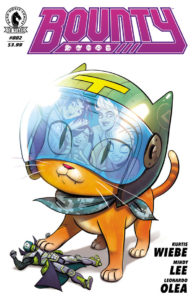 Bounty #2 is even more enjoyable than its predecessor, and that's saying something considering the strong start this new Dark Horse series from writer Kurtis Wiebe had last month. Where this issue benefits the most is from Wiebe's snappy dialogue, which creates an almost rhythmic banter between the characters throughout. It's only been two issues but I'm already enjoying the dynamic of the bounty hunting Gadfly sisters and their merry crew. I'm not entirely pulled into the narrative but Wiebe's characters are a heck of a lot of fun to read on the page, that's for sure.
Gadfly sister Georgie is the primary focus of this second issue as both the quip-heavy lead on the team's next bounty pursuit and later in the issue as a prisoner of her former crew. In the latter half of the issue we get to see a bit more about Georgie's past and like last issue, see the bond between the two Gadfly sisters as Nina must make a daring rescue. It's all adventure and action and sarcasm this issue, which is perfectly fine by me. Where the plot of this story so far hasn't quite got me on board, the idea that the Gadflys are supposed to be hiding their previous identities, yet seemingly anyone that comes across them immediately recognizes them, is a novel idea. Even when Nina uses a fake name on Georgie's captives, her rouse is immediately dissolved. Not to mention Georgie stopping to take a selfie with an admiring fan isn't exactly a way to stay on the down low.
Once again, Mindy Lee's art truly makes this title shine. Her characters are just as fun to look at as they are to read, and the colors provided by Leonardo Oler light up this world that Wiebe has created. There are times when Lee's panels can get a bit chaotic and the action is difficult to discern but overall the energy that she brings to this book is well worth having to look over a few panels more than once. Her art is part of what has me invested in this title.
The Verdict
Buy! Bounty #1 was great and Bounty #2 is even better. It's a lot of fun and the dialogue is what anyone reading a Kurtis Wiebe comic would want. As this series moves on the characters are becoming more and more interesting and I can't wait to see what's in store for future issues!