Serenity: No Power In The 'Verse #2
Publisher: Dark Horse
Writer: Chris Roberson
Letterer: Michael Heisler
Penciller: Georges Jeanty
Inker: Karl Story
Colorist: Wes Dzioba
Cover Artist: Dan Dos Santos
Review by Anelise Farris
The first issue of SERENITY: NO POWER IN THE 'VERSE introduced readers to Captain Malcolm Reynolds and his crew of wanted outlaws. For those not familiar with the television show Firefly (on which the comic is based), issue #1 did a nice job of providing necessary background information while also setting up a new storyline: the crew receives a call from an old friend in need of help.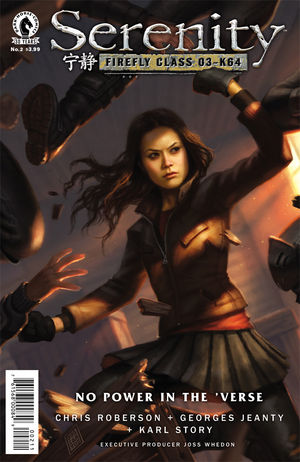 SERENITY: NO POWER IN THE 'VERSE #2 picks up right where issue #1 left off: Captain Mal and the rest of Serenity's crew agree to help their old friend Iris find a girl, Bea Quiang, who has gone missing—yet it is immediately apparent that this won't be an easy rescue. Travelling to the moon Burnet, Mal and his crew have little to go on, other than the name of someone that Bea was supposedly in contact with: Mericourt. Although Mericourt herself, a peacemaker with her own agenda against the Alliance, seems to be a safe ally for Mal and his crew—danger lurks elsewhere: is it simply coincidence that Bea, Iris, and River (one of the crew's own) are all ex-captives of Kalista's academy?
SERENITY: NO POWER IN THE 'VERSE #2 moves at a smart pace: introducing new elements to the storyline that heighten the stakes without overwhelming the reader. Also, although there is a whole lot of action packed into issue #2, the comic is balanced by thoughtful characterization and well-written dialogue. Although the art is fairly conventional, the page layouts and clean wide margins give the comic a more modernized, classic sci-fi feel.
Verdict: Buy it! There are a lot of fantastic space operas out there, but Firefly definitely tops the list. As I mentioned in my review of issue #1, this comic series does not require any prior knowledge of the show, and it does an amazing job of delivering a story that both hardcore Firefly fans and general comic readers will enjoy. Chris Roberson and his crew continue to deliver a fun, riveting ride through the 'verse!