UFOlogy: Volume 1
BOOM! Studios
Cover by: Colin Bell
Created & Written by: James Tynion IV & Noah J. Yuenkel
Art by: Matthew Fox
Colours: Adam Metcalfe
Letters: Colin Bell
Review by Insha Fitzpatrick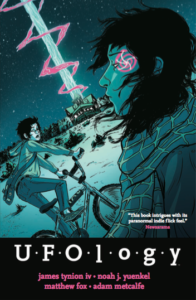 There's something special about a UFO story set in small town USA. It can be really good or it can be really bad. In the case of UFOlogy, it's really really good.
The story starts off with student Becky Finch as she tries to situate herself in the world. Daughter of the local sheriff, she's trying very hard to maintain a certain normal life that she wants and desires. The opposite of this is Malcolm Chamber, who wants to discover every single piece of information ever from beyond the stars. Son of a 'keep your head to the sky' enthusiast, he wants very much to discover what's out there and to get something he lost back. These kids are way too smart for their small town in Mukawgee, WI. It's only natural that two smart kids get tangled up in the messes of all messes of contact with aliens and government conspiracies.
The special thing about UFOlogy are the characters. James Tynion writes them in an entangled web going between the lies that they tell each other plus the truth that they can't deny. The relationship between family is a very important tool throughout the book. Both the kids are strung between parents and authority figures who are living in the past, looking towards the future and worries about the possibilities of what's around them.
The illustrations and colors by Matthew Fox and Adam Metclafe work in wonders together. They bring out the real small town wonders in a town overrun by alien activity. One thing I couldn't get over and absolutely have to talk about is the letters. When I first opened it up, the lettering made me want to read the story before anything. Colin Bell makes it his own. It's simple, but effective and not like anything I've personally seen in a comic before. It's even more effective when paired with Russ Chamber and his radio persona.
VERDICT
:
Buy It! UFOlogy reads like an X-Files meets a David Cronenberg experience. The body horror in this tale is out of this world when it comes to the aliens. UFOlogy has that great sci-fi thriller and mystery that everyone can enjoy, secrets that you'll want to find out and characters that hold the key to everything.