Wanna know the best thing about Halloween? It's not the candy, the monsters, the things that go bump in the night. Even though, those things are the best too. What's great about Halloween is the ghoul-ful, gore-geous and brutalicious abundance of horror movies that we get to dive into this year. Are these puns working for you? I hope they are. *wink*
We have so many different horror movies to choose from. There doesn't seem to be a lot of time to get through them all. Horror movies from kid-friendly or scare your pants off are the viewing goals when the leaves fall from the tree, and the spiderwebs come out. This Halloween, Netflix's got you covered with films in their databanks ranging from wholesome, friendly ghosts to "get that sh*t away from me" for our all-time favorite holiday.
So. this Halloween, hang out with your favorite coven, gather up your monster squad or curl up with those "Nightmare on Tequila Streets***," and watch these fantastic films and television shows already on Netflix. Follow the Ecto-1 by Netflix see what you can be watching. Happy Halloween!
***Someone please make that drink and DM me about your bad choices!
Check out these other gems they have to offer:
Coraline
Cast: Dakota Fanning, Teri Hatcher, John Hodgman
Curious young Coraline unlocks a door in her family's home and is transported to a universe that strangely resembles her own – only better.
Cult of Chucky
Cast: Fiona Dourif, Alex Vincent, Jennifer Tilly
Following a string of murders in the asylum where she's confined, Nica Pierce begins to wonder whether Chucky is real after all.
**Gerald's Game – Netflix Original

Cast: Carla Gugino, Bruce Greenwood, Henry Thomas
When her husband's sex game goes wrong, Jessie – handcuffed to a bed in a remote lake house – faces warped visions, dark secrets, and a dire choice.
Check out Michael's review for Gerald's Game here!
Hush
Cast: John Gallagher Jr., Kate Siegel, Michael Trucco
A deaf writer who retreated into the woods to live a solitary life must fight for her life in silence when a masked killer appears in her window.
I Am the Pretty Thing That Lives in the House – Netflix Original
Cast: Ruth Wilson, Bob Balaban, Lucy Boynton
A nervous nurse who scares easily finds herself caring for an ailing horror novelist while living in a house with hidden secrets.
Little Evil – Netflix Original

Cast: Adam Scott, Evangeline Lilly, Bridget Everett
In this horror-comedy, a recently married man who wants to bond with his stepson begins to fear that the boy is a demon.
Little Witch Academia – Netflix Original
Cast: Megumi Han, Fumiko Orikasa, Michiyo Murase
Akko's unconventional ideas don't go over well at the Magical Academy, but when a dragon is unleashed, she may be the only witch who can save the day.
The Bad Batch
Cast: Suki Waterhouse, Jason Momoa, Keanu Reeves
Banished to a wasteland of undesirables, a young woman struggles to find her feet among a drug-soaked desert society and an enclave of cannibals.
This Is the End
Cast: James Franco, Jonah Hill, Seth Rogen
Playing themselves in this witty black comedy, Seth Rogen and a bevy of Hollywood notables are stuck together at a party when the apocalypse dawns.
What We Do in the Shadows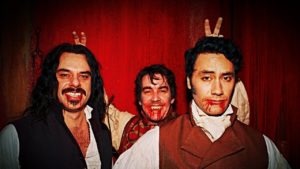 Cast: Jemaine Clement, Taika Waititi, Jonny Brugh
Vampire roommates struggle with the conflicts of sharing space, adapting to modern society and dealing with too much natural light.
Zombieland
Cast: Jesse Eisenberg, Woody Harrelson, Emma Stone
Looking to survive in a world taken over by zombies, a dorky college student teams with an urban roughneck and a pair of grifter sisters.
1922 – Netflix Film
Cast: Molly Parker, Thomas Jane, Dylan Schmid
A farmer pens a confession admitting to his wife's murder, but her death is just the beginning of a macabre tale of guilt-driven psychological terror.