"If I asked you, really, really nicely….would you be my new BEST FRIENDS?"
Doctor Who Series 11 makes its presence known in the wake of a thunderous Hall H debut for the new cast. Thirteenth Doctor Jodie Whitaker, new showrunner Chris Chibnall, and new companions…erm, excuse me BEST FRIENDS Tosin Cole ("Ryan"), Mandip Gill ("Yasmin"), and Bradley Walsh ("Graham") took the stage today. Then, promptly unleashed this lovely ray of starshine onto the internet.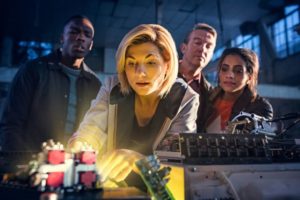 The teaser itself is very much that. It really doubles down on the character focused and whimsical tone of Whitaker's reveal. I, for one, am all the hell about it. She also gets to use her real accent! Her incarnation seems to be a bit more of a goofball. More in line with maybe Matt Smith's 11th incarnation or (god hopefully) some classic Docs like Two or Seven.
It left this Whovian crying at LEAST twice just on mood and Jodie Whitaker's luminous smile alone. The cast and Chibnall were also kinda tight-lipped during the panel as well. Highlights of the panel included a look at the new Sonic Screwdriver, which looks kinda organic, with a slightly more ergonomic design.
New showrunner Chris Chibnall ("DINOSAURS ON A SPACESHIP" IS FUN, FIGHT ME, NERDS) also promised lots of "new monsters" (probably the reason Team TARDIS2k18's antagonists this series were absent from the teaser) and a nice balance between CG and practical effects. What's Doctor Who without a few rubber suits?
But perhaps the best and most heartwarming moment came when the Time Lady was asked what the character meant to her. She replied that the "Doctor is a pillar of hope, striving for brightness and inclusion." THAT is Doctor Who. I have a feeling we are in for precisely the kind of series that we need right now from this Doctor and her Best Friends.
Series 11 is expected to debut sometime in the Fall on the BBC and BBC America.
Check out the new Doctor Who Series 11 trailer below!