FAST & FURIOUS PRESENTS HOBBS & SHAW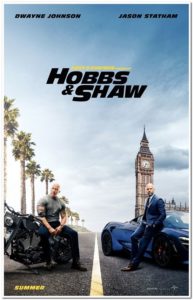 Starring: Dwayne Johnson, Jason Statham, Idris Elba, Vanessa Kirby, Helen Mirren
Director: David Leitch
Writer: Chris Morgan, Drew Pearce
Studio: Universal Pictures
As a self-proclaimed film snob, I have a guilty pleasure for mind-numbing action movies. Ones similar to 1985's Commando that include a ridiculous plotline, a muscle man, and all the explosions and stunts my little heart desires. I'm here for it! One of the most popular franchises of this sort is the Fast & Furious series. With 18 years under their belt, they've now taken it to another level by making a spin-off aptly titled Fast & Furious Presents Hobbs and Shaw.
The film pairs two fan favorites Deckard Shaw (Jason Statham) and Lucas Hobbs (Dwayne Johnson) in something closely resembling a buddy cop, action-comedy from the '80s, with all the similar nuances but stylized with the CGI and special effects the 21st century has to offer. The chemistry between these two is fantastic! In the movie both hate each other so much but are proud and professional enough to get this assignment done by working together to save the world. However as actors you can tell they enjoy working with each other, and it shows on camera.
If you've seen the progression of the Fast & Furious franchise, then you know what you're getting yourself into with this one. Since Fast Five, this franchise is sillier, weirder, and more ambitious. Some things don't change like the amazing stunts, action sequences, an A-list cast, and, of course, a terribly ridiculous storyline. Some things like having more comedic moments and, of course, the cameos help. Fast & Furious Presents: Hobbs and Shaw doesn't shy away from any of this what-so-ever!
Let's break down this plotline first. Similar to Mission: Impossible II (2000), it involves a deadly virus with the code name "snowflake" that could kill the entire human race if it falls in the wrong hands. Like MI2, there is also a carrier that gets involved and compromises this situation even more. Now, it is up to our heroes to figure out how to extract this virus and save the carrier and be super badass and cool about it.
In between that, they weave in some themes of family with Shaw having an estranged sister named Hattie (Vanessa Kirby). She is also some secret agent of her own. Hobbs is also not able to help his daughter Sam with her family tree project due to his estrangement from his family. Then, there is Idris Elba in the mix playing the one-dimensional villain, but he's amazing at it. His purpose in the film is wanting to start a race of advanced humanoids and revenge against Shaw.
The beauty of Hobbs & Shaw is that you don't need to see any of the past Fast & Furious movies to follow along. From the beginning, they introduce Hobbs and Shaw as an odd couple of agents who attract trouble everywhere they go. There is this cool introduction of both waking up and going along with their day in dual screens that push how different these men are from one another. It's fun. It's exciting and action-packed from the start. With lines like "I'm about to open a can of whoop-ass" and "I'm bringing the cham-PAIN," you can't help but turn off your brain a little, lean back, and enjoy it for what it is.
My only real complaint overall is I do feel like the film is longer than it needs to be. No action movie needs to be 2 hours and 7 minutes long. At one point after a massive action sequence had ended, I thought the movie might be wrapping up. Then it started up again in almost a second chapter-like fashion that tied in the family theme they has alluded to at the beginning.
That said, the action sequences are ridiculous and stupidly self-aware. We see some pretty fun car chases and a lot of endless punching in both normal speed AND slo-mo. There's also a crazy action sequence that involves a bunch of muscles cars (and Dwayne Johnson's muscles) taking down a helicopter. The fighting choreography is superb. Director David Leitch doesn't shy away from referencing his previous works like John Wick, Deadpool 2, and Atomic Blonde in the mix. I can't blame him either! All three films are equally incredible of this genre as well.
Where the film fails—–besides its length—–is the final bit where the characters end up in Samoa and Hobbs has to confront the family he has lost touch with 25 years ago. While Hobbs's mom Sefina (played by Lori Pelenise Tuisano) steals those scenes wonderfully, the whole thing feels like an afterthought. I did enjoy the Samoan third-act showdown. Guns are traded for traditional war weapons, and a Siva Tau (the Samoan Haka) is done in place of a smack-talk before the big battle begins. It's a unique turn of events not usually embraced in a typical Hollywood action blockbuster.
Fast & Furious Presents: Hobbs and Shaw is full of planes, Dwayne, and automobiles with a Samoan Skyfall. It's a perfect mix of summer blockbuster fun and mind-numbing action. I was sufficiently satisfied and am looking forward to the next one … because if you stay for the credit scenes, you know it's not over yet.
Fast & Furious Presents: Hobbs and Shaw
Dwayne Johnson's muscles
10.0/10
Credits
Blockbuster of the summer
Several scenes of Dwayne Johnson shirtless
Vanessa Kirby kicks ass and holds her own
Great chemistry between Hobbs and Shaw
Credits (cont)
Terrible storyline that's been done before
Vague theme of family
Too long