The Pride Comics is a little gem of a comic that I've managed to pick up in a few Comic Cons in the United Kingdom. Introduced to me by fellow Rogues Portal buddy Huw, I've managed to collect all 9 Issues of the comic and they're all bloody fantastic!!
About
In a world populated by superpowers, the average superhero is a common occurrence, however for the comics main protagonist 'FabMan', he feels that the representation of his people and his community is divided and that his heroic hard work is seen as more of a joke than anything else and that those who admire is courage and bravery are targeted by the ignorant. Instead of sitting down and doing nothing about it, he decides to take a stand and fight his cause a change people's mindset, in which he forms PRIDE, the world's premier LGBTQ supergroup!! Not to be mistaken as a gay super team, but a superhero team whose members are LGBTQ. Of course, the reality is, nothing is plain sailing.
The Pride Comics is a little gem of a comic that I've managed to pick up in a few Comic Cons in the United Kingdom. Introduced to me by fellow Rogues Portal buddy Huw, I've managed to collect all 9 Issues of the comic and they're all bloody fantastic!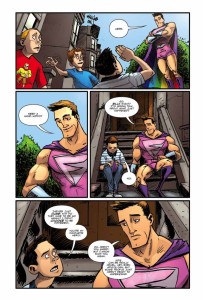 Characters
There are a wide variety of characters within the comic all of whom differ in personalities as well as their powers!! Here are some of my favourites;
FabMan – The main protagonist of the whole series, FabMan (Stephen Wainwright) is a powerful, larger-than-life character who would do anything for his community and when he sees the chance to do good and make a change, even if it means facing extreme scrutiny he'll take it, hence how 'The Pride' is born!!
Twink – Twink is probably my favourite character from the series since he's such a little sweetie!! Real name Owen Mercury, the metal skinned lad has been in awe of the many superheroes around him, whom have inspired him to be a hero himself. When he finds out that FabMan is setting up a team, he leaps at the chance to prove himself.
White Trash – Again, another one of my favourites due to his kind nature. Wayne Mathers fought against the bad influences in his life and there were many; his father was a drunk, and his neighbours were criminals and drug addicts. He is considered a local hero among kids by showing them there is more that what everyone want you to be. White Trash isn't considered your typical gay guy, and is a tad fed up with people assuming he's straight and not being able to change people's views on the LGBTQ so he's more than happy to join FabMan on his quest.
Frost – MY GOD this woman (ABSOLUTE QUEEN). A cold personality which suits her ice powers down to a tee, Frost can be seen as, well, a bit of a bitch, however deep down she is just as warm and passionate as the rest of the clan. Despite her attitude she does want to make the world a better place and educates every wrong-doer she meets.
Wolf – In my view, the hunk of the series. Wolf is multi-billionaire industrialist Brian Wilde. Wolf is a non-powered hero however that doesn't stop him blowing people away with how capable he is despite his lack of power. He can take on opponents whose strengths far exceeds his own.
Artists
Of course there are many artists involved in The Pride Comics that writing about each and every one would be another 600+ words but obviously they cannot be ignored so here they are with some links!
Artists involved include:
–Gavin Mitchell (Stiffs)
-Dan Harris (Lou Scannon)
-Hector Barros
-Kendall Goode
–Christian Wildgoose (Porcelain)
–Joshua Faith (Just Another Sheep)
–Kris Anka (Uncanny X-Force, A+X, Age of Apocalypse, Glory, The Hypernaturals)
–Cory Smith (Legend of the Shadow Clan, The Independents)
-Jack Lawrence (Tinpot Hobo)
-Jack Davies
–Marc Ellerby (Chloe Noonan, Ellerbisms)
-Kris Carter (Lou Scannon)
The Creator
Joe Glass is the creator and writer of The Pride and one hell of a lovely bloke! Joe has worked on non-fiction and written for many magazines including Gay Times Magazine. He also co-writes welsh horror comedy comic book, Stiffs. I've never met anyone soo passionate about his work before and he's just a lovely lovely person.
Opinion
I'm in love, and I mean, IN LOVE with this The Pride comics due to it's mixture of fictional situations with real life struggles. I found some areas of the comics slightly triggering, I could feel my blood boil whenever a villainous character would use the term 'faggot' as a means of provocation as well as the general ignorance of the public who didn't want the help from gay superheroes. Unfortunately this dumb idiocy happens every day and this comic might bring light to it for some people (even though, it's something most people should be aware with by now). I also love the variety of artistic interpretations and styles you get in just one comic! Issue 5 is undoubtedly my favourite issue as it's a collective. I remember being informed that they couldn't find one artist who could commit to drawing the whole comic so they gathered an array of artists, all of which have different styles which bought about one tight issue!!
The message of The Pride comic is simple yet powerful – Superheroes are everyone!! Being a superhero isn't limited to just one sexuality, heroes are everyone; gay, straight and everything and anything in between.
If you, or someone you know are effected by any issues raised in the Comic please please PLEASE lend them your ear or a shoulder to cry on.  Please visit the International Helpline website for help near you.