The Prince and the Dressmaker
By Jen Wang
Published by: First Second
Review by Stephanie Cooke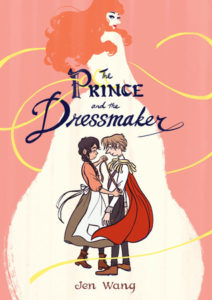 Let me start by telling you right off the bat just how much I adored this story. I didn't know what to expect going into it. When I dove right in, I was beyond pleasantly surprised by what I found.
The Prince and the Dressmaker is the story of a young woman named Frances who longs to be a designer of beautiful dresses. One fateful day, she makes a dress for a young woman to wear to a ball— something that makes a statement. That dress changes Frances' life forever and brings her to Prince Sebastian.
The Prince loves beautiful dresses and loves wearing them but as someone in the spotlight doesn't know how to show people who he truly is. Frances helps make unique designs for him so they can go out in secret and live a double life where Sebastian can be who he wants to be.
It was so wonderfully told. The emotional journey for Prince Sebastian made me cry. I couldn't help but think about how many people this book will help if they get their hands on it. It is such a relatable story even if you're not going through the same thing as Sebastian, or even Frances. In the case of Sebastian, many have gone through a similar journey where they didn't feel as though they could or would be accepted for who they are. We all feel that way. Would someone love us still if they knew who we truly are?
Sebastian's tale, however, is one that is extra relatable as the conversation regarding our sexualities becomes something more regularly discussed day to day. More and more amazing people are coming out in the LGBTQ+ community. Stories like The Prince and the Dressmaker may help some of those people realize that they're not alone in how they feel about their bodies and how they choose to identify. It's a beautiful book that celebrates diversity and throws gender norms out the window in the best possible way.
Jen Wang worked with Cory Doctorow on the fabulous book In Real Life which came out a few years ago. I'm so happy to see her work again in this story that tells such a heartwarming story. Wang is such a gifted illustrator that truly shines here as she tells a story that she feels so passionate about.
Wang's characters are so perfect. Each dress design that Frances designs for Sebastian makes a unique statement and embodies what's going on around him in so many ways. There's a stunning butterfly dress near the end of the book that demonstrates Sebastian's full transformation into his true self. He realizes that he doesn't have to pick between loving himself and being loved by others.
Verdict:
Must buy! The Prince and the Dressmaker is a story about loving who you are, no matter what form that comes in. The story also shows how hard it can be to be yourself when you're unsure of how those around you will react. Those who truly love you for you will always be there by your side, accepting you as is.
The Prince and the Dressmaker will be out on February 18, 2018. You can pre-order your copy here.