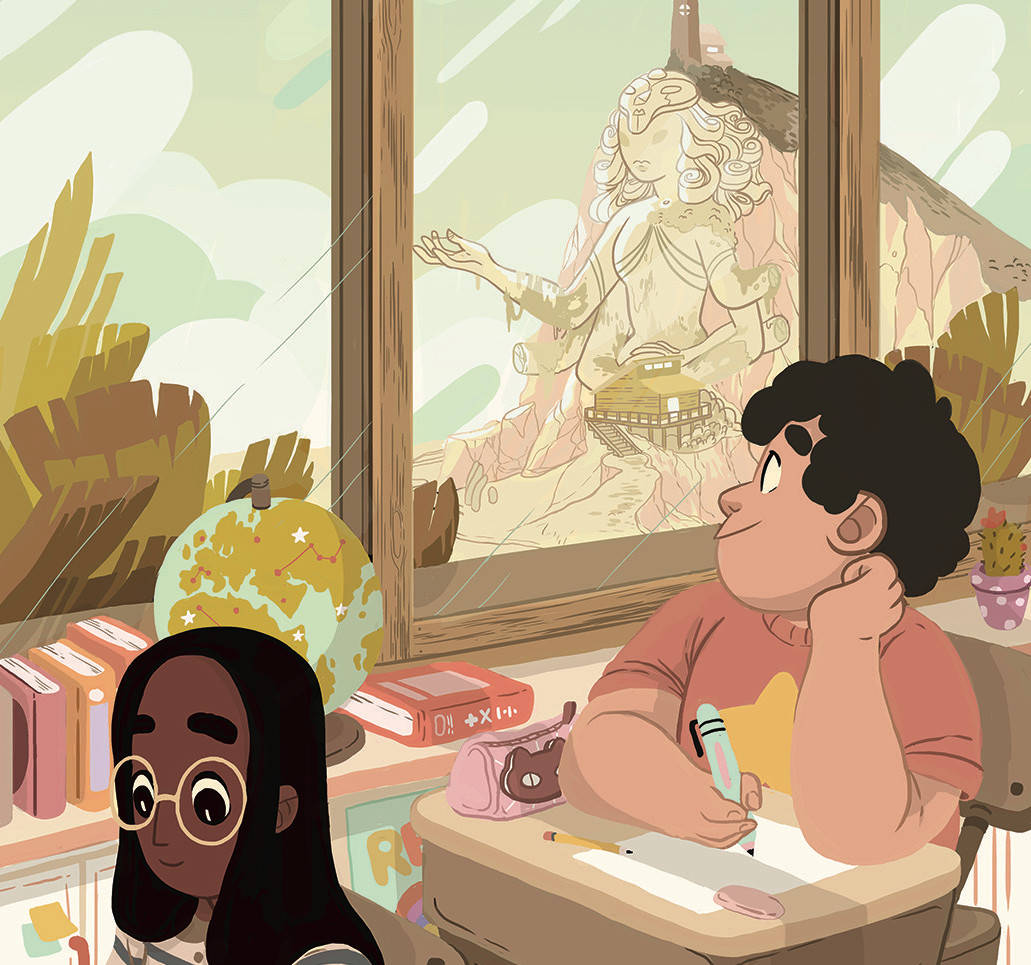 Steven Universe: Too Cool For School
Kaboom! Studios
Cover by: Rosemary Valero-O'Connell
Created by: Rebecca Sugar
Story by: Ian Jones-Quartey
Written by: Jeremy Sorese
Illustrated by: Asia Kendrick-Horton with Rachel Dukes
Colours & Letters: Leigh
Colors by: Andy Leigh R
Review by Insha Fitzpatrick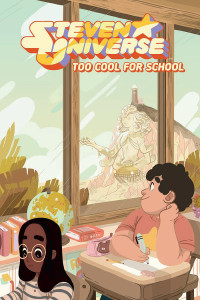 Steven Universe goes to… SCHOOL? In Steven Universe Too Cool For School, Steven Universe is looking for something to do. Steven wakes to find The Crystal Gems too bored or busy to provide him with enough anything to do for the day. The mission that he woke for will be a bust until night. So, Steven has to look for other sources of entertainment. When he arrives at the bus stop with Lion, he meets Connie as she heads off to school. Steven decides the best thing he can do is spends the day with her in the classroom as a person Show and Tell. Steven spending time in school isn't only a great opportunity for him to learn more, but it's an opportunity to see a side of life he's never seen before. Once he's there however, things are not all as they seem, but it's such a fun ride.
If you've seen Steven Universe on Cartoon Network, this comic book is a fun take on the show! The story is by Ian Jones-Quartey who is the executive productor and written by Jeremy Sorese. The story is not only a cute and clever way to integrate another piece of human life into Steven's Crystal Gem one, but it's a chance to see how Steven really interacts with authority figures who don't understand his way of life. Steven Universe TCS is filled with authority figures who don't listen, students he doesn't quite understand (but very much wants to) and a big problem that only he and the Crystal Gems can fix. The most interesting thing about Steven Universe: TCS is that we get to see a bit more of Connie's world. What groups, issues, teachers and classes she has to go through on a daily basis. Whenever Connie's involved in an episode of Steven Universe, she's the star of the show, this comic book makes no exception. 
The illustration by Asia Kendrick-Horton with Rachel Dukes fits into the world of Steven Universe. It's playful and they do a spectacular job in keeping the spirit of the show alive. As much as I loved the illustrations, the colors really make them pop for me. When I'm reading an All Ages comic, I love being sucked in my the colors and this comic definitely sucks me in. Leigh Luna does an amazing job setting up this world rich in pastels and naturals. 
VERDICT
:
Buy It! This comic felt like an episode, which all the Steven Universe comics tend to do. They allow you to dive into a side story of one of Steven's many adventures as a Crystal Gem. Steven Universe Too Cool For School is a short, sweet and lighthearted story for Steven Universe that keeps you on the edge of your seat to see what will happen next.