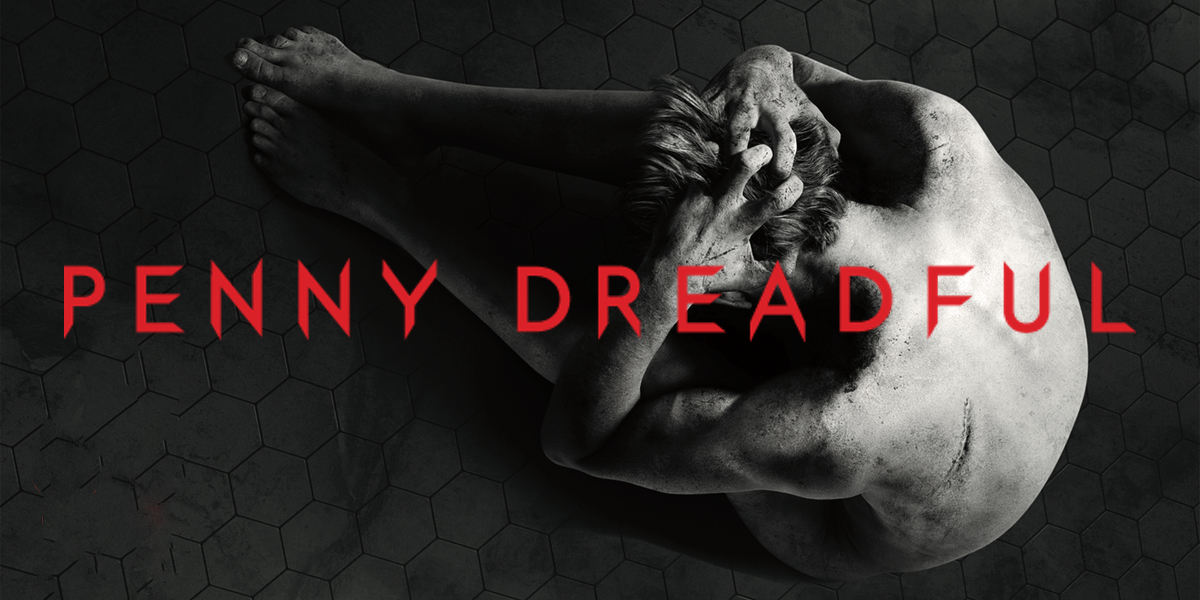 Penny Dreadful, the critically acclaimed horror drama from across the pond, premiers on May 1st with an eagerly anticipated Season 3. The show has gained widespread appeal, from its use of characters from classic horror literature, to its lavish Victorian scenery and costumes, not to mention the easy-on-the-eyes cast of leading characters. It's beautifully shot and executed, and even some of the bloodiest scenes are gorgeously portrayed and somehow mesmerizing to watch. The cast is stacked with talent and well-known names, and the dialogue is rich with poetic brain food which, let's be honest, sounds so much better spoken with true British accents.
For those of us who know and love the show, we're ready. Been ready. I've pulled my black lace choker from the bottom of my jewelry pile and bought some extra eyeliner. Bring it, Showtime. For those who love horror and drama and literature, and have not seen the show, I suggest you do as the title suggests and binge your heart out until May 1st. There's still time but you must start…. Now!
SEASON SUMMARIES
Season 1 focused primarily on Vanessa Ives (Eva Green), a mysterious and enviously stunning woman, who is in search of her missing friend, Mina Harker,  a main character from Bram Stoker's Dracula. She lives with Mina's father, Sir Malcolm (played by Timothy Dalton),for reasons which are complicated and dramatic and explained in a NSFW flash-back episode that I shall not spoil. The two believe Mina has become the unwitting servant of an inhuman and evil creature, and enlist help in finding her from Ethan Chandler (Josh Harnett), a traveling gun-show performer; Dr. Victor Frankenstein, from the Mary Shelley novel ( played by Harry Treadaway); as well as Mr. Harker's trusty servant and companion, Sembene. There are so many rich and deeply woven plots and subplots, including several prominent characters such as the scandalous Dorian Grey, of Portrait fame(played by Reeve Carney); Frankenstein's monster, who has named himself after the poet, John Clare ; the prostitute and  love interest of Ethan Chandler, Brona Croft, (played by Billie Piper) formerly of Dr. Who; and  a myriad of intriguing supporting characters. Over the course of the season, a much darker force is revealed to be at work, and Mina's disappearance is found to be simply the beginning of an epic battle for heaven and hell, of which Vanessa is the key.
Season 2 revisits Vanessa's past, and her stay years ago with a witch known as the Cut-Wife (Patti Lupone) due to her performing abortions on downtrodden women . What Vanessa learned from the old woman inevitably comes in handy (though at a price), as a family of witches now torments Vanessa for reasons that come to be fully known in the absolutely EPIC season finale. Speaking of…the final scene of the finale will tear apart your heart and it makes me bawl like a baby. Every time of the twenty or so times I've watched it, comparable only to my frequency in watching the final fight scene in Hannibal and the battle at Hardhome from Game of Thrones. Season 2 also focuses on Lily – the latest creation of Dr. Frankenstein, an ambitiously viscous witch on the loose, and a twisted love story of quite an unholy coupling. Thus, some really serious s**t is set up to go down in Season 3.
If in doubt, here is the latest trailer.
So. It appears that Penny Dreadful shall return with a glorious Gothic vengeance. Also, Patti Lupone returns as a new character and OH! There's going to be some Jekyll and some Hyde. Nuff said, yes?
I'm not going to recap every episode from seasons 1 and 2. Rather, I'd like to highlight some of my favorite scenes from the two seasons, chosen for either their exquisite wordery, badassedness, beautiful creepiness, or for all three. There will be spoilers!
Here….some defining moments from seasons 1 and 2 for your eyes to devour and your brain to be blown.
SEASON ONE 
This scene depicts the gentle and literally poetic soul of the misunderstood  John Clare. Make no mistake, he is prone to violence when he's angry, Hulk-style. But he's prone to beautifully crafted speeches when he's not. Pay attention, gentleman! Get your pro tips from John Clare! He may be a monster, but spontaneously reciting eloquent musings on the nature of life and suffering is the new sexy.
This scene is the first in which we realize there is more to Vanessa Ives than meets the eye. Through an eerie series if events, Sir Malcolm's past transgressions are unexpectedly and terrifyingly revealed, and his vulnerability and shame in the face of exposure is almost uncomfortable to watch. This scene also establishes Vanessa as a real badass, demonically speaking. Did I mention the show can be a bit over-the-top?
SEASON TWO
This is the most stunningly and morbidly beautiful use of blood I've ever seen. It's like something out of a psychopathic young girl's daydreams of romance. I love it.
The set up for this scene is too convoluted to explain properly, but basically Vanessa is meeting Lucifer, a creature cast from heaven who wants her as his  bride in order to regain power. Yes, the lord of darkness takes the form of a puppet in Vanessa's image, and the two of them duke it out in a mystical battle will and power. It also has my two favorite lines….
….."I know what I am – Do you?" and  "Beloved, know your master." Dude, Vanessa HOUSED Lucifer!  Don't screw with Vanessa.
WHY YOU SHOULD WATCH
As I said, Penny Dreadful can be somewhat over-the top with the shock value and doesn't shrink from gore, explicit situations or emotional speeches. However, the richness of the setting, depth of characters, references to ancient lore and mythologies, and the seamless use of classic literary figures in such a creative manner, sets it wholly apart from other shows in the same genre. Eva Green is fearless in portraying her character in less than flattering situations in which her beauty is barely recognizable. She truly looks like the shell of a human at her worst and it's wonderfully appropriate. The soundtrack, by the way, is exquisite- if you like creepy and dramatic orchestral scores.
By far, the greatest achievement of Penny Dreadful is that all of the protagonists are seriously flawed. Seriously. It's this complexity of character that makes the show so intriguing, and forces us to examine what makes a person or action good or evil, or both. The show throws a lot at us – drama, romance, sex, violence, demons, witches, vampires, talking puppets, and a battle for the soul of humanity. Somehow, though, it is presented with such garish finesse, such raw refinement, we gladly relinquish our disbelief to hang for a while in the expertly crafted world of Penny Dreadful.
Okay….. here is the scene that shatters my soul….
I'm going to go weep softly in a corner now.
Penny Dreadful, Season 3 premiers May 1 on Showtime.