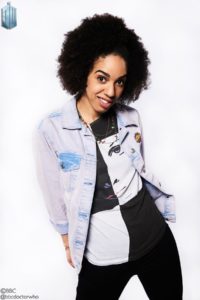 Doctor Who fans, rejoice! Probably the most important news about 2017's Series 10 has come out with the announcement of Pearl Mackie joining the program as new companion Bill!
Pearl Mackie seems to be an absolute newcomer to audiences, with her IMDB page currently listing only two roles, though her stature is about grow tremendously with the announcement of her casting on one of the most important television shows on the planet.
Her casting is a great step forward for the show, making one of the show's two leads a person of colour for only the second time, with the first being Freema Agyman as Martha during David Tennant's run as the Tenth Doctor in 2007. Hopefully Bill is able to stick around a little longer than Martha's one season and help the series keep the modern, inclusive voice it seemed like it was truly beginning to develop in Series 9. At the very least, it looks like Bill's going to be a very different character than Clara. A teaser has also been released, showing a bit of Bill's personality as well as some hints as to her relationship with the Twelfth Doctor:
The teaser, currently only available on the BBC's website, can be viewed HERE
While we know very little about the character so far, the teaser is titled "A Friend From The Future" and the imagery in the teaser may possibly hint at this new companion being from a future time period herself rather than 21st century England where all previous New Series companions have sprung from to date.  This is amazing news and surely an element that Peter Capaldi's Twelfth Doctor can play off of marvellously. Though as well as hints at being from the future, Bill's wardrobe also gives off a distinctly 80s influence with her faded denim jacket and t-shirt combo. Am I detecting shades of Ace? I can only desperately hope.
The name of Bill is interesting as well, as it's a decidedly gender-neutral name that was probably a boon to those at the BBC who were trying to keep as tight a lid on the new character as possible. Was it possible the role was originally written with either gender in mind? Obviously, I like the name for my own selfish reasons as well.
Further thoughts and discussion on this are sure to come in fast and furious within the next several days. Stay tuned!