Script, Pencils & Colours by Dan Parent
Inks by J. Bone
Letters by Jack Morelli
Review by Billy Seguire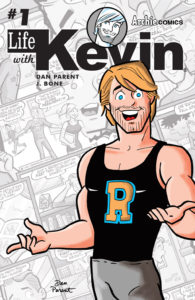 A comic like Life With Kevin shouldn't work as well as it does. A popular new character repeating the formula of Life With Archie? Only a few years after that series concluded? It's supposed to feel like a worn out and desperate attempt at recapturing lost magic. Instead, Life With Kevin is filled with heart, offering classic sitcom hijinks in a thoroughly enjoyable glimpse into the future. In short, the post-college life of Kevin Keller has potential. It may even be one of the most enjoyable experiments Archie Comics is undertaking in their digital-first series.
Naturally, the Kevin we see here differs slightly from his high school self. A little shaggier, a little scruffier. The new look for Kevin highlights his assets as a roguishly handsome adult gay man. The comic seems to know it, too, spending a good amount of time with Kevin wearing nothing but a towel. Is Kevin's sexuality a plot point in the issue? No. It's a key component to his identity, to be sure, but as a young man starting out in a new city, there are other things on Kevin's mind. A charming leading man, Kevin's ability to persevere through endless obstacles gives the series a real sense of optimism. Parent's penchant for writing physical comedy into this series also gives it a broad appeal that puts the issues of modern adult life into a context suitable for the younger demographic.
The happy, positive atmosphere of Dan Parent's writing for Kevin Keller is preserved in Life With Kevin without feeling like a sanitization of New York City as a setting. Instead, the premise of an adult Kevin Keller's move to the big city sets the stage for a Dick Van Dyke or Mary Tyler Moore style of comedy. The result works remarkably well. Kevin fumbles his way through his first day at work as a copy editor at a major news station. Kevin's new digs, meanwhile, are essentially a slum. With open concept bathroom, mice, and all the convenient benefits of a six-storey walk up, the setting sets up comedy on its own. Kevin's sister even suggests his bathroom was the setting for Saw, giving me a genuine moment of amusement at the situation Kevin has to put himself through in order to follow his dreams.
The supporting cast is only seen in bursts through this first issue. Still, they support Kevin well enough to earn their keep. Kevin's neighbour and potential love interest Chris is probably the most notable new addition to the series, a mechanically-inclined hunk who Kevin first meets in his time of crisis. Kevin's boss Babs Waldron and pessimistic co-worker Sarish are also prominently displayed in their scenes of this issue. Though their rushed interactions with Kevin have only put them on a one-note course so far. And although we've left Riverdale, Kevin's BFF Veronica Lodge makes an appearance. Although I expected her initial phone call would amount to nothing more than a cameo, it seems we may be getting more of Ms. Lodge in this series than we expected.
As a digital-first series, Life With Kevin makes do with cutting corners where it can. Much of this ultimately benefits the series, forcing it to develop a low-budget personality suited to Kevin's own situation. The limited colour palette of the book has an immediately recognisable aesthetic, using only shades of blue for colour in addition to black and white. It feels visually similar to the sitcoms I feel the series is taking many of its cues from when it comes to the comedy beats. Parent draws his line art in the house style of Archie Comics. This gives Life With Kevin a bright and optimistic vibe in the face of adversity. It sets Kevin up for lots of charming smiles and broad physical comedy. Strikingly dilapidated backgrounds help emphasise the setting and the world of Life With Kevin never feels as clean and pristine as the hallways of Riverdale High.
The Verdict:
Buy It. Kevin Keller remains one of the freshest characters in Archie Comics. I had my reservations about whether this series would work after Life With Archie had already explored the concept twice over. Yet Kevin's future is unique and far more honest when compared either of Archie's possible lives. Dan Parent's look at an adult Kevin is a fantastic blend of classic sitcom tropes and low-end city living. Life With Kevin manages to capture the spirit of NYC in a way that reminds me of Unbreakable Kimmy Schmidt. Whether you're aware of Kevin Keller's high school story or not, this book deserves your attention.
Life With Kevin #1 will be available digitally. Look for it on the Archie App for iOS and Android and other digital comics platforms starting on June 22nd!