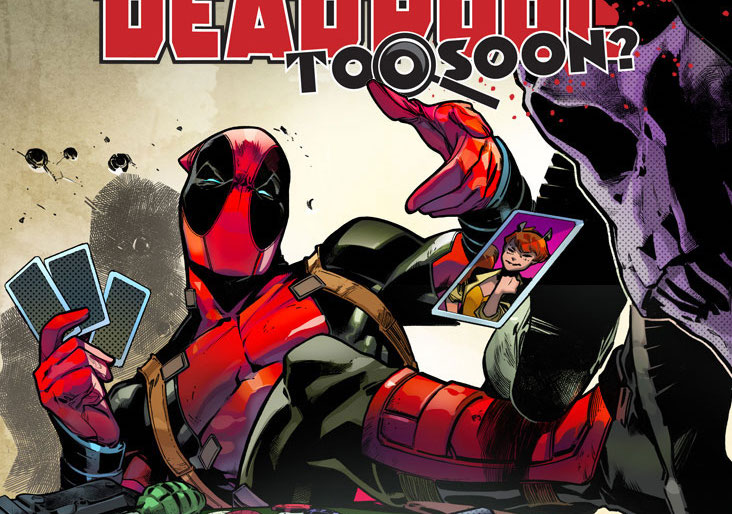 Deadpool: Too Soon? #1
Writer: Joshua Corin
Artist: Todd Nauck
Colors: Jim Charalampidis
Letterer: Joe Sabino
Publisher: Marvel
Reviewed by David Hildebrand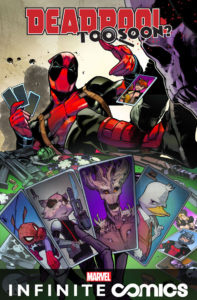 Well, here we go in one of the biggest Deadpool team-ups that we have ever seen! Released digitally over the summer, Deadpool Too Soon #1 has finally made its way to print. When I first heard about this title, I contemplated sending Marvel a "Thank You" card because somehow they have been able to dive deep into my thoughts and deliver my fantasy book! A book with Deadpool, Rocket Raccoon, and The Punisher! There are a handful of other heroes included, but those three were enough to capture my interest. So needless to say, I had to get my hands on this title!
It's a dark and stormy night and a group of heroes, Howard the Duck, Ant-Man, Squirrel Girl, Spider-Ham, The Punisher, Forbush Man, Rocket, and Groot have all been invited to a mansion. Unbeknownst to them is the reason why. Once they're all gathered in a room, Deadpool makes his appearance! Wade lets them know that he has secrets on each and every one of them and he will expose if they don't do the one wish that he has. Usually, I like to go a little deeper into the story but I don't want to spoil any of the story or the humor in this book because I found it so enjoyable. He knows some good secrets, The Punisher's secret, I found the most enjoyable. Reluctantly the group goes along with Deadpool's wish, except for Howard. He says he doesn't have to stay and makes his exit. By the end of the night, a hero has been killed! With the list above, I am sure you can correctly guess on who the unfortunate soul is. So now, with all the heroes pointing the finger at one another on who the killer is, Deadpool takes it upon himself to solve the mystery!
I absolutely loved this book! This is Joshua Corin's comic debut and he NAILS it!  The first part of the story that caught my attention is that everything takes place in a dark and stormy night in a giant mansion. Each character arrives and is told that they have been brought there for a reason, if they do not agree to honor Deadpool's request, then they will be blackmailed. It is straight out of the 1985 movie Clue, based on the board game and it is brilliant! Corin captures the essence of each character, and created a very enjoyable book. I'm familiar with all these characters, except for Squirrel Girl (I've never taken the time to read any of her material) but Corin got a laugh or two out of me with her antics. I might have to go back and see what I have been missing with her.
Todd Nauck does an outstanding job in bringing all of the heroes to life.  The one thing that did catch my eye was how he crafted The Punisher. Usually Frank has a menacing look about him, as well as intimidating. Here, he looks more like a Saturday morning cartoon character but it works with this story.  Charalampidis's colors are bold and capture the atmosphere of the story perfectly. They really complement Nauck's artwork well.
The Verdict
Buy It! If you are a fan of any of these heroes, then you need to pick up Deadpool: Too Soon #1. I am very impressed with Corin's comic debut. I laughed quite a few times: it's a really fun read! The whole Clue setting sold me on the story from the start!  The book throws a curve ball at us in the end which just ups the stakes for the next issue. I'm a fan of Deadpool and I hate having to say that quite a few of his stories have been hit and miss with me since the Marvel restart (hey, we happen to be restarting… again!), including the current main run, but this story has started out strong. I hope the momentum continues in the next issue!