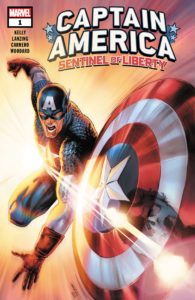 Sam Wilson may be fighting his own battles with the shield, but Steve Rogers is also keeping busy in Captain America: Sentinel of Liberty #1.
The other half of the bifurcated Captain America title, Sentinel of Liberty follows the original Star-Spangled Man on his own solo adventure, which begins here in extremely modest fashion. With the pressure of being Captain America now shared between two people, Steve finds himself able to focus on other pursuits, like going to community college and moving back into his childhood tenement home. But as one would expect, duty comes calling whether or not he likes it, pulling him into a mysterious new conspiracy that may have been a century in the making.
As alluded to in my Captain America #0 review, I think Sentinel of Liberty and Symbol of Truth will compare and contrast with one another quite fascinatingly. Whereas the latter seems to be heading in a more forward-thinking and globally-minded direction, it seems this one will look more inward and reckon with America's past and how it relates to not just the present, but the future as well. (In other words, what Captain America should represent versus what they do represent.)
It's a decidedly better direction for these characters than what Nick Spencer last attempted in his Captain America run, taking the characters as they are and giving them complementary stories rather than pitting them against one another for contrived, though somewhat intriguing, plot reasons. Let's just put it this way: neither Steve nor Sam will reveal themselves as Hydra double agents, only for us to learn later that they were actually manipulated by the Cosmic Cube and therefore not totally at fault for any ill deeds they did. (Which, by the way, does get a hilarious callback in this issue. Self-awareness!) 
There's definitely a warmth to Jackson Lanzing and Collin Kelly's script that comes across in Carmen Carnero's art. It's a testament to this issue's confidence in itself that Steve doesn't get into any superhero action until midway through the issue, opting to instead establish his humanity and what is arguably his greatest superpower: his desire to relate to others. If you've ever wanted to witness Steve Rogers struggling to draw on a tablet, then Captain America: Sentinel of Liberty #1 is indeed your issue. But when they actually do take us to the action, it's exciting yet still informed by his character.
Carnero's art really helps convey that Steve is a living, breathing person on the page, and that's an important ability to have when the star of the piece is a literal perfect specimen of man. There's also just one really great double-page splash spread that serves as a sort-of "greatest hits" of his backstory up until now, depicting the history of Steve Rogers through art and minimal dialogue. If you've never read a Captain America comic before, there are worse places to begin than this one.
Captain America: Sentinel of Liberty #1
Credits
Writers: Jackson Lanzing, Collin Kelly
Artist: Carmen Carnero
Color Artist: Nolan Woodard
Letterer: VC's Joe Caramagna
Cover Artists: Carmen Carnero, Alejandro Sánchez
Credits (cont)
Editor: Alanna Smith
Publisher: Marvel Entertainment