Baby Yoda broke the internet when it appeared at the end of the premier episode of The Mandalorian on Disney+. It was heralded by a flood a memes, followed soon after by fan art. Etsy, the commercial home of unofficial, fan-made merchandise was flooded with quick-and-dirty mini-plushies of the little green ball of cuteness.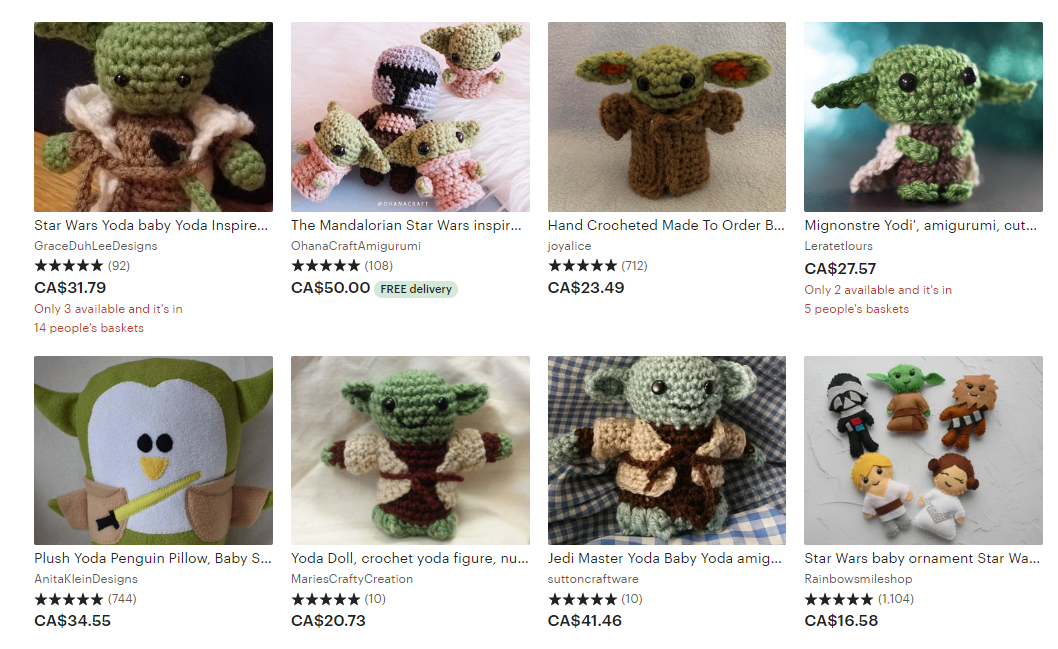 In the midst of all these quick-to-list plushies, crochet designer Jessi Woolfter of Woolfter Creations knows that good things take time, and her take on The Mandalorian's (nay, Star Wars's) cutest character is a very good thing indeed. Standing at 10″ (25 cm) tall and 4″ (10 cm) across, with a 10″ (25 cm) earspan and poseable limbs, this labor of love and incredible skill took 30-35 hours to complete.
She even made the frog!
The details and shaping are incredible!
Woolfter, who has been crocheting since age 12, fell hard for amigurumi, the art of using crochet techniques to create stuffed characters out of yarn. She's designed several characters, including dragons, murlocs, griffins, a dice bag in the shape of an owl cat, and the Rat King from The Nutcracker ballet. "I'm a big fan of The Mandalorian series on Disney + so far," she said when I reached out to her. "I was always a Star Wars fan, but the overall design of the baby Yoda was so adorable, it inspired [me] to make my own version immortalized in yarn."
She sells some of her patterns on her Etsy shop. Although she's in the process of writing this pattern, you won't find it listed as "Baby Yoda" on her store. Woolfter is a professional who is mindful of copyright law and keen to stay within it; she has received cease and desist orders from IP owners in the past. To stay within the law, the pattern, which is currently in the testing phase and will hopefully be available in early December, will be called "Baby Goblin" and include suggestions of different ways it can be customized to change its look.
Woolfter regularly posts pictures of works in progress on her company's Facebook page. When she shared the photos of the finished piece, the crafting community went wild!
As for the little Yoda himself, Woolfter is raffling him to a lucky follower. Win him, will you? And keep an eye on Woolfter Creations social media for the announcement of the pattern for sale!