Just Dance 2020
Developer: Ubisolft Paris
Publisher: Ubisolft
Platforms: PlayStation 4, Nintendo Switch, Xbox One, Nintendo Wii, Google Stadia
Reviewed on Xbox One with Kinect
The first Just Dance game by Ubisoft came out in 2009. Now, 10 years later, the franchise is still getting people up off the couch and shaking their money-makers to hundreds of original choreographies.
Just Dance
The main game includes 40 songs that come with purchase and 500+ that are available through their subscription service, Just Dance Unlimited. Unlimited costs US$4.99 a month or US$24.99 for a full year. Some of the songs are repeated as an "extreme version" with harder choreography. These have to be unlocked, either by scoring Superstar on the basic version or playing the basic version five times. The songs are censored to be family friendly, even beyond what you would find in the radio edits. Sure, blank out the swear words and explicit mentions of sex, but did they really have to remove "bra" from "Old Town Road?" Gawd forbid if children learned of the existence of female undergarments.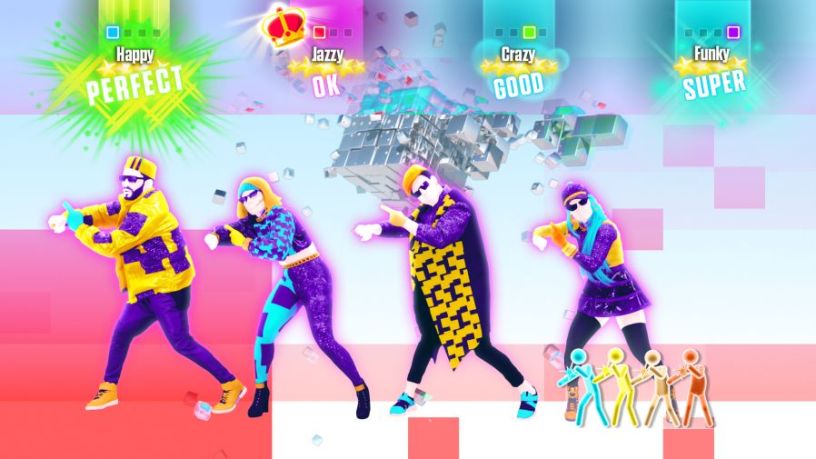 The song selection is pretty good. As an elder millennial, I didn't recognize all (most?) of the base songs, but it does include some throwbacks to my day, like "Backstreet's Back," which I actually used to perform the choreography from the music video at high school dances (I'm old). You can make your own playlists or use preset ones, like Top Country and Latin Flavors, which is great for set-it-and-forget-it play where you don't have to scroll through the song list or use the search feature over and over. Some of the presets include Unlimited songs, hoping to lure players into shelling out for the subscription, including the Recommended for You playlist.
A fun feature is World Dance Floor where you compete against a real-time leaderboard of other players, all dancing to the same song at the same time. It's a great motivator for competitive people, as you can see your position rise and fall as you all dance together. Songs are chosen by community vote and the continuous nature kept me playing "just one more song" over and over.
All Stars
All Stars is the closest the game comes to having a campaign mode. You start off with a cut scene of a bored panda walking in a circle on the moon (stay with me here). He then hears the Just Dance theme song being broadcast from somewhere far off in the galaxy, so he hops into his spaceship and jets off in search of the source. This leads you through a ten-song campaign, each song a selection from one of the ten Just Dance titles. As you move from planet to planet dancing each song, the panda picks up the song's avatar who travels with him all the way to unlock the final song, "High Hopes" by Panic! At The Disco.
I would have liked for the All Stars songs I unlocked to show up in the regular game mode, instead of making me go to All Star mode each time I wanted to play them ("High Hopes" is, but the rest stay in this separate game mode). My kids love the cut scenes and get upset if I skip them out of habit. The whole thing is cute and a nice way to mark the franchise's 10th anniversary.
Kids Mode
Just Dance Kids was released as a separate game in 2010 and became a dedicated section in the main Just Dance games starting in 2018. In Just Dance 2020, it includes (at the time of writing) 10 specially choreographed kids' songs with easier moves and a more forgiving scoring system. 21 more songs are added if you subscribe to Just Dance Unlimited, and many of the subscription songs in the main game are kids' songs, as well, just without the special scoring. The scoring words are changed from "OK," "Good," and "Perfect" to "HaHa," "Wow," and "Yay."
My 6-year-olds adore this section of the game and spent the majority of their time there when we first started to play together. Lately, they've started venturing into the main game and getting more ambitious about mastering the "grown up songs." This mode works great as a gateway to get kids into the game; the first time my boys played a song from the main game, they were discouraged by how low they scored. Now that they're more familiar and confident with the game, they're more willing to put in the practice for small increases in skill, like going from 2 stars to 3 stars on a song they like.
At launch, the only recognizable song in the compilation was Pinkfong's "Baby Shark," with "Into the Unknown" from Frozen 2 added on November 22 to correspond with the release of the movie. We may expect more song additions to come in the future. The rest of the songs are arrangements by The Just Dance School, Just Dance Orchestra, and others. I was a bit disappointed in the lack of well-known songs in Kids Mode, but it's clear they've kept it sparse so that people will buy the subscription pass, which includes the Ghostbusters theme song and a few Disney songs, among others. My kids didn't mind, however; in fact, their favorite song to dance to is "Kitchen Kittens" by Cooking Meow Meow (at least it's not "Baby Shark!").
General Comments
There's a lot to keep you busy in this game. As you play and complete daily challenges, you earn Mojo, the in-game currency. Mojo can be spent in the Gift Machine, an animated vending machine that dispenses stickers, avatars, skins, and aliases. These can be used to decorate your Dancer Card, which is the visual representation of you online and in World Dance Floor. I have minimal interest in this kind of feature (I've had the same avatar on my PSN account for over a decade), but my boys love spending all my Mojo and seeing the vending machine animation do its thing.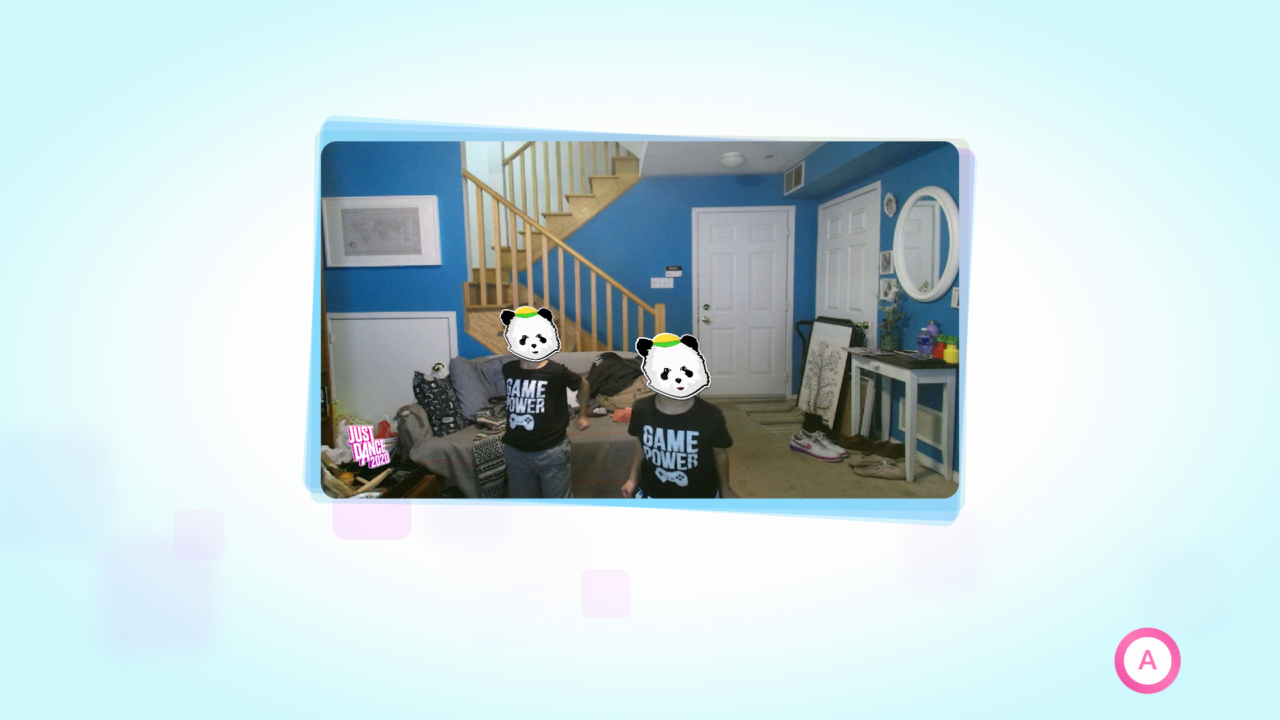 The camera records players at two or three intervals during the song and then loops them at high-speed playback for your viewing pleasure. This is a great feature when you're playing as a party game because it's fun to see everyone look silly trying to copy the moves on screen. In Kids Mode, it even adds filters, like animated confetti floating around or putting a panda head (or whatever the Pinkfong animal is supposed to be) over the dancers' faces. However, if you're using this game as a way to exercise and be fit, it can be less fun. No one needs to see my middle-aged mom-bod in activewear, dancing around my livingroom to "Rain Over Me." I do not look cool. Thankfully, this feature can be turned off in the game's settings if you choose.
Some of the songs, even the Disney songs, are not original recordings but are covers recorded for the game. I found this a bit disappointing, especially for the songs in Unlimited. If I'm going to pay a monthly subscription to get these extra songs, I don't want to hear them performed by the studio band. I want the real song.
There were also some spacing issues; if someone chooses to play the dancer on the far edge of the screen, but then moves more to the center of the room to have more room to dance, the game re-adjusts the dancer position so that you're playing the dancer second from the edge. I would have like the game to be able to lock a player into their chosen position, even if they end up moving a few inches over to dance. This won't be a problem for people playing in spacious living rooms, but for smaller play areas, this could be an issue.
I had another, somewhat unique issue come up while playing. My boys are identical twins, and the camera sometimes had a hard time telling them apart! If they crossed each other while dancing, the camera would sometimes switch which dancer it thought was in each position, which would affect their score as they continued to follow their original dancer. Again, this is a rather unique issue, but something to keep in mind for identical twins.
Since I have a Kinect, that's how I played this game. There is also an app you can download on your phone, but I couldn't get it to work and it wasn't worth my time tooling around in the settings to figure it out. But for that reason, I can't make a comparison between the two methods of play.
Just Dance 2020 is a solid addition to the franchise for the title's 10th anniversary. My kids love it, and I look forward to using it this winter when they need to burn off some energy but it's too cold to take them to the park. I've been using it to get in shape, as it's more convenient than going to the gym and does a good job of keeping my heart rate up. If you're a long-time fan of the franchise, you won't go wrong adding this to your collection. If you're new to the Just Dance world, this is a fun game for parties, family game time, or keeping yourself moving at home.