Chapterhouse Comics Summer Special 2016
Written & Illustrated by Various
Published by Chapterhouse Comics
Review by Billy Seguire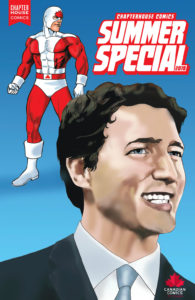 Canadians love summer. It's warm outside. The sun is shining. It's a great time to go sit under a tree and binge-read some comics, and for that purpose there's no company more openly Canadian than Chapterhouse Comics. Marvel might be putting Justin Trudeau into Alpha Flight for a handful of Zdarsky-written issues as a character, but Chapterhouse actually got the Prime Minister himself to write an introduction to the Chapterhouse Comics Summer Special 2016. It's a sampler that acts as a celebration of everything the company has accomplished over the last year, and that adds up to more than you might think.
With so much happening at Chapterhouse Comics nowadays, this Summer Special occasionally feels like a tease. The first half of 2016 saw the launch of several new series including Danny Zabbal's Life, Death and Sorcery, a continuation of successful brands like Captain Canuck and Pitiful Human-Lizard, and the announcement of many more titles from exciting, name-brand creators that are still on the horizon. The Summer Special 2016 crams all that into one book that allows readers get a taste for titles they otherwise may not have picked up. Regular readers might be a little disappointed by the reprinted stories, but there's bound to be something you missed along the way, and that's very much the point. Sure, there's an easy way to market the company's superhero titles like Captain Canuck and Northguard to a new audience, but what's the lead in for a hauntingly beautiful space fantasy like The Fourth Planet?
The special also comes loaded with an exclusive crossover comic between Captain Canuck and Pitiful Human-Lizard. I'm personally elated that PHL is joining the Canadian Superhero Universe of Chapterhouse Comics. Jason Loo put so much effort into creating a world that instantly lived and breathed on its own. Putting that together with Captain Canuck is a testament to how the Captain doesn't outweigh anything in Loo's universe, and both Jason Loo and Kalman Andrasofszky worked together to ensure that this story benefited each character equally. It ends up feeling like a classic comic team-up and is exactly what I wanted it to be. I got so excited that I'm dropping a full review of the story tomorrow, so check that out for a more extended preview of what I thought was the reason to buy the book.
Yet part of what makes this book work as a Summer Special is the taster's plate we get of all the comics Chapterhouse is currently offering. Especially those still left unreleased. Danny Zabbal's Obsolete Heroes in particular remains a bit of an enigma to me, with Chapterhouse posting images to social media that only hint at the book's purpose, I'm still entertained by these seemingly useless superheroes going about their daily business. The book releases in December, so I still have a few months to figure out exactly what's going on. Other titles like Dan Parent's Die Kitty Die are instantly gratifying and make me want to flip my calendar over to October, like, now. Chapterhouse has a giant in its stable. The series as it appears in the preview combines the style and polish of a classic comic presentation with a darkly meta and comedic edge that hints at something substantially more subversive than what I was expecting. Rossi Gifford's Spirit Leaves is another title that likely flew under your radar. Utterly gorgeous, the comic has an independent spirit and beautiful representations of nature you won't want to put down.
The only way I felt let down by this book was by the fact that there's no actual representation for Captain Canuck outside of his appearance in Pitiful Human-Lizard: Art of Gold. As much as I've gushed about PHL in the past, it has such a distinct style and voice that I don't think it necessarily captures what makes Captain Canuck great as an epic superhero comic on its own. Still, the collection does include an excerpt from Northguard, taking place within the same continuity as Captain Canuck, as well as All-New Classic Captain Canuck, which continues the story of the character in his original pre-reboot incarnation. So, if anybody had to be cut from the collection, it's understandable that it's Tom Evans that nobly and humbly steps aside. That's just so absolutely Canadian.
The Verdict
Buy It. Like Canada itself, the strength of the Chapterhouse Comics Summer Special 2016 lays in the diversity of creators and stories it has to share. Though it may be a bit of a tease to only include an excerpt from many of these stories, I can't argue against the quality of the material Chapterhouse Comics is putting out consistently throughout the year or the incredible value of this book. It's just a shame that readers who are already fans of Chapterhouse might pick this up expecting more new. Jason Loo & Kalman Andrasofszky's original Pitiful Human-Lizard story that teams PHL up with Captain Canuck is the highlight of this collection, both for the fact that it's an original work and also a tremendously entertaining story. If more of this can happen in future Summer Specials, they'll become essential reading. For now, pick this up if you're interested in seeing the full scope of what Canada's leading comics publisher has to offer or simply need to read that team-up story as badly as I did.
Chapterhouse Comics Summer Special 2016 is available on ComiXology and will release August 10th on Chapterhouse.ca