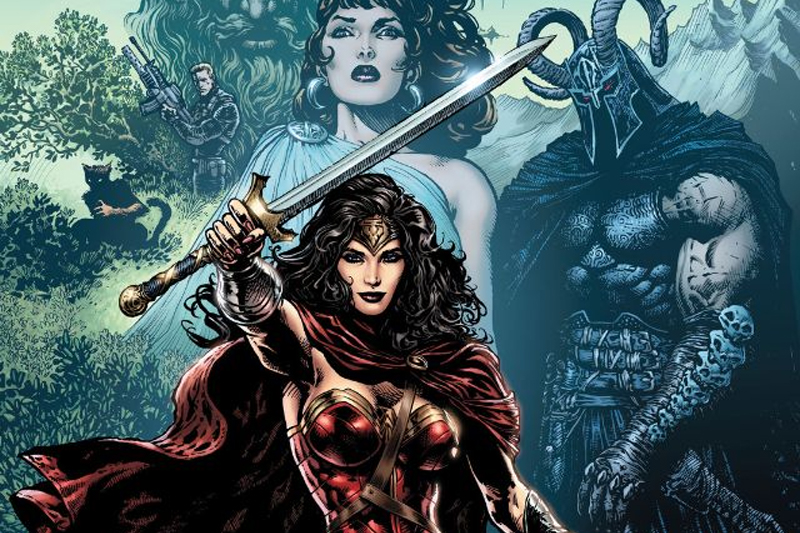 Wonder Woman #1
Writer: Greg Rucka
Artist: Liam Sharp
Colors: Laura Martin
Letters: Jodi Wynne
Publisher: DC
Reviewed by David Hildebrand
I am pretty thrilled about Greg Rucka making his return to DC.  Wonder Woman #1 immediately jumped to the top of my "want to read" list as soon as I found out that Rucka would be taking over.  I picked up Wonder Woman Rebirth anxious to begin a new era of one of my favorite comic book heroes!  After reading Rebirth, I came to the conclusion that the pacing was a bit slow. However,  I had confidence in Rucka leading Wonder Woman down a new path that would be satisfying and an enjoyment to read.
This issue picks up pretty much where Wonder Woman Rebirth left off.  This is a real easy story to pick up, especially if you are a new reader.  Diana is searching for the truth about her complex past.  She is aware that her story keeps changing and she goes searching in the jungle looking for answers. Throughout her travels she is speaking into the unknown around her. She issues warnings to the forest and ends up encountering were-creatures in an event that turns bloody.
Meanwhile, Steve Trevor and Etta make a welcome appearance. Etta is commanding a mission where Trevor is looking for a warlord that just happens to be in the same region as Wonder Woman.  The pair question why Diana is in the same region as they are. It is brought up that Steve and Diana have not talked in quite awhile.  The story is a nice mix of realty and fantasy as Steve and Etta are dealing with the hell of combat, while Diana is more centered around mythology of her world.  The only problem here is that the pacing never really picks up from the WW Rebirth issue.  But if you are familiar with Rucka, you know that he focuses more on character than plot a majority of the time. The issue does end with a familiar foe popping up and meeting Wonder Woman face to face.
Rucka produces a smart dialogue driven story. If you are a fan of his, you know what to expect and he is going to deliver. He addresses Wonder Woman on multiple levels.  We see the striking warrior side, as well as her compassionate side. Sharp's artwork is gorgeous to look at and he breathes life into Diana. The rendering of the characters is brilliant. He brings out the grit in the military action as well as does an excellent job with the mythical creatures. Martin's colors are vivid, detailed, and complements Sharp's work.
The Verdict
Buy it!  I am a huge Rucka fan and he doesn't disappoint with Wonder Woman #1.  The pacing is a bit slow, but the dynamic of the characters make up for it in more ways than one.  Rucka, Sharp, and Martin are a very talented team. This is one of the best decisions that DC has made to continue with the adventures of Wonder Woman.  If you are familiar or a new reader, you can't go wrong with this book.  I look forward to seeing the path that Rucka takes our favorite Amazonian princess down.