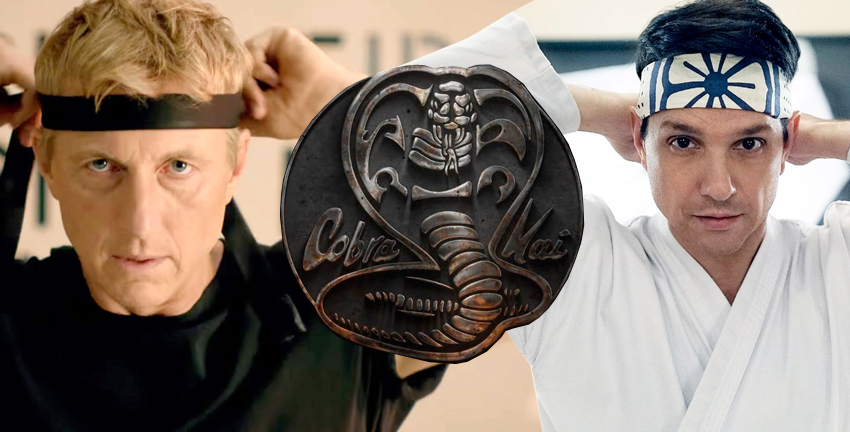 Cobra Kai
Starring: William Zabka, Ralph Macchio, Xolo Maridueña, Courtney Henggeler, Tanner Buchanan, Mary Mouser
Director: Jon Hurwitz (Episodes 1, 2, 9, 10), Hayden Schlossberg (Episodes 1, 2, 9, 10), Jen Celotta (Episodes 3, 4), Josh Heald (Episodes 5, 6), Steve Pink (Episodes 7, 8)
Writers: Josh Heald (All episodes), Jon Hurwitz (All episodes), Hayden Schlossberg (All episodes), Joe Piarulli (Episode 6), Luans Thomas (Episode 6), Stacey Harman (Episode 7), Michael Jonathan Smith (Episode 8), Jason Belleville (Episode 9)
Reviewed by Sidney Morgan
This review CONTAINS MINOR SPOILERS.
Back in 1984, The Karate Kid introduced us to Daniel Larusso (Ralph Macchio), a small nerdy kid who was being bullied at school, mainly by Johnny Lawrence (William Zabka). Daniel barely had a chance to defend himself given Johnny was an advanced karate student at the Cobra Kai dojo led by the master bully himself, John Kreese (Martin Kove). Enter Mr. Miyagi (Pat Morita) who takes Daniel under his wing and trains him in the art of karate. However, whereas Cobra Kai teaches its students to be merciless attackers, Miyagi tries to teach Daniel a balanced way of life, not of needless aggression. Ultimately, the two philosophies clash at the All Valley Karate Tournament where Cobra Kai's Johnny, after trying to play dirty, suffers a humiliating defeat at the hands of Daniel.
Cobra Kai, a new YouTube Red show, picks up thirty years later. Ralph Macchio and William Zabka reprise their respective roles, but the fallout of that 1984 tournament has affected their lives. Daniel is now a very successful and wealthy car dealer owner who still brags about his tournament win. Married, with a son and a daughter, his life seems almost perfect. Meanwhile, Johnny's life didn't turn out as well. Barely holding on to jobs, he's separated, has a son who makes poor choices and has a drinking problem. That's a long way from the confident teen we met all those years ago. But life has a strange way of surprising us, sometimes turning the tables and changing the paths on which we walk.
Cobra Kai begins with Johnny, who witnesses a lanky, nerdy kid getting picked on by a gang of preppy bullies. Sounds familiar, doesn't it? Except that this time, Johnny takes the bullied kid under his wings to teach him the way of karate. The Cobra Kai way. Somewhat inspired, he re-opens the dojo. But instead of attracting the cool kids, it's a bunch of bullied ones, or in Johnny's words, losers who join. Nonetheless, he takes them in and teaches them, to make them physically and mentally stronger, able to stand up to bullying. Meanwhile, Daniel finds out about Cobra Kai and is upset by it as it brings back too many bad memories. Determined to have it shut down and fail, it sets up the antagonistic relationship between the two main characters.
The struggles that Johnny and Danny experience, which are partly due to their inability to shake the past, lead them both back to karate, as it's the one thing which provides them with balance and meaning. Johnny sets out to do a good thing for the community but teaches the Cobra Kai philosophy as his own sensei did back in the 80's. Creating badasses backfires as the kids gain not only confidence, but also some of that notorious Cobra Kai attitude.
Meanwhile, though financially successful, Daniel is also struggling. Dealer competition, his family, and the icing on the cake re-opening of Cobra Kai make him realize how much he misses Mr. Miyagi. He too returns to his karate training and gets a surprising student in the process. Ironically though, Daniel has become the one thing he hates: a bully. He goes out of his way to try and ruin Johnny, using his position of influence to do so, only because he can't let go of the past. There's a definite Capulet and Montague vibe in Cobra Kai.
Part of show's charm is how our two protagonists deal with their problems. It feels as though no time has passed between the movie and the show. Johnny acts as he did as a teenager. He faces his problems like a Cobra Kai. Even his dating advice, which is hilarious, harks straight out of the 80's. And Danny is no different. He's still that lanky nerd from the movies, except that he's achieved financial success. But when Johnny walks back into his life, it shakes up his confidence. It's a brilliant return to the 80's, and those who were teens in that decade will fondly remember those days.
There's a strong nostalgic element, though this doesn't mean the show is inaccessible to younger or older viewers. It works for all viewers because we can sympathize with all of the characters, especially with both Danny and Johnny. There's a bit of both of them in all of us. Their problems aren't all that different from our own. The characters act, sometimes questionable. We applaud their actions as it's likely what we would do in the same situation, or at least secretly wished we would.
The show is particularly refreshing in its simplicity. There's no denying that serious issues are touched on, like divorce, drinking, bullying, dating, to name a few, but it's how they are faced that works. There are no therapists, no anti-depressants, no long drawn out conversations to analyze every aspect of the problem ad nauseam, and no obsessive political correctness. To be clear, the show isn't offensive. It doesn't attack nor insult. It's just about normal people who confront their past and present as best as they can, and it works well. And with the clashing ideologies of the two time periods (80's v. today), it leads to some funny moments.
William Zabka and Ralph Macchio step back into their roles naturally, and it's fun to watch them. Newcomers Courtney Henggeler as Daniel's wife Amanda, Xolo Maridueña as Miguel, Tanner Buchanan as Johnny's son Robby and Mary Mouser as Daniel's daughter Samantha do a great job. They fit in the Karate Kid universe seamlessly and perfectly counter-balance the character flaws of Johnny and Daniel.
Verdict: An absolute watch!
Whether you watched the original The Karate Kid or not, this is a fun must-watch show and has already been renewed for a second season. Cobra Kai is unapologetic in its portrayal of human behaviour. It's perfect. Being a teenager is never easy and the show reminds us of some of the struggles that come along with those years. You will feel nostalgic, a feeling that will be compounded if you lived through the 80's as a teen. But a word of warning. After you finish watching the show, you'll either be digging through your old boxes for tapes or going online to purchase the music, because there isn't anything better than cranking up Poison, Ratt or Twisted Sister.
Cobra Kai is available in the US on YouTube Red.
The first two episodes are streaming for free on YouTube in Canada, with remaining ones available for individual purchase.