WARNING: This review contains SPOILERS for episodes 1-4 of The Light of September. New listeners can check out my previous reviews of the series for a proper introduction.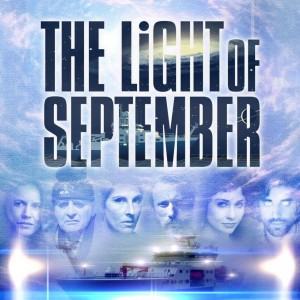 After a ten week absence, Radio Static returns this week with the fifth episode The Light of September, a sci-fi audio series that "creates film-quality drama using sound alone". The story of the research ship Venus, lost at sea in the aftermath of a light-speed experiment, has steadily held my interest, gradually picking up steam after a slow start to become one of my favourite ongoing stories. Listeners who have been waiting for the new instalment won't be disappointed, as we come back to a fascinating storyline with the Venus encountering fellow research ship Calvary in a clash of cultures (and possibly realities) out on the open sea. With intense character moments and immersive soundscapes, episode five is a meaty chapter in the ongoing saga that proves why The Light of September is worth taking the time to listen.
The fifth episode opens with the crew of the Venus fresh off an attack by pirates in episode four that's left them crippled and drifting. With the female members of their crew taken hostage, and six others shot dead in the attack, Bjorn is still in shock, acting as captain in Dalton's absence through a post-traumatic haze that clouds his judgement. The arrival of the American ship Calvary seems like a blessing in its timing, allowing the crew some help in their repairs and replenishment of their supplies. At first, their presence alleviates some of the pressure from Bjorn's leadership, but the crew of the Calvary begin to show some odd behaviour, including remarkably a sexist attitude towards the Venus even carrying women in the first place and an offer to "bleed" the gunshot wound Bjorn sustained in the fight.
Robert Picardo has the stand out role of this episode, giving a measured performance to the mysterious Captain George Garrian that paints the portrait of a very human man steeped in serious conviction and belief. Capable of both compassion and joviality while also burning red hot in fiery righteousness, Garrian's religious motivations are clear. Picardo steers clear of a caricatured performance by playing him as a man of a different moral fibre, equally as lost as the crew of the Venus in the recent upheaval of reality, but unwilling to relent his iron piety. When he describes recent events as "looking at something through deep water" there's an authentic timbre to his voice that makes your heart bleed for him, setting him up as a sympathetic villain in a sea full of potential perils. The ominous soundscape that accompanies his crew scores their religious worship in dark tones, alerting us immediately to something dangerous at play. This, combined with the subtle clues Garrian and his crew drop that highlight the differences between their world and our own, bring an intriguing set of possibilities for The Light of September to their inclusion.
As our own avatar for the majority of this episode, Bjorn maintains his composure over a building sense of unease in a dinner with Captain Garrian, showing intelligence and tact, but also a relatable confusion that gives welcome levity. When Picardo's Captain offers a rumination on whether "the Mongols" would dare go to nuclear war, Bjorn's response of "Yuuuup" completely seals the deal in his endearment to me from previous episodes. This conversation contains some of the episode's best moments, such as the Calvary's views on religion or a brief mention about the extinction of whales, for which this fifth episode is named. The discussion leaves the audience themselves wondering what exactly is going on. As tension builds throughout the conversation and the inconsistencies become revealed that show their realities don't exactly match up, the episode concludes in a reveal that's bad news for both Bjorn and the research ship Venus at large.
Meanwhile, other storylines that were left hanging in previous episodes are touched upon briefly to remind the listener that they still exist. This was a smart move by the creators in light of the hiatus in production, and the increased runtime of The Light of September's fifth episode allows for the excursions to feel satisfying without cutting too deeply into the development of the main plot. On board the pirate ship, Tamsin Drew's Captain Dalton is planning an uprising of the Venus' women against their captors. Back under the ship's hull, Allen, still as delightfully vulgar as ever, shows his true colours once more in conflict with a member of the Calvary's crew.
In probably the most aurally thrilling sequence of the episode, Karim Saleh's Dr. Alqetta officially becomes the most interesting aspect of the series in my mind. Phasing in and out of his own reality, Alqetta's voice is slowed, chopped up and stretched in a desperate attempt to talk to May. Its an amazing use of the audio medium that makes it seem like his reality is falling further and further away from our own, and his ominous ghostly warnings hit home the fact that something is definitely not right about the Calvary's crew. If post-production was focussed on any area in particular, this is where it really shines. I relistened to this sequence twice after going through the story for the first time, and it still floors me how well the audio medium is being used for Alqetta's entire storyline.
By episode five, the tone and scope of The Light of September has become clear. It has the storytelling mindset of Star Trek in the Twilight Zone, building on themes that I've seen realized in other shows such as Battlestar Galactica or Star Trek: Voyager's own Equinox storyline, but giving it enough of a twist to feel remarkably original. Writer Dan Freeman's inventive imagination has created a world that is ripe with ideas familiar and other both at once, resulting in an ocean as full as the furthest reaches of space, and the unlimited potential that comes from this beyond the planned ten episode series. I'm intrigued to see where the clash between the Venus and the Calvary is going to go next, but I'm fascinated by what else we may possibly encounter.
VERDICT

Fund It. The waters of The Light of September are now boiling with potential through the deeper exploration of altered timelines and unsynchronized realities that sets my sci-fi loving heart ablaze. Episode five in particular introduces a delicious performance from Robert Picardo as Captain George Garrian, and yet Dr. Alqetta still manages to steal the show with an effects-driven scene that's a testament to Radio Static's incredible skills at audio production. After an unexpected hiatus, the fifth episode brought me back into the series easily by giving me story that engages and enthrals, taking the time to check in on side storylines while furthering the main plot in a big way. There are dangers of these waters. If there was ever a time to support this innovative and bold audio series, the time is now.
Remember you can subscribe to The Light of September for free either on iTunes or directly from Radio Static's website where you could also potentially fund future episodes of the series.