Tattoo Tuesday: X-FILES Ink
by Anelise Farris
It's tattoo Tuesday, so I'm here to fuel your geek-ink addiction! As I sit here, typing this, with our dog Mulder sitting beside me, and our cat Scully lurking nearby, I feel inspired. So, here are ten of my favorite pieces inspired by The X-Files, because they deserve more than just a spot on my Pinterest board.
Shape Play
I love both of these tattoos so much, and I think they complement each other beautifully. The smoking alien in the sophisticated triangle frame is not only humorous but also sophisticated with that skilled shading. And while the scene on the right is very familiar, the geometric depth added to the mountains and the frame is unique. Plus, the font choices for these are perfect: classic and cool.
Iconic
If you're in the mood for a simple stunner, then these two are great options. The soft coloring and vintage feel of the ink on the left is so fun. It's difficult to tell where this is located exactly, but I would position it on my calf. And what strikes me about the logo tattoo on the right is both the thick black lines and the placement of the tattoo. It's one of the more minimalist X-Files tattoos out there, and perfect if you're new to ink.
Realistic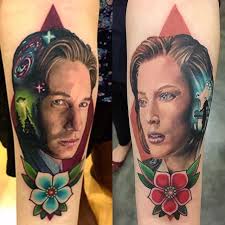 It is immediately apparent that this Mulder and Scully. Context isn't even needed. That's how good these artists are (wish I knew who to credit!). The left has unique features and bold colors, while the right is more classic, relying on shading and stippling to create depth.
Whimsical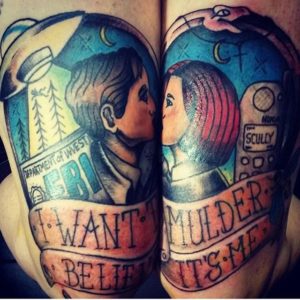 Do these tattoos even need an explanation of why I think they are amazing? Just look at the coloring! The fun characterizations of Mulder and Scully! The unique details! All so perfect. Need I say more?
Sleeves
If you're as a big of an X-Files fan as I am, then you're probably already planning a sleeve dedicated to this iconic duo. The image on the left has a lot of great detail. It's one of those pieces that requires time to process, taking in how each aspect of it reflects the series we love. It is a bit busy for me personally, so the image on the right is more my speed. Plus look at FOX MULDER. I really like the simplicity of this piece, the sharp outline, and that gorgeous purple alien-filled sky.
---
Have any geek ink? Looking for a specific gallery to inspire your next one? Hit me up @AneliseFarris on Twitter, and go support your local artist(s)!