Rogues Portal had the opportunity to chat with screenwriter Lindsey Beer about her original Netflix film Sierra Burgess is a Loser (release date September 7, 2018). Check out the Q&A below!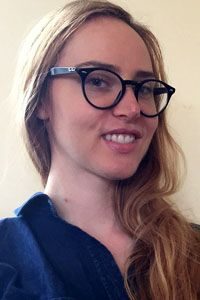 ---
Where did the idea for Sierra Burgess is a Loser originate?
LB (Lindsey Beer): Cyrano de Bergerac had a special place in my academic life. I originally read it in French for class in high school, and my French teacher attached a copy of my test on the play as part of my college recommendations. Shortly after I moved to LA to become a screenwriter, I attended a small production of Cyrano de Bergerac, which reminded me how much I loved the play and how ripe it was for retelling, particularly if set during the time when Cyrano was a part of my life: high school. There are certainly many real elements from my high school experience that I pulled into this. I was not Sierra or Veronica per se, but maybe a little of both. I remember all too well that high school pressure to define yourself, and to meet the expectations of parents, mentors and peers. For a lot of people, it's a source of extreme anxiety and pain, if they feel they aren't living up to outside ideals – whether it's because of looks, academics, or anything else. I wanted to capture that moment in time, and create something that could hopefully help heal some bruised souls, of any age. I wanted to show we're okay, exactly as we are – and it will be okay!
The idea (and character name Veronica) was also partly inspired by several voicemails I received from a poor gentleman who thought my number was "Veronica's" — and he left me several upset voicemails about standing him up for a date. Clearly some real-life-mean-girl Veronica gave him a fake number, and stood him up!
Did you fall into a certain clique in high school?
LB: My high school was small and very cliquish. I definitely had a very strong clique in high school. My friends were amazing, and I would not have traded them for anything. But I also cheated a lot on my clique, and hung out with a lot of different groups on the side. I've always been interested in a very wide variety of people. Otherwise, high school can be so limiting.
The cast do a fantastic job of bringing your writing to life. The dialogue feels so natural. Were you involved at all with the casting process?
LB: The cast is just fantastic. I was involved in the casting process, yes. I watched every single audition. Kristine (Veronica) blew me away with her raw emotion in the audition. And when Noah (Jamey) came on the screen, I stopped in my tracks because he was exactly who I envisioned when I wrote the script. It was like my character had come to life. And Shannon (Sierra) just melted me with her vulnerability and charm.
One of my favorite aspects of the film is how inclusive it is! Thank you for incorporating a deaf character and d/Deaf culture. Why did you think it was important to include a character with a disability?
LB: Thank you for noticing. I wanted to make a movie that was positive in as many ways as possible – girl positive, body positive, nerd positive, and disability positive. It was very important to me that the actor playing TY was actually deaf, and he was.
The whimsical, indie-vibe of this film is so fun. Did you have a vision of how it should look from the outset?
LB: When I wrote the script, I always envisioned that it would be a love letter to 80s and 90s movies and pull from that aesthetic, but I actually wrote the original script as a much bigger movie. About twice the budget, in fact. So we pared it way down for production. Ian the director did a great job creating a vibe and palette that lived more solidly in the indie space.
What are some of the advantages and challenges of being involved in a straight-to-Netflix film?
LB: I honestly always hoped this movie would be a Netflix release, so for me, there are no challenges, just advantages. Since the trailer has debuted, I've seen people talking about Sierra all over the world, in so many different languages. A tiny little indie movie! The reach of Netflix is just amazing. I'm so thankful that I get to be involved in the industry during such a fascinating time of evolution. And I'm thankful to Netflix for giving us such an amazing platform.
How did you get your start in screenwriting?
LB: With Sierra! It was my first sale. Prior to that, I had a job in NY. And then I had one of those big life changing moments where I realized if I never pursued my dream, I was going to wake up one day and wonder where my life went. So I up and quit my job, drove across the country to LA, and started writing furiously. Little did I know how absurdly hard it would be to make it in this business. But it was less about making it and more about having no regrets.
What is your writing process like?
LB: Constant and frenzied. I'm a certifiable workaholic.
When you're not working, how do you enjoy spending your time?
LB: I work all the time, because I love it that much. But when I'm not, I love to cook, travel, and go on little adventures to enjoy the California mountains and beach.
Can you tell us about any other projects you are working on at the moment?
LB: I'm currently writing a Mark Millar comic adaptation for Netflix called Empress, which I'm very excited about. I love his stuff. I've probably seen Wanted and Kingsman ten million times. I'm also writing the next franchise from the author of How to Train Your Dragon, called Wizards of Once. I also have a secret project I'm not allowed to talk about yet, but am so excited about. It's full of action and spectacle and is a joy to work on.
---
Read our advance review of the film here (verdict: MUST WATCH), and be sure to check it out for yourself on Netflix this week.