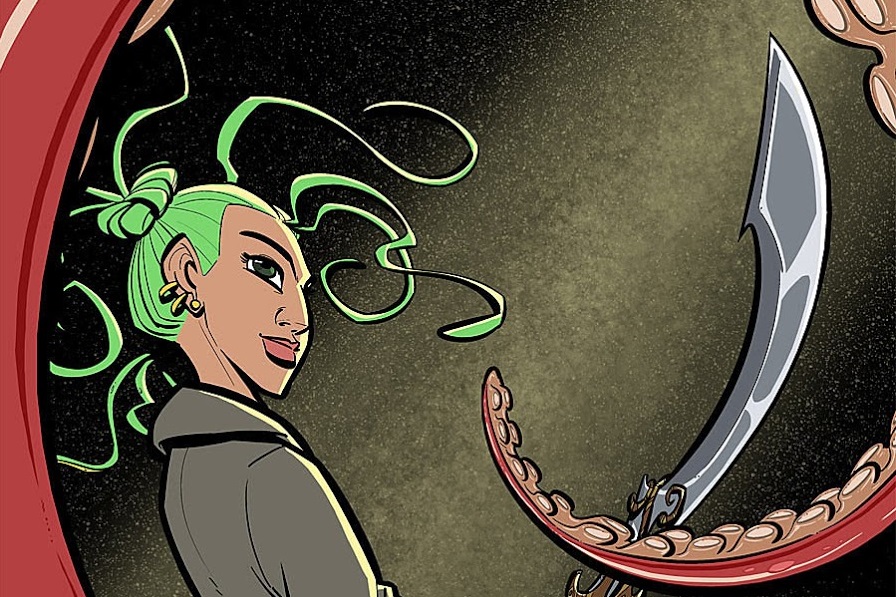 Can't get enough inhuman, Lovecraft abominations? What about teenage dramodies like Buffy? Stela: Comics For Your Phone has you covered with their newest title Calla Cthulhu: a Lovecraftian-inspired adventure by Evan Dorkin, Sarah Dyer, and Erin Humiston.
Being a teenager isn't easy. Even more so when you're Calla, a girl who carries the bloodline of the Great Old Ones in her veins. Instead of normal teen activities, Calla spends her time battling supernatural threats like her Uncle, the King in Yellow. She must resist his call to embrace her own chaotic heritage as well as prevent him from awakening the terrible deity asleep and dreaming in the corpse city of R'lyeh: the Dread Dead One!
Stela senior editor Jim Gibbons has said:
"Calla Cthulu is a comic with a true dream team at the centre of its creation. Dorkin and Dyer are crafting some truly compelling and action-packed scripts full of comedy and imagination… Along with Humiston's energetic and eye-popping art, they've created an amazing new character with Calla–a heroine with heart and some series family issues to deal with."
Calla Cthulu is perfect for fans of the Elder God lore H.P. Lovecraft created, and the action and adventure of Buffy the Vampire Slayer! A six chapter series, Stela will release a new Calla Cthulhu instalment every Thursday until the end of June. Download the Stela app here!
Thoughts, comments, or otherworldly spells from the Necronomicon to share? Tweet us @RoguesPortal!