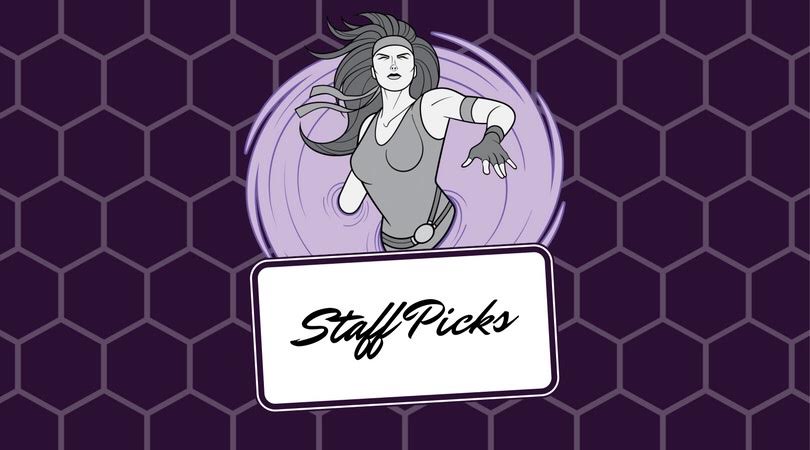 Staff Picks of the Week – August 4th, 2017
Friday is here, it is time for the Staff Picks of the Week! Like a broken record, let me tell you how it works! Each week a select few of our staff share with you what has been keeping them entertained. Simple enough, right? We try to keep things easy. Before we get to the staff picks, I'm gonna catch you up on what is new at Rogues Portal this week! Check out comic book reviews for Dead of Winter #1, Robotech #1, Mech Cadet Yu #1, Teenage Mutant Ninja Turtles Dimension X #1, and Turok #1. In Gaming, we have a review for the mobile game Escape Alice House, and Amelia's Gaming Retrospective on Tomb Raider V Chronicles. In TV and film, we have a recap of Tamen De Gushi Chapter 138, Samantha shares her latest 100 Thoughts on the 100, and recaps episode five of Will. Rhian reviews the short film, In a Heartbeat. Reed takes us on a journey with Alternative History and Pamela reveals her First Crush. Don't forget about our podcasts! Listen to new episodes of Scooby Dos or Scooby Don'ts, The Comics Agenda, and Film Runners. And now it is time for the Staff Picks of the Week!
---
Billy's Pick of the Week – My pick of the week is an old favourite of mine: Muppet Treasure Island. You know this movie is fantastic, but do you really remember how fun it is? It's a likely candidate for the most irreverent Muppet movie, taking wild liberties with its source material and adding in a subplot about Rizzo running a cruise aboard the 18th century ship. Jokes like the invisible man in Fozzie's finger are silly without any pretense, and I don't mind any of that because the story is so strong and the human members of the cast play it straight. I can't help but love the stern and serious performance Steve Whitmire gave Kermit as Captain Smollett, especially when pitted against the sensationally rich-voiced Tim Curry in one of his most memorable roles. Bonus points for Hans Zimmer composing the score years before Pirates of the Caribbean was ever a thing.
---
Michael's Pick of the Week – My Staff Pick this week is the action movie sequel, Boyka: Undisputed. The entire Undisputed series is one of the best versions of DTV sequels occasionally improving on its original, give or take a Universal Soldier. The movie continues the story of Yuri Boyka (Scott Adkins), the antagonist of Undisputed II and the protagonist of Undisputed III. After accidentally killing a man in the ring Boyka returns to Russia to make amends to the man's widow. It's a simple premise but Adkins' commitment to this role sells the kind of emotional beats that could come off as laughable in lesser DTV martial arts films. Really, the selling point of the movie are the fight scenes and, as usual, the film shoots those scenes in a very clear, dynamic way that I wish a lot of big budget action films would learn from. Ultimately this pick is basically for the entire Undisputed series, which has one of my favourite gimmicks by making the antagonist of each film the protagonist of the next one. Boyka: Undisputed breaks away from this gimmick, but the final product is good enough that I didn't mind at all.
---
Stephanie Pouliotte's Pick of the Week – So I only recently got around to the new DOOM reboot that dropped last year and I have to say, I'm really enjoying it! The smooth, fast-paced gameplay and brutal glory kills rekindled a fire that had been tempered by the long stretch since DOOM 3. Now, I love me some survival horrors (like a lot) and the slow-burn of DOOM 3 really had me hooked, so I'm surprised I'm enjoying this latest installment so much, considering that it pushes you into situations guns-a-blazing and emphasizes combat over world-building. Don't get me wrong, the story is solid (thus far), but clearly this game is all about "badass demons, big effing guns, and moving really fast", as Software Executive Producer Marty Stratton puts it. If that's what you're into, you won't be disappointed! And if you're like me and you prefer immersive, survivor horrors, well you'll likely still find this game to be fun as hell.
---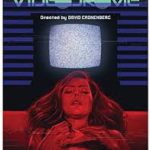 David's Pick of the Week – My pick this week is the cult classic Videodrome. I have been re-watching a lot of my favorite 80's films and Videodrome is one of them. Starring James Woods and singer Deborah Harry, the film is set in Toronto during the 1980s. Videodrome follows the CEO of a small television station who stumbles upon a broadcast signal featuring an extreme violence and torture. The layers of deception begin to unfold as Max (James Woods) uncovers the signal's source, and loses touch with reality in a series of increasingly bizarre and violent hallucinations. The film is very surreal and doesn't cater to everyone's tastes. You have to go in with an open mind. But if you are in the mood for something weird, then I recommend you give Videodrome a watch! Long live the new flesh!