Slam! The Next Jam #4
Writer: Pamela Ribon
Artist: Marina Julia
Colorist: Brittany Peer
Letterer: Jim Campbell
Publisher: Boom! Box
Review by Greg Brothers
A little over a year ago I heard about this new book that was coming out called Slam! All I knew about the book was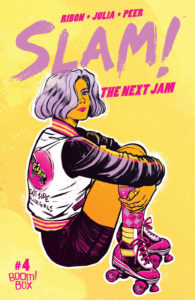 that it was about roller derby. Being a child of the 1980's, I was old enough to remember when roller derby was shown on Saturday morning television, and since then I have met a few people who participate in roller derby locally. So, even knowing nothing about the creative team, I was in for checking out the first issue. I was not disappointed in that first issue, and since then when a new issue of Slam! comes out it makes its way to the top of my read pile.
With all that being said, it was a little bittersweet to read Slam! The Next Jam #4, as it seems to be the end of the journey for this series, at least for now. Slam! The Next Jam #4 promises that Jennifer's family and relationship questions will be addressed, and Maise continues her return from her injury. Slam! The Next Jam #4 starts with Jennifer having a dream in which the questions about her relationship with Kristen are standing right in front of her, literally blocking her from moving forward. Meanwhile, Maise is dealing with her boyfriend leaving for a bit, and she has mixed feelings about their relationship.
Besides the action that we have see throughout the series, this book has always been about the relationships of the characters both on and off the track. We really get to see some of those relationships in play once again. Jennifer's grandmother has been an interesting addition to the cast of characters. Although she is not seen a lot, when she does appear she has some wise advice for Jennifer. Of course, it is given in a way that only a Grandmother can give, which is direct and if not for them being family would probably seem abrasive. The way that Maise's relationship is handled here comes off as very real for someone who has found themselves in an unexpected relationship. The reaction too when her boyfriend left for fours days is both humorous and sweet in the end. Of course, being in a new relationship is never easy, and Ribon tackles the nuances of that perfectly. She especially touches on that in an exchange in which Maise tries to tackle the idea of what is her thing versus his and what they now share.
While I have loved the series, I did have a few concerns about this final issue. It felt that many of the conflicts were rushed and not really fleshed out how they could have been, even if by just extending the series for a few issues. In the end, even though we get answers to many of the questions, they feel incomplete. Beyond the conflicts that are not quite explored as complexly as desired, it feels as if we end up with several hanging plot points that do not quite get resolved. This leaves me hoping that it means that future issues of Slam! will come to finalize those questions.
One of my main concerns with Slam! The Next Jam has always been the art. While the art has not been bad, it just feels significantly different that Veronica Fish's art in the first arc. That being said, it did feel as if Julia was finally starting to get a handle on the look of some of the characters that she struggled with before; however, Jennifer and Kristen still look way too similar for my liking. Other than that, the familiar action scenes and unique panel layouts that have made this a fun series to read are still there.
Verdict: Buy it.
If you have been with Slam! The Next Jam from the beginning, then this is easily a must-have. While I had some concerns with the pacing and flow of the final issue, it is a satisfactory end to the series. Many of the questions are answered, and it feels as if the characters are all in a better place than where they were when the series started. If you have not been reading the series, I would suggest going to find Volume 1 and reading that first and then come back to read Slam! The Next Jam as it will help you see the total growth of the characters.