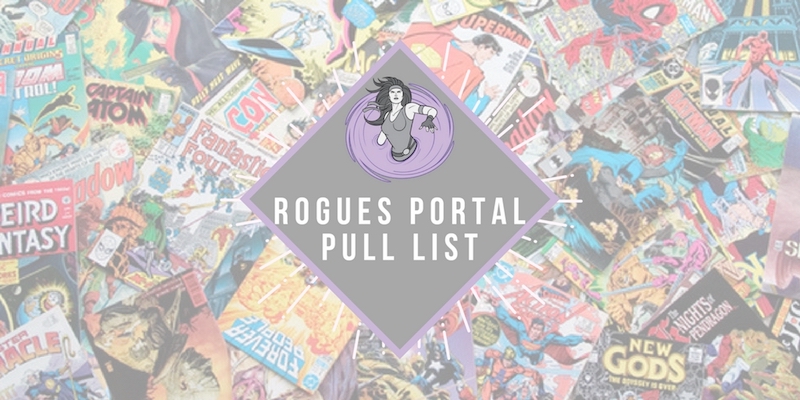 It is Wednesday my dudes! Welcome to New Comic Book Day: the day of the week when your local comic shop restocks the shelves full of brand new comicbooks. Let's see what's new on the Rogues Portal Pull List for December 13. Tons of new comics come out each week, and it's not always easy picking out the best ones. So every week we here at Rogues Portal try to find the best books to add to our pull lists and yours. So here's what we're getting and what you should check out today!
---
Rogues' Essentials
The Archies #3
As someone who was in numerous one-day-we'll-be-famous bands in high school, this series has been so relatable and fun. – Anelise
I love that Rosenberg has said in several interviews that he thinks that music and comics are linked in many ways. So far this has been a fun read, and it seems like along the way more famous bands are going to keep popping up. – Greg
Royal City #8
Lemire tugs on my heartstrings with every issue of Royal City, and I'm okay with that. – Anelise
If someone ever tells you that a comic has to have superheroes or supernatural elements to be good, you just pull out this series and say "Read." Then come back a few hours later as they are sitting with their mouth wide open. Then say "So what were you saying about superheroes?" – Greg
Slam The Next Jam #4
I love living vicariously through these roller-derby babes. – Anelise
I'm so sad that this series is coming to an end for now. I hope Ribon and the team over at Boom! find a way to bring more to us in the near future. – Greg
---
Anelise's Picks
Archie Christmas Spectacular #1
I am excited about any holiday special, especially one featuring characters I love!
Judas #1
I'm intrigued by a retelling of one of the Bible's most infamous figures, and I'm looking forward to seeing how this is delivered.
Wicked + The Divine Christmas Annual #1
I love this series, and I love Christmas, so it's a done deal.
---
Greg's Picks
Kid Lobotomy #3
This series has been a bit off, to the point where I have no idea what to expect next.
---
Josh's Picks
Mister Miracle #5
This is a character-driven series that is asking a lot of hard questions. The action is just background noise, and I love it!

---
Graphic Novels

Faith And The Future Force TP
You need this time-traveling team book. It turns time travel on its head, and typical attempts of defeating the villain are failing. Plus there are pop culture references galore! – Josh
That's all for this week! Thanks for checking out the latest edition of the Rogues Portal Pull List! We'll be back on December 20 with another stack of comics for you to check out.