Shade the Changing Woman #4
Writer: Cecil Castellucci
Illustrator: Marley Zarcone
Colorist: Kelly Fitzpatrick
Inker: Ande Parks
Letterer: Saida Temofonte
Cover Artist: Becky Cloonan
Publisher: DC's Young Animal
Review by Anelise Farris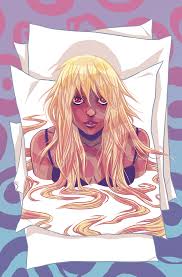 Shade the Changing Woman #4 finds Shade trying to adjust to her new, literally heart-less self (an action she took last issue). It turns out that removing one's heart doesn't fix all of one's problems, and when a hole is ripped into the madness, and the world is threatened by an alien invasion, Shade is definitely going to need her emotions. Meanwhile, River and Teacup are still at odds. Seema is dead. And a few of Valley Ville's finest are competing in the Ludi Games.
Madness is in the water (pun intended) in Shade the Changing Woman #4, and the world is becoming ever more divided between alien-haters and alien-lovers. And Shade is caught right in the middle of this tension. She spends most of the issue reflecting on goodbyes and what she would have done differently, who she would have cared about differently. She muses, "I feel the heavy burden of being a person who is too late for their life or too early." Sigh, that line. The writing here is always so lyrical, and Shade ruminating about her being the black hole at the center of a galaxy is just gorgeous poetry.
The art in Shade the Changing Woman #4 is equally affecting. I really appreciate the varied landscape here—from the mountainous terrain to the night skies—as well as the vast array of colors and patterns. And there's an X-Files poster that snuck into the background of a panel! (Loud cheer!) There are also a ton of cool panel designs and page compositions. One of my favorite pages in this issue is when Barbie-doll sized Shade transitions into oversized Shade holding a distraught, black-eyed Teacup. From the first page to the last panel, this comic is a wild, emotional ride.
Verdict: Buy it.
I've said it once, I'll say it again: Shade is a rare gem. It is one of those comics that gets under your skin—in the best way possible. Shade the Changing Woman #4 is definitely an issue that I'll be reading more than once.