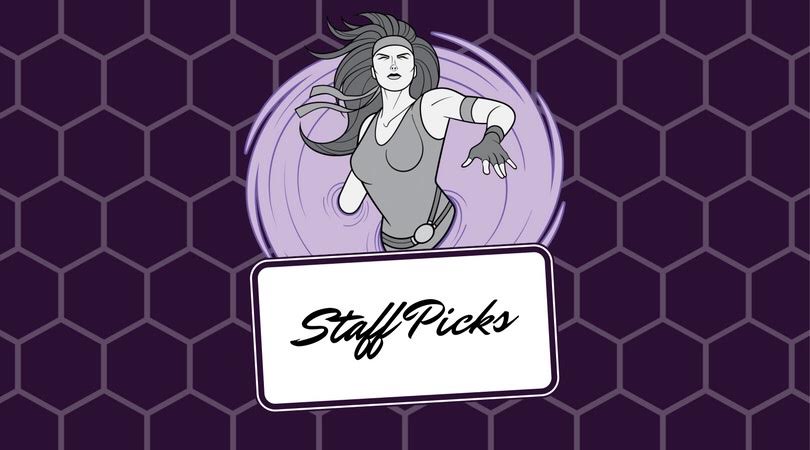 Welcome to another week of the Rogues Portal Staff Picks. Hopefully, at this point, you are able to pull yourself away from Spider-Man on the PS4 long enough to check out some of our staff picks this week. But just in case you still need a taste of the game to get you through, we had two articles this past week. The first one focused on several staff members' thoughts on the game. Then Ryan Holt gave us some ideas for suits that he would like to see show up in the game.
Monday we had advanced reviews for Man-eaters and Stranger Things. Make sure you check out the reviews to see if they are worth putting on your pull list. Wednesday sees plenty of reviews of new books. Check them out to see where your hard earned cash should go. And, without any further delay, enjoy this week's staff picks.
Michael's Pick
Star Wars: From a Certain Point of View
Last year, Star Wars celebrated the 40th anniversary of A New Hope. To commemorate the anniversary, the folks over at Lucasfilm commissioned a book of 40 short stories set during A New Hope written by all kinds of writers, creators, and pop culture icons.
The collection of names involved in the project is impressive enough: Ben Acker and Ben Blacker, Kelly Sue DeConnick, Charles Soule, Kieron Gillen, Wil Wheaton, and Paul Dini are just a few names you might recognize.
The "From A Certain Point of View" part of the title means just that: We see A New Hope happen through the lens of some minor and even unexpected characters from the film. The book starts out with a story told from the perspective of the Rebel soldier that is choked to death by Darth Vader at the beginning. We see stories from a Jawa who has dreams that are bigger than being stuck in the sandcrawler life. We read about a young Tusken Raider who seeks to prove himself in the hunt and ends up encountering Luke Skywalker. We're even subjected to the loneliness of the poor dianoga trapped in the trash compactor in the Death Star.
While some stories are stronger than others, this is a must-own anthology for Star Wars fans. And the next time you watch the movie that started it all, you might be discovering new revelations from a certain point of view.
Molly's Pick
The Great British Bake-off
I think I might be the last person on earth to discover this show, but it is truly a delight. Reality shows can be hit-or-miss for me — I definitely enjoy ones where I can learn about a skill I don't have, but even as a fairly competitive person, I hate watching people fail and panic. There's none of that on GBBO. Not only is it very wholesome and sincere, with all of the contestants supporting (and sometimes actively helping!) each other, it's also super educational! I learn more from any given episode than I have in my entire life of (deeply amateur) baking and cooking. I got so inspired that I started making a roux for my boxed macaroni and cheese!
Anelise's Pick
Friday Night Lights
I just started watching Friday Night Lights, and it's fair to say I've fallen into a binge-fest. I don't like football, but I do love character-driven drama–especially if it's set in the South. There are a ton of interesting characters here, and they do a great job of handling the star quarterback-turned-paralyzed narrative. Basically, while everyone is talking about football this season, I can just pretend that I care too…about the Panthers…the Texas Panthers.
Greg's Pick
DC Universe
I know what you are thinking. Another streaming service? Trust me I was thinking the same thing when the service and the first initial line-ups were announced. Then the service launched last week and offered a free 7- day trial. So of course I had to give it a try. Since it's launch on Saturday, I have enjoyed classic cartoons, movies, and shows. What surprised me the most though has been the ability to actually read comics on the TV. Look it is not something that I am going to be doing on a regular basis but seeing them on a big screen is just plain fun. Add that to the recent news about the premise of the Swamp Thing show and a few other announcements, I plan on keeping the service past the 7-day trial. At least for a few months.