Revolution #2
Writers: John Barber and Cullen Bunn
Artist: Fico Ossio
Colors: Sebastian Cheng
Letters: Tom B Long
Publisher: IDW
Reviewed by David Hildebrand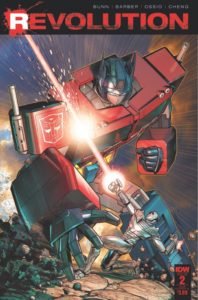 Well it has been a roller coaster with me and the Revolution books.  I liked the first issue of Revolution, you can check out my review of it here Revolution #1.  I liked what the first issue delivered, it contained most of the heroes and toys that I played with growing up.  The one thing that was missing was one of my favorites, M.A.S.K.. I anticipated their arrival in this story…..then it happened, you can read how disappointed I was here M.A.S.K. Revolution. So here I stand at a crossroads as I open up Revolution #2.  I was hoping the story would reel me back in from my sour feelings after the M.A.S.K. one shot.
So here we are and Optimus Prime, as well as the other Transformers believe that ROM is a murderer.  ROM appeared to have killed Joe Colton, so why wouldn't they think that? ROM tries to make an escape but Prime and the other Transformers are hot on his trail.  They catch up to ROM and even though ROM tries to explain that his mission is to destroy the Dire Wraiths that are spread across the world that the Transformers are claiming to protect.  Prime isn't really hearing ROM's reasoning and things heat up between them at the point. Meanwhile, Scarlett goes to Miles Manheim, the director of M.A.S.K. (that still pains me to type) and it just so happens that M.A.S.K. is implementing Cybertronian technology to upgrade their vehicles.  How are they doing this? Well, they are getting all their technology and intel from a captured Transformer, who doesn't appear to be treated appropriately.  I was a bit surprised by this scene.  For a book that has been mostly fun and nostalgic, that was a fairly graphic moment.
The writing in the book stays along the same track as the first issue. I am also pleased to say that I enjoyed the writing for the characters of M.A.S.K. a little more in this issue than the one shot that was a miss on every level.  There was more character development involved with this issue, including a more determined Scarlett, who is close to going over the edge.  I am still enjoying Ossio's art as well.  His style fits perfectly for this assemble of characters.  The action sequences are crisp and combined with Cheng's colors, are appeasing to the eyes.  It is just like watching all the cartoons all over again and how can you go wrong with Prime transformed into the semi smashing head on into ROM? You can't!
Verdict:
Buy It! After this issue, I am no longer looking for a real serious story. Maybe I shouldn't have even had that thought to begin with.  This is all for nostalgic fun and I am all for it.  Even though the one shots have been disappointing to me, this main story bringing all the classic characters together has been solid for the most part.  So if you are a fan of these toys, you should check it out.  Things are rounding out and I'm waiting for more things to explode!