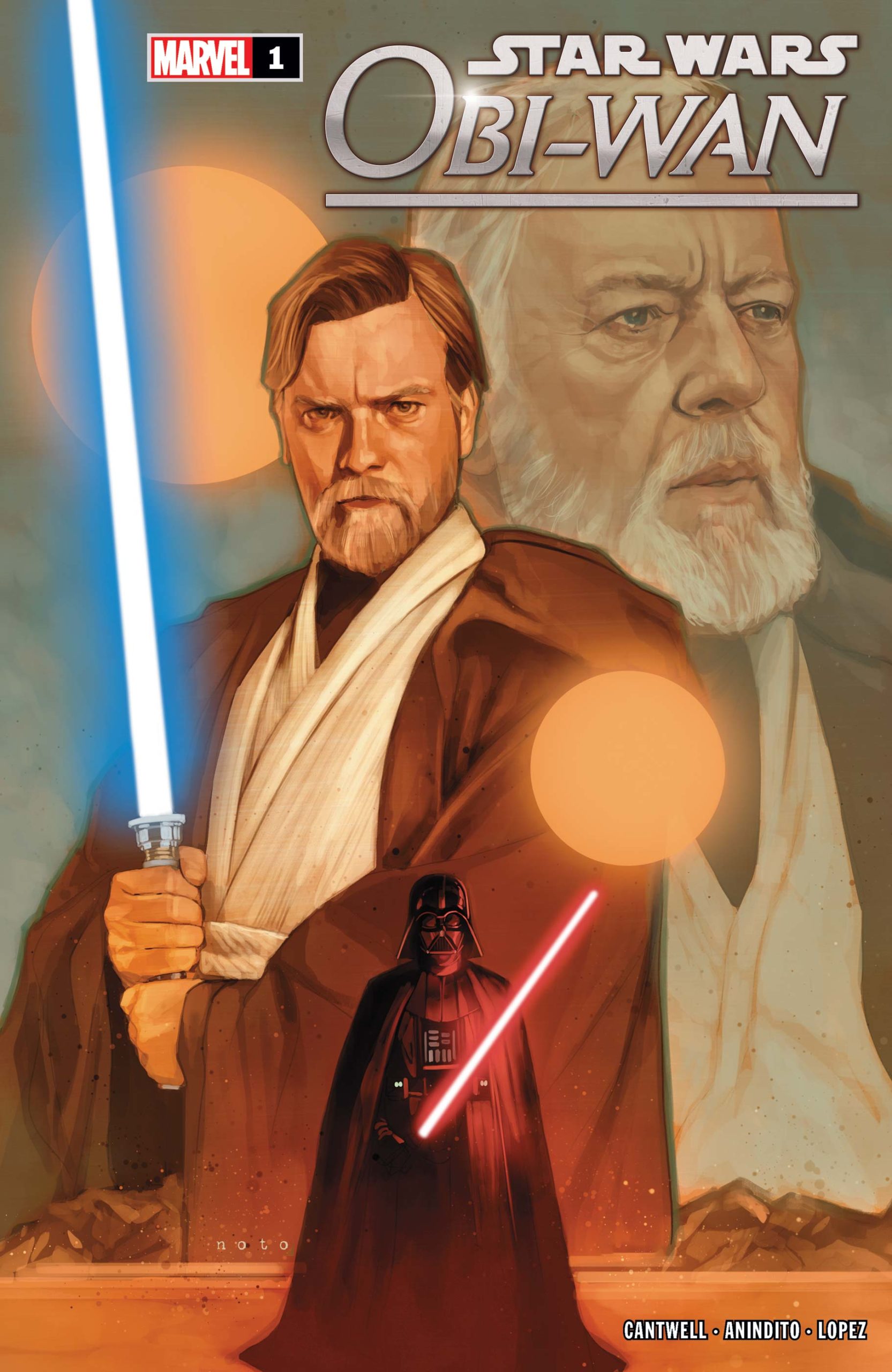 It's Star Wars Day, so naturally Marvel is putting out multiple comics to celebrate. In addition to the latest issue of the main ongoing series, fans are being treated to the debut of Star Wars: Obi-Wan, a five-issue miniseries focusing on the one character whom so many have mistaken for Jesus Christ (sorry, Qui-Gon).
Taking place during Obi-Wan's final days but before his fateful meeting with a young farmboy, the elderly Jedi reflects on key moments of his heroic life, making a few last entries in his journal. He recounts an early adventure during his youth, as he and another Padawan narrowly escape a dangerous encounter with some of Coruscant's seedier denizens.
The issue's strongest aspects can be seen in the very beginning. Ario Anindito's art is wonderful throughout but particularly in the opening pages on Tatooine. Anindito depicts our hero as the spitting image of the late Sir Alec Guinness and not in a way that seems obviously photo-referenced. Carlos Lopez does an incredible job with coloring, finding a nice contrast between the present day dust and grime with the sleek look of the distant past. Christopher Cantwell's narration here is also on-point, and he manages to capture the voice of both Guinness and Ewan McGregor. The notion of looking back at Kenobi as a young lad is interesting as I don't believe we've seen him depicted this young before–he's only eight!
As the story progresses, the dynamic between Obi-Wan and his friend Gehren is delightful but it fizzles out far too soon, leaving one character's fate left up in the air (you can guess who). As such, the main story feels like it's just a one-and-done with no real resolution. It's relatable in a way–the idea of growing apart from a good friend and never knowing what happens to them–but here it just seems like the start of a story that may never continue. Hopefully there is a theme or overarching narrative that will provide greater meaning to this series; otherwise it runs the risk of being another forgettable tie-in simply made to lead into Kenobi's upcoming live-action series.