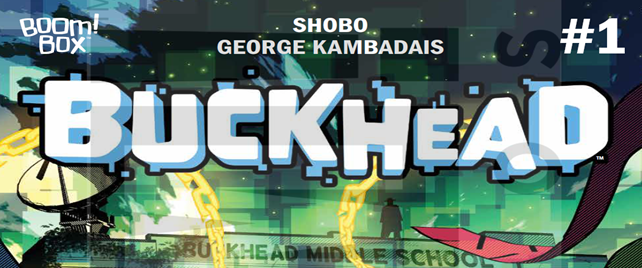 Buckhead #1 introduces readers to Toba, the new kid in town. He and his mom recently relocated to Buckhead, Washington, for her job, and while it's not the big city, Toba's presented with a lot on his first day of school. There's the strange neck tattoos on the locals. The abandoned-looking house that only he can see. A weird timefreeze thing. A hidden room in the school computer lab that just happens to have a computer game called Elsewhere. Oh, and upon turning on the game for one quick session, Toba seems to have found his missing dad. Then, his mom gets kidnapped. And, yes, all of this happens in one day.
First issues are hard. And, in my opinion, the best first issues give just enough information and character development to hook readers, but not so much that readers are left both confused and overwhelmed. Unfortunately, this first issue of Buckhead falls into the latter category. It's too ambitious for its own good–which is frustrating, because I want to love it. I'm a sucker for a cyberpunk narrative–especially one involving disgruntled teens and an intriguing computer game.
On a positive note, the art by George Kambadais is fantastic. It's youthful but detailed, and the bold colors and unique patterns bring life to the story. Also, per usual, Jim Campbell's letters are easily readable. It's a shame that the narrative isn't more thoughtfully arranged. I'll probably check out Issue #2 with the hope that writer Shobo can explain what exactly is going on a bit more clearly, but, for now, it's difficult to recommend.