MURDOCH MYSTERIES
Starring: Yannick Bisson, Hélène Joy, Jonny Harris
Writers: Maureen Jennings, Cal Coons, Alexandra Zarowny
Directors: Harvey Crossland, Laurie Lynd, Cal Coons
Studio: CBC
I love mysteries and procedurals of all kinds. From gritty shows like CSI, subject specializations like Numbers or Lie to Me, even the fantastical like Lucifer or Tru Calling. But cozy mysteries top the list when it comes to relaxing, bingeable television. And I think that's something a lot of us are looking for right now. I've watched Midsommer Mysteries, Father Brown, and Miss Fischer Mysteries. However, I think my favorite is, and will always be, Murdoch Mysteries.
For those of you not lucky enough to have regular access to the wide variety of programming produced by CBC, Murdoch Mysteries is a cozy procedural set in the 1890s (and spanning into the early 20th century) Toronto. The show follows a murder-of-the-week formula, but many seasons have a Big Bad that reappears or creates a loose story arc for the season (think original CSI's Miniature Killer). It also very much exists in its era; the late 19th and early 20th century were rife with challenges and change, and the writers don't back away from issues of injustice, women's rights, and racism. Its titular character, Detective William Murdoch (Yannick Bisson, The Adventures of Napkin Man!, Aurora Teagarden Mysteries), uses groundbreaking science to solve crime in an era when fingerprint technology was still relatively new and not even universally adopted.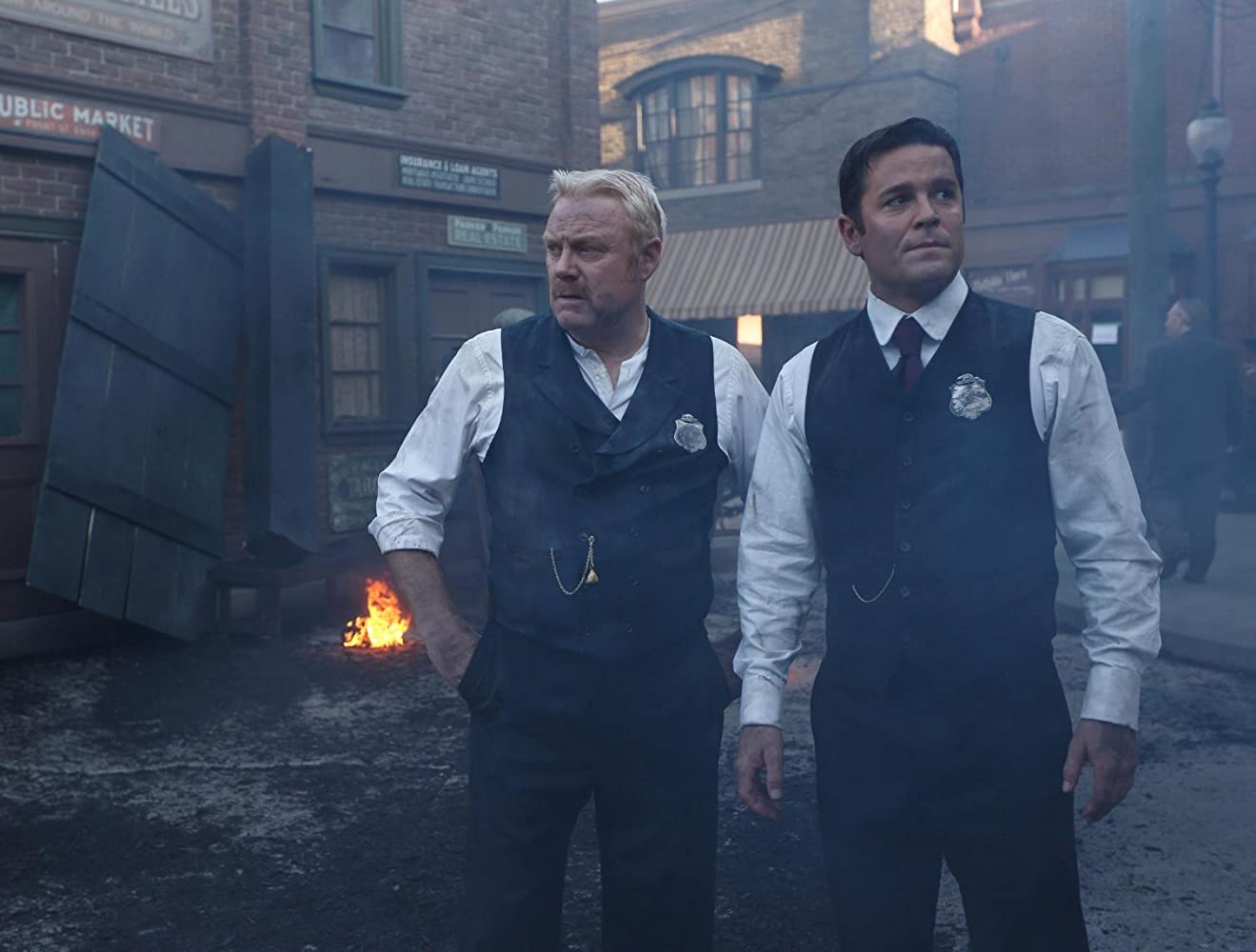 Toronto the Good
Turn of the century Toronto was a fascinating time and place in history. Toronto had yet to become the cosmopolitan city and cultural hub it is now; it was still trying to define itself and its culture. The show deals with these growing pains wonderfully. Murdoch is a Catholic in a province that was staunchly Protestant, leading to issues in his career and the wider politics of the time. We see his superiors pointedly look down on him due to his religion, despite the fact that he is obviously the smartest person in the room.
His partner in science, Dr. Julia Ogden (Hélène Joy, Sadie's Last Days on Earth, Detentionaire), is a woman who works as the city coroner, then a pediatrician, a psychologist, and a surgeon, with all the obstacles and sexism that you would imagine. This includes finding her on the other end of the law when standing up for things like women's rights and family planning, things that were illegal at the time.
The city itself has its character that grows and changes throughout the series's long run. We see the poverty and police brutality in China Town, the activism of socialists and suffragettes, and the dichotomy of the poor working class and the lavish upper class. We also see changing technology, LGBTQ issues, and a wide variety of cultural and political issues that add texture and depth to each episode.
One Show, Many Genres
Now in its 13th season, there are 207 episodes of watching Murdoch use old-timey materials to rig up a lie detector test or invent the fax machine (some of the things they credit Murdoch with inventing are pretty out there, but that's part of the fun!). In all that time, the writers aren't afraid of mixing things up and playing around with the storytelling tropes, which means this is a show that has something for everyone.
Like sci-fi and fantasy? Constable George Crabtree (Jonny Harris, Still Standing, Grown Up Movie Star) brings his active imagination to solving homicides, introducing the possibility that Martians, ghosts, mummies, or zombies may be to blame. And the episodes featuring visionary inventor James Pendrick (Peter Stebbings, Crossbones, The Listener) is always good for some time travel/flying machine/cryogenic freezing adventures.
Into espionage? A mainstay of Canadian programming Peter Keleghan (Working Moms, Sunshine Sketches of a Little Town) returns consistently as Murdoch's frenemy in the Canadian Secret Service, Terrence Meyers. His moral ambiguity and dogged devotion to his secret missions always manage to complicate Murdoch and company's investigations. Bisson and Keleghan have amazing chemistry onscreen and are just a joy to watch.
Heist movies more your thing? Anything involving Sally Pendrick (Kate Greenhouse, Good Witch, He Never Died) will scratch that itch for overly-complicated plots to steal everything from priceless art to the world's greatest scientists so they can be forced to build a doomsday device in an underground bunker/laboratory.
Want to see strong women battle oppression and patriarchy? Besides Dr. Ogden's very existence, there are lots of episodes dealing with women's rights, suffrage, education, and just plain women supporting (or not supporting) each other.
Dig gratuitous cameos by famous historical figures? Get a chance to see Nikola Tesla, Thomas Edison, Teddy Roosevelt, Marie Curie, Sir Arthur Conan Doyle, Mary M. Talbot, and many others populate the world around Stationhouse no. 4.
There's even comedy. The writers are excellent at lightening the somber mood of murder with writing and characters who keep things cozy without being overly silly or disrespectful. It's an excellent balance.
Based on a Book Series
The show is based on the characters created by Maureen Jennings in her Murdoch Mysteries book series, so when you need to rest your eyes from all the TV watching, you can keep living in old Toronto by reading the books. Jennings is also the show supervisor and one of the writers, so you know the atmosphere and characters of the books and TV shows are kept consistent (unlike Bones, for example, which only bares a passing resemblance to the original books).
With 12 of the current 13 seasons available on Netflix and all 13 seasons on CBC Gem and Acorn TV, there's lots of turn-of-the-century murder and science to keep you going.