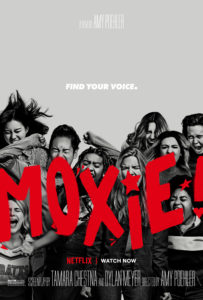 After viewing the initial Netflix trailer for the Amy Poehler directed film Moxie (2021), I was a little hesitant to have high expectations. The trailer seems to advertise a story about white girl feminist action inspired by the only person of color in the movie who stands up for herself. Moxie, based on a book of the same title by Jennifer Mathieu, is about much more than that. However, the trailer is a little misleading.

Vivian Carter (Hadley Robinson) is sick and tired of the status quo! An annual ranking of all the girls in Rockport High is released at the beginning of the school year. Categories like "Most Bangable" and "Best Rack" demean her fellow female classmates and further fuel bad behavior among some of the boys in her grade. However, Vivian and her best friend Claudia (Lauren Tsai) like to stay under the radar.

When new classmate Lucy (Alycia Pascual Peña) shows up, she is immediately targeted for harassment by the popular school quarterback and bully Mitchell (Patrick Schwarzenegger). Unlike Vivian, Lucy stands up for herself and returns the challenge to Mitchell, who deflects by trying to speak over her. Vivian tries to offer some advice to Lucy by telling her that if she keeps her head down, Mitchell will move on to someone else. Lucy is not cool with this advice, however. "I'm going to keep my head up. High!" she replies. When Lucy takes the issue to Principal Shelly (Marcia Gay Harden), she is met with a "boys will be boys" attitude.

Although Lucy's strength awakens something in Vivian, Vivian is unsure how to go about expressing her new found feminist rage. After a brief conversation with her mother Lisa (Amy Poehler), Vivian learns about Lisa's punk-rock past of wanting to smash the patriarchy and the '90s Riot Grrrl movement in which she participated. This inspires Vivian to create a zine that she calls Moxie. The zine is left in the girls washroom and quickly makes waves. However, Vivian doesn't take credit for any of the zine's success. The circulation of Moxie soon fires up a group of girls from diverse social circles wanting to take a stand for change. Soon, the buzz sparked by Moxie leads to a movement that shakes the high school to its core.
I found myself emotionally invested in this group of young women. While some of the women play more of a role than others, they are all believable in their collective struggle against adversity and reasons for being part of Moxie. Lucy was especially refreshing for me. As a fellow Latina, I resonated with her character as a confident, passionate Afro-Latina. She also serves as a leader at the beginning of the film with previous experience in activism and as the inspiration for Vivian's change of heart. I didn't see her or any of the other young women of color as token members in the movement, but so much more.
I appreciated that Vivian's anonymity lets the other girls lead conversations and meetings. Vivian's presence does not seem to drive the events of the story with a singular or personal appeal. As a result, the movement of Moxie becomes organic and inclusive to the diversity of all the girls' needs.
The film's attempt to include a character with physical disabilities may offend some viewers. This character provides comedic relief based on her setbacks, but we never really see any redemption for her. While I understand that the film can't tackle everything, this depiction was a disappointment to me. However, the film tackles other aspects of being a teenager in a more direct approach. Vivian is a child of a single parent household. When Lisa begins to entertain the idea of dating again, it's hard for Vivian to come to terms with it. Meanwhile Vivian's interests are changing and she is making new friends after a strong friendship with her bestie Claudia. This causes some growing pains between the two friends. Vivian also has a romance that forms in the film and we watch as she navigates the challenges that come with it in addition to her other struggles.
Vivian's love interest Seth (Nico Hiraga) provides an endearing example of effective male allyship in the film. Giving off major Jacob Black vibes as a late bloomer (Twilight reference for those not in the know), he supports Vivian. He participates in the Moxie protests and respects Vivian's wish to stay anonymous even if he may not agree with her reasons for doing so. Their first date to the funeral home, while slightly morbid for some, had me swooning. What can I say? I was a weird teenager. I would have given anything to lay in a casket with my crush at 16. Besides who can resist a sensitive, feminist skateboarder?!
Amy Poehler has spoken about wanting the film to be sensitive to the limitations of her own perspective as well as Vivian's. Furthermore, screenwriters Tamara Chestna and Dylan Meyer make mention of Vivian's inability to fully understand certain circumstances that affect the other girls in the Moxie group. One scene that really stood out for me is when Claudia calls Vivian out for not understanding how the repercussions of their revolt affect Claudia differently. Claudia is a child of a Chinese immigrant parent and explains that her mother sacrificed a lot to get into the country and make sure that Claudia is provided the opportunities she didn't have. Claudia explains the pressure that comes with being a first generation child and the lack of freedom she has to take risks that Vivian can take as a white person. As a first generation Salvadoran-Canadian woman in my 30s, this discussion made me feel seen. Growing up, I didn't take certain risks because of the responsibility I had to my immigrant parents. I didn't want to blow the opportunities they provided by sacrificing so much to give me a better life. This conversation is beautifully done between the two friends.
Moxie tries to tackle a lot in the 1 hour and 51 minutes time slot. The root message of this feminist film is about finding your voice while navigating the challenges and frustrations towards gender equality. It's not up to Moxie to completely understand the failures and limitations of '90s feminism like the Riot Grrrl movement and white feminism – even with the movie's display of inclusion and diversity throughout the film. We already know stories like Vivian's all too well. It's up to Netflix and other outlets to create platforms where we can see actresses like Alycia Pascual-Peña in these starring roles where their stories can take front and center because these are the representations we lack. These are the forgotten girls of the feminist movements. 
Overall, Moxie is a cathartic ride full of charm and some laughs. The soundtrack is also really fun! The film includes anthems like "Rebel Girl" by Bikini Kill that is covered in the movie by L.A. pre-teen band The Linda Lindas. The song "Kitana" by Princess Nokia also slaps. The hope for a film like this is that it will spark conversation while continuing to inspire younger generations to stand up to the patriarchy. We cannot afford to do nothing. Moxie gives feminism — old and new — permission to make mistakes, learn from them, and keep marching forward towards equality. SI SE PUEDE!