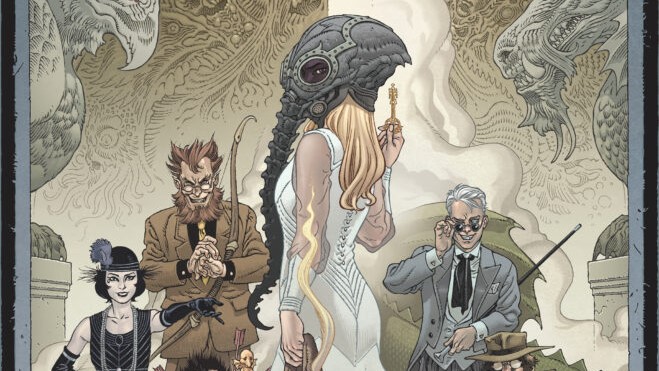 Chamberlain Locke is distressed. His son, Johnathan, has gone on to the afterlife … and not the good place. Chamberlain's daughter Mary sees the pain her father is in and wants to do something about it. Of course, that means making a deal her father refused to make in order to gain access to Hell and rescue her brother. But one does not simply walk into Hell. To get there, she needs to recruit help from a powerful being locked away in a British sorcerer's dungeon: the King of Dreams, Morpheus. Thus, DC Comics and IDW kick off their much-anticipated crossover event Locke & Key/Sandman: Hell and Gone.
To say I was excited for this series is an understatement. Sandman and Locke & Key both occupy the "top comics" space in my heart. The dark, weird, imaginative, bittersweet realms of these two series have captivated me and kept me coming back for many years. But with great love comes great apprehension … will this crossover do the classics any justice? Well, Locke & Key masterminds Joe Hill and Gabriel Rodriguez at the helm (Neil Gaiman is listed as a "research assistant") is a strong indicator to assuage those fears, and I'm happy to announce that this first entry delivers.
Hill and Rodriguez visit our Golden Age Locke family cast, and, if you checked out Issue #0 of Hell and Gone (it was a reprint of both Locke & Key: Open the Moon and part of The Sandman #1), we've skipped ahead 15 years since we last saw the Locke family (10 years if you checked out the …In Pale Battalions Go… storyline). Mary Locke is grown up and taking charge, and so far, her arc gives a literal view of the road to Hell being paved with good intentions. She makes compromises where her father, who is creating the keys, would not, and you get the sense that will have consequences down the road. At the same time, wouldn't you do it anyway?
Hill and Rodriguez seamlessly weave the Locke & Key and Sandman universes together, and many old Sandman favorites (and enemies) make an appearance in this kick-off issue. While Sandman fans might be craning their necks to see other beloved characters show up, their eventual cameos are hinted at. But the story is more than just fan-servicey moments, and I found myself especially drawn to the chemistry between Mary and the sorcerer's young son Alex. While the cliffhanger at the end is easy to see coming for fans of classic Sandman comics, it nevertheless sets up a worthwhile conflict down the road. If I have one gripe about the story, it's that it takes place in the past, meaning that whatever the result is, it won't have the most drastic of consequences for these well-established stories. Such is the burden of wedging a story in the middle of a timeline.
As for the art, Rodriguez's consistent brilliance helps to imbue the world of keys with the world of dreams. The fine details are eye-catching and hardly distracting; the line work is clear; and, the character designs of familiar characters are both recognizable and fresh at the same time. I also enjoy how Morpheus's texture is different from the rest of the book–as if to further emphasize that he does not belong where he currently resides.
Locke & Key/Sandman: Hell and Gone #1 is every bit the amazing crossover event that you'd expect from two of comics' finest universes. Hill and Rodriguez have set up a story that perfectly blends the worlds of many beloved characters. It's the stuff that dreams are made of.
Locke & Key/Sandman: Hell and Gone #1
Perfectly Weaves Two Beloved Series
10.0/10
Sad Morpheus is Sad
10.0/10
The Road to Hell...
10.0/10
Artwork Consistency
10.0/10
Teeth-Rattling Cliffhanger
10.0/10
Credits
Writer: Joe Hill
Artist: Gabriel Rodriguez
Colorist: Jay Fotos
Letterer: Shawn Lee
Research Assistant: Neil Gaiman
Credits (cont)
IDW Editors: Megan Brown, Chris Ryall
DC Editors: Maggie Howell, Chris Conroy
Publisher: IDW and DC Comics