Assassin's Creed III Remastered (2019)
Creative Director: Alex Hutchinson (III), Michael Hammond (Liberation)
Producers: François C. Pelland (III), Ivan Balabanov and Momchil Gindyanov (Liberation)
Developer: Ubisoft
Publisher: Ubisoft
Supported Platforms: Nintendo Switch, Xbox One, Playstation 4, PC
Assassin's Creed has come a long way as a series. I started off on-board with Altair, got even deeper into it with Ezio, then got burned out by Ezio overstaying his welcome and fell off the series. I later got back into it with more inspired titles like Syndicate, and Ubisoft has made a lot of refreshing and welcome changes to the formula with recent titles Origins (2017) and Odyssey (2018).
I've talked with a lot of people over the years about their favorite entries in the series and, interestingly enough, the one that gets the least amount of love is Assassin's Creed III. Trickling down the river of ports, we now have a remastered version for the Switch. Is this an underrated gem worthy of a remaster or a quick cash-in for the portable fiends out there? Ryan did a review of the Xbox One version recently, and he liked it quite a bit.
I first loaded up the game in portable mode. On the Switch's screen, the game makes a decent first impression. Character models look solid (faces could still use some work) and textures look mostly clear. The lighting looks pretty good in many places compared to other third-party titles on the system and only help to accent these other elements. Colonial America looks noticeably pretty on the small screen, no doubt.
It wasn't until I put the switch in docked mode an hour later where the game's graphical flaws quickly become more apparent. On one hand, it's hard to blame the Switch with it's limiting hardware, and I definitely was not expecting it to match the graphical fidelity of the Xbox One. I did, however, expect it to look a lot less muddy and last-gen than it does. It reminds me of a more refined version of what the game looked like upon its initial release. In docked, textures look more flat, artifacts are more noticeable, and shadows are passable. Ubisoft seems to be using the word "Remastered" very loosely in this case.
Getting into audio, there are unfortunately more issues. During cutscenes, primarily during intense voice work, the audio crackles like the audio peaked or the mixers decided to take the day off. Audio (outside of the soundtracks and talent of the VO artist) is one of those things that, when done well, you really don't notice it too much, but when it fails to keep its levels at a reasonable, it breaks the immersion.
As for the gameplay, it remains intact. It's still the classic climb-real-high-stealth-murdering Assassin's Creed gameplay we know. The controls still feel good on the joycons. Animations at times can feel still a little dated, but inputs are responsive and errors never feel like they are caused by wonky controls.
If we talk about Assassin's Creed III in terms of its world and story, I think it's quite underrated. Not many games are bold enough to start you as one character for the first couple hours, and then change it up. Even fewer games put you in the shoes of a character of Native American descent and are respectful of the culture while doing so. Before we got Red Dead Redemption 2 (2018), the world of Assassin's Creed III provided us with snow-covered hunting grounds. Going from Altair to Ezio and then to Connor was a bold move … and an inspired one at the time. The game may not ever live up to some of the newer titles or ever become a fan favorite, but I have to applaud the creators for taking a new route with the Revolutionary War era and its protagonist.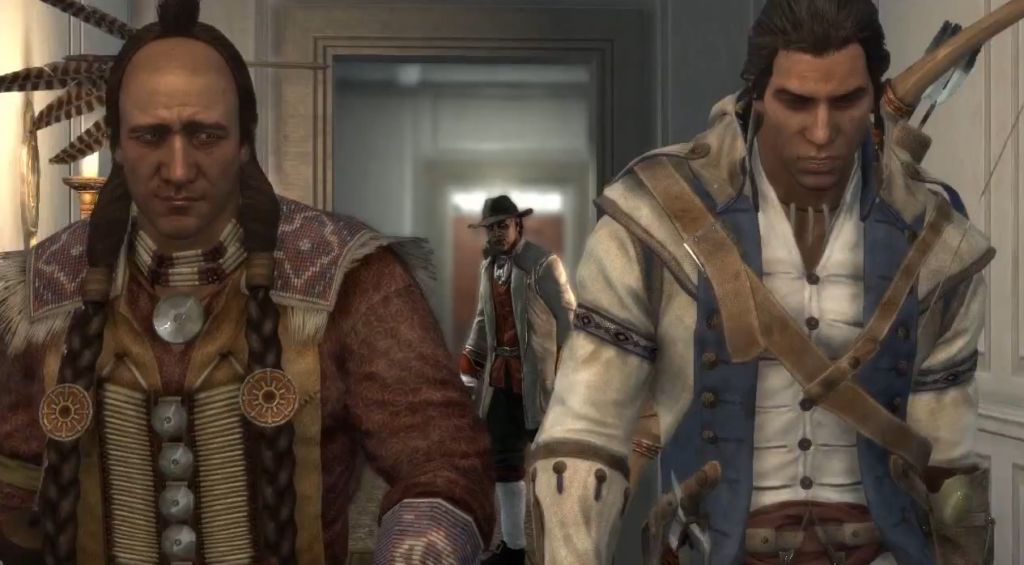 As a bonus of sorts, you also get another game alongside this one. Assassin's Creed: Liberation. It was originally a PlayStation Vita exclusive that runs alongside the same period of time. The game feels much more limiting than AC III in terms of scope and also suffers from some slowdown in terms of framerate at times. Nevertheless, I appreciate more content to justify the price.
If you own a PS4 or Xbox One, it's hard to recommend paying more (damn that Switch tax) for a somewhat lackluster experience here. If portability is the only thing you care about, and jumping into haystacks on the go is your main priority, then AC III on the Switch will suit your needs. Just don't go in expecting a visual stunner.
Rogues Portal was provided a code for Nintendo Switch for this review.