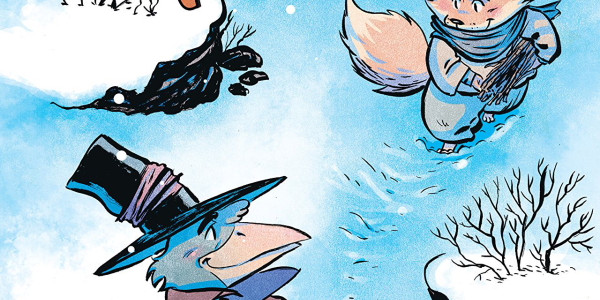 Petals
Writer, Illustrator: Gustavo Borges
Colorist: Cris Peter
Publisher: Kaboom
Review by Hafsa Alk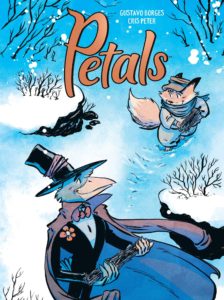 Silent comics, in general, intrigue me. The story is not set in stone. It has parameters indicated by the activities on the page, but the conversations and the interactions can be tailored to the reader's experience. Of course, writers do have an intention behind the actions and narrative. However, the lack of a structured dialogue opens the narrative to the reader's interpretation, leaving their imprint on the story. Petals is a silent comic
Petals is a story about love and friendship. Some people may see romantic love between the characters, but I saw friendship and comradery. The story follows a fox and a stork as they meet each other and grow together. The stork enters the fox's life and changes it, pushing away their concerns and bringing magic into their spirits. The story is not completely lighthearted, but the experience is light and beautiful.
The art in Petals is refreshing. It is not overly realistic, taking away the joy of anthropomorphic characters. The art has a bit of a rough edge, reflecting the depth of the narrative. The pastels give the imagery a light and engaging quality. The art is beautiful for it brings out the story without overwhelming the narrative. It helps guide the experience of the reader into the world of Borges' creation. The art enhances the experience of the story and makes it easy to follow and explore.
Verdict: Buy it.
Beyond my love for silent comics, Petals is an amazing comic that explores the simplicity of love, family, and comradery. The art compliments the narrative style, giving some lightheartedness to a deep story. I really enjoyed experiencing this book and rereading it multiple times. Every time I read it, I could read another angle in the story and experience new feelings and new stories. I never felt limited by the imagery. I felt freed by how Petals manages to turn the visual into something that can inspire a story in me.