Ninja-K #1
Written by Christos Gage
Art by Tomas Girello
Colors by Diego Rodriguez
Letters by A Larger World Studios
Covers by Trevor Hairsine with David Baron, Lucas Troya, Tonci Zonjic, Kenneth Rocafort, David Mack, Mico Suayen with David Baron
Published by Valiant
A review by Stacy Dooks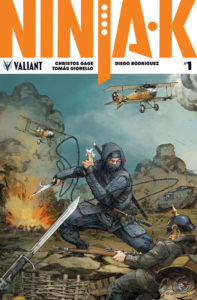 There's just something about a secret history that draws me in. Comics like Planetary, DC Comics Who's Who, The Official Handbook of the Marvel Universe, Atomic Robo… you give me the history of a superhero or secret society filled universe and I'm in like Finn. I'm also a big fan of legacy characters, where the title and duties of the hero are passed down from one generation to another down through the ages. So imagine my surprise when I sat down with Ninja-K #1 and learned both the hidden history and secret legacy of one of my favorite characters to come out of Valiant.
For those who came in late, Colin King is Ninja-K (or, as he's more commonly known in Valiant since the '90s: Ninjak). A deadly mercenary operating within MI-6's top secret ninja programme (and really, what self-respecting government lacks for ninjas, am I right?), he's also one of the most successful operatives in MI-6 history, a man whose actions have changed the course of history. Of course, he's just the latest in a long line of ninja operatives, and the shadows of the past are coming back to haunt Ninjak in the present.
Ninjak has always answered the question of "What would make James Bond even cooler?" by supplying a definitive "If he was a ninja." The previous volumes of Ninjak have been consistently entertaining, but ever since the one-off joke in the debut story line of his new title the fact that he's also Ninja-K has teased at a greater history. Was there a Ninja A-J? With Ninja-K #1 Christos Gage and Tomas Giorello are digging into the past of MI6's Ninja Programme, and doing so in a fairly clever manner by drawing Colin into an investigation into the murder of previous operatives. Gage has a solid grasp of the flippant but conflicted character of Colin King, and also manages the enviable task of making every breadcrumb we get regarding Ninjak's predecessors as potential gold mines of adventure stories. Meeting Ninja operatives A-D (as well as learning how exactly Great Britain ended up with ninjas in the first place) made for fascinating reading. I've been a fan of Tomas Girello's artwork since his run on CONAN with Tim Truman, and seeing him go from sword and sorcery to super-spies is jaw-dropping. Each page has something intriguing to offer, and the color work by Diego Rodriguez compliments the mood and action of each set piece perfectly.
Verdict:
Buy It! If you like super-spy action, ninjas, martial arts action, ninjas, an intriguingly crafted mystery, and also ninjas you should definitely pick up Ninja-K #1. Knowledge of previous storylines is not required, and it's got enough of a mix of action and intrigue to keep you entertained throughout. I got what I wanted but was definitely left wanting more. Recommended.