THE NUTCRACKER AND THE FOUR REALMS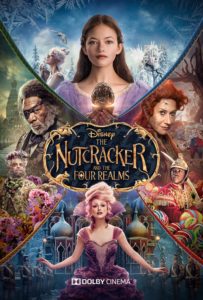 Directed by: Lasse Hallström, Joe Johnston
Written by: Ashleigh Powell
Starring: Mackenzie Foy, Keira Knightly, Helen Mirren, Morgan Freeman, Jayden Fowora-Knight, Misty Copeland, Richard E. Grant, Eugenio Derbez
Review by Mia Santos
Now that Halloween is behind us, 'tis the season for festive films coming to theatres! As always Disney starts it off with their latest The Nutcracker and the Four Realms. Based on the traditional story we know and love this film provides us with a sequel of sorts as we follow Clara Stahlbaum as she sets off into a big adventure to find herself in the Four Realms.
This film picks over the original The Nutcracker and the Mouse King story written by E.T.A. Hoffmann in 1816 and the famous ballet The Nutcracker adapted by Alexandre Dumas in 1892 and creates a completely new adaption with a lot less Nutcracker. From my understanding, this story is possibly based years later from the original story. Marie has passed away. Her children Louise, Clara, and Fritz and her widowed husband now remain trying to make the best of the Christmas season without her.
It's Christmas Eve, and each family member is mourning differently. Fritz seems too young to grasp what's taken place really. Louise, the oldest is trying to stay strong and help her father who is insisting they carry on like normal and keep up with appearances. Clara, played by Mackenzie Foy, however, is the middle child and struggling. She is clever like her mother was and it's assumed this made her relationship with her unique.
The film starts with Clara building a mouse trap with Fritz using the laws of physics. She's known in the family for being able to tinker with things and figure them out. Without her mother, she feels lost and out of place. The relationship in general between the children and the father seems cold and distant. I understand that is the tone we're supposed to gather in the beginning due to what has happened in the family. However I found throughout the film it doesn't get warmer.
Right before their party, they are all given gifts from their late mother. Clara is given a mechanical egg of some sort but not the key to open it. She is upset by this and storms to her room. There she finds a note written by her mother that simply states "Everything you need is inside." This upsets Clara more until she finds the letter "D" on the egg which means Drosselmeyer (played by Morgan Freeman) made it and can possibly help her open it. It so happens it's his party they're attending, and he is Clara's Godfather, a clockmaker and inventor.
Morgan Freeman as Drosselmeyer seems a bit out of place only because everyone in the film has English accents and Clara's mother Marie was originally his ward. However, throughout the film, I appreciated the amount of diversity found in the overall cast.  During the party he has the children all follow strings that lead them to their individual gifts. Clara follows her golden thread to the coveted key she is seeking. It promptly disappears and leads her into a strange and parallel world called Christmas Tree Forest. It is here she meets the Nutcracker Philip (played by English actor Jayden Fowora- Knight) who accompanies Clara in her search for the key as she discovers the Four Realms.
Each realm has a name and ambassador. The Land of the Snowflakes has Shiver (Richard E. Grant) as representation. The Land of the Flowers has Hawthorne, played by Mexican actor Eugenio Derbez.  I was pleasantly surprised to see him in this role since he has generated some fame for himself in Latinx television and has been making his crossover to Hollywood for some time.
The third realm is the Land of the Sweets with Sugarplum played by Kiera Knightly. Sugarplum is quite a different role than we're used to seeing Knightly embody.  She resembles Elfie from The Hunger Games. She also has a sweeter, higher, baby voice than we're used to hearing. Knightly steals the show in scenes and makes this role completely her own. It's very cool to see her encompass a character that might feel out of her comfort zone compared to previous roles.  The Fourth Realm, formally known as the Land of Amusement is currently banished, as well as it's ambassador Mother Ginger played by the ever so talented Helen Mirren. Mirren continues her streak of strong, sassy characters. Mother Ginger is tough of nails and is the villain of the story… or is she?
If you have a massive phobia to rodents like myself, I heavily suggest you skip this one completely. There are a lot of "mouse king" scenes where the mice literally tower on one another to create a giant mouse monster that is terrifying if you're musophobic like myself. It really made certain fight scenes hard to watch especially when Clara was in the Fourth Realm.
I felt the show stopper of the film and also the biggest nod to the incredibly famous ballet itself is the ballet scene. The ballet scene tells the story of how Clara's mother Marie discovered the four realms. The dance scenes are performed by American ballerina Misty Copeland, and are stunning! It left me wanting more even though they did accompany the majority of the film with the original music by Tchaikovsky.
I thought Mackenzie Foy did a lovely job as Clara. She's a beautiful, young actress and physically perfect for this role. It is nice to see her in a starring role since her small ones as Renesmee in Twilight or as one of the children in The Conjuring. Clara is independent, brave and precocious and this is very much a coming of age adventure. I do feel Kiera Knightly steals the spotlight at times though. She was more a starring role herself than a supporting role.
Verdict:
Skip it! Overall I felt the film is mildly entertaining. I can see many families flocking to this one in the coming days, but I see it having a quick in and out of theatres.  Even with the all-star cast, it doesn't salvage the cliche'd, syrupy storyline. I felt that Disney stripped away all the darkness from the original E.T.A. Hoffmann tale, and I understand why but it's part of the beauty of the original Nutcracker story.
As stunning as this film may look and it's production design is quite lovely as well as the costumes deserve a nod or two I wouldn't go out of my way to see this one. Unless I had a child who was dying to see it or I was a diehard Nutcracker fan, who by the way has an unfortunate smaller supporting role considering his name is in the title I say wait until next year when it's on Netflix or rental in time for those holidays.