Marvel News Round-up
As the Secret Empire event comes to an end, Marvel continues to make announcements to prepare fans for the new status quo under the Legacy Banner.
Marvel Announces Exclusive Agreement With Writer Ed Brisson
In their first announcement for the week, Marvel said they came to an exclusive agreement with writer Ed Brisson. In addition to the exclusivity agreement it was also announced that as part of the Legacy line, Brisson would be continuing to write Old Man Logan, and begin a run on the X-men series Cable.
https://twitter.com/edbrisson/status/899744442197827585
---
MARVEL LEGACY Unveils New Series
Marvel also announced the following books for its upcoming Legacy launch:
Captain America #695: Home of the Brave Part 1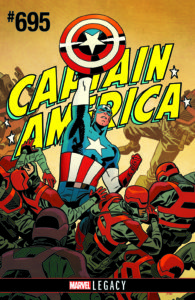 Written by: Mark Waid
Art by: Chris Samnee
Home of the Brave Part 1
Home of the Brave begins – and Steve Rogers is back in action in the red-white-and-blue! Steve begins a journey across America to restore his tarnished reputation – and the dangers he encounters along the way are unlike any he's faced before!
---
Nit Brand Echh #14: Forbush Man Returns
Written by Nick Spencer, Christopher Hastings, Jay Fosgitt, and more
Art by Jay Fosgitt, Gurihiru, and more
Get ready to break the internet, folks, because FORBUSH MAN IS BACK – and he's ready to take over the comics industry! Meanwhile, Captain America, Gwenpool, and more are…not quite themselves these days. Featuring stories by Nick Spencer (Secret Empire, Captain America) Christopher Hastings (Gwenpool, Vote Loki) Jay Fosgitt (My Little Pony, Bodie Troll) and many, many more!
---
THANOS #13: THANOS WINS PART 1
Written by Donny Cates
Art by Geoff Shaw
Thanos Wins Part 1
Ask the most powerful beings in the Marvel Universe how they fear the universe will end, and in their most honest moment, they will answer with two words… THANOS WINS. Now… see what happens when he does.
---
Amazing Spider-Man: Renew Your Vows #13: Eight Years Later Part 1
Written by Jody Houser
Art by Nick Roche
Eight Years Later Part 1
Jump eight years into the future with the web-slinging and wall-crawling Spider-Man family! Peter Parker and Mary Jane's super-powered daughter, Annie, is now in high school. But when this teen isn't in class, she's swinging through the streets with her parents. After all, keeping New York safe from super villains is a family affair! But what new threat has emerged to menace the wall-crawlers?
---
Marvel and comiXology Present Thor VS Hulk
Written by Jeremy Whitley, of the recently ended Unstoppable Wasp, Marvel and comiXology announced their next exclusive digital comic–Thor Vs Hulk: Champions Of The Universe. In the book the two friends will be forced to battle each other to see who earns the right to fight and defend the Universe.
Whitley said of the series, "Every issue is a new world, a new task, and new trials for the God of Thunder and the Great Green Goliath. Readers will get to see some of their favorite elements of the Marvel Universe and a handful of new ones. We wanted to make a mini-series jam-packed with so much action that readers would come back to it again and again. It's a love letter to two of the strongest Avengers and the wonderful universe they live in. A universe where anything can happen."
---
With so much Marvel news, what are you most looking forward to? Let us know in the comments!