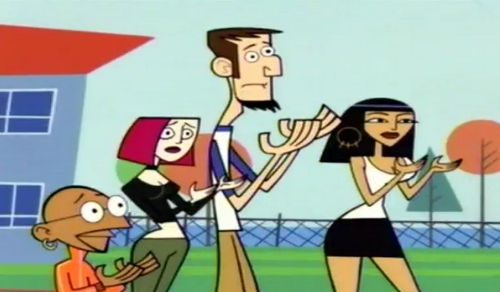 Way, way back in 2002, an animated series aired that was unique even during the late '90s-early 2000s heyday of adult animation. Clone High, a show about a high school full of cloned historical figures, focused on best friends Abe Lincoln (Will Forte, Alien News Desk, Last Man on Earth), Joan of Arc (Nicole Sullivan, DC Super Hero Girls, $#*! My Dad Says), and Gandhi (Michael McDonald, The Loud House, The Happytime Murders) as they navigate the challenges of teenage drama, but, you know, as major players in world history existing in the 21st century.
The show skillfully lambasted tropes of high school dramas popular at the time while also being incredibly clever with its writing and animation. The suits at MTV even suggested they tone down some of the historical references because they thought their audience wasn't smart enough to understand them. Even though Clone High came with a distinct art style (which was a ripped off by Total Drama), smart and quotable writing ("Be careful with that nail gun, Jesus") and Rolodex of notable celebrity cameos, it was canceled after only one season (13 episodes).

The reasons for the show's cancellation were two-pronged. One issue was the protests in India over the depiction of Gandhi on the show. His wild party attitude was meant to reflect stories of Gandhi's fun-loving behavior during law school, but this is understandably a complicated take to pull off respectfully, especially by a bunch of white guys. They aren't as well-versed in the life of the real person as they were for Abraham Lincoln or JFK. But even without this controversy, MTV was actively shifting focus away from their animation department at the time. Clone High likely would have received the same fate as Undergrads, another contemporary animated show under Viacom's umbrella. However, it was canceled after one season as the animation department was shut down entirely. The practical effect of the protest was that Clone High was taken off the air in the US after only eight episodes, with the remaining episodes continuing to air in Canada.
Also like Undergrads, Clone High became a staple of the TeleToon After Dark programming slot, rerun in a continuous cycle for the joy of 20-something Canadians hanging out at 1 in the morning (myself included). It's this cult following and continued appreciation by fans that lead to the Undergrads Movie currently in production. Now, the announcement that creators Phil Lord (Spider-Man: Into the Spiderverse), Christopher Miller (The LEGO Movie), and Bill Lawrence (Cougar Town) plan to re-animate (pun intended) the canceled series. Details of exactly how this will play out are still scarce. Will it be a movie, a second season, a reboot? Other than the show's three creators, will the original cast make their return? Will Gandhi be written out of the show, or will they find some other way to skirt the controversy? Only time will tell, and fans are eagerly awaiting fresh content from a favorite show.