LOVE, SIMON
Directed by: Greg Berlanti
Written by: Elizabeth Berger & Isaac Aptaker (screenplay)
Starring: Nick Robinson, Josh Duhamel, Jennifer Garner, Katherine Langford, Alexandra Shipp & Keiynan Lonsdale
Based on the book: Simon vs. the Homo Sapiens Agenda by Becky Albertalli
Review by Caitlynn Fairbarns
Following in the footsteps of Pretty In Pink, Say Anything and Sixteen Candles, Love, Simon (based on the novel Simon vs. the Homo Sapiens Agenda by Becky Albertalli) is a romantic comedy that tells the story of love, sexuality, and friendship in high school. What makes this movie a step forward from the rom coms of the 1980s? Its protagonist is a closeted gay teenager. With a genre flush of heterosexual narratives, Love, Simon tenderly represents a group of folks who have been left out of this genre for so long.
The film stars Nick Robinson as Simon Sphier, a teenager who is trying to balance falling in love, finishing high school and finding the right time to come out to his friends and family. The plot is driven by Simon's anonymous email relationship (that reminds me of The Cinderella Story) with a guy who posted on the Gossip Girl-like blog about hiding queerness in high school. Over the time that Simon is trying to figure out who his anonymous emailing beau is, he learns more about his identity as a young gay man. Love, Simon shows us young romance in a relatable (you can watch it with your straight friends) way, all the while being a step forward for a large studio produced the film.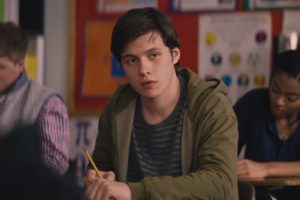 I grew up idolizing some problematic romances from the rom-com's that I watched like 10 Things I Hate About You and Chasing Amy. As a baby queer, I was continuously bombarded with images of straight people falling in love. If I had this movie when I was growing up, it definitely would have made me feel like my identity was valid, that it was normal. Even though this movie comes from the point of privilege that many folks don't have, seeing queerness in a genre full of straightness means a lot. I may not have had a huge nice house or been given a car for my 16th Birthday. But, I was a queer teen like Simon and if he made it through high school, then maybe I could too.
Although I think that this film will mean a lot to folks, I would argue that if you think that this film is groundbreaking, your idea of radicalism needs to step up its game. It's a step forward to see young gay stories, but the rich white male privilege is the same that we've seen in high school based romance movies for so long. Yes, we need gay perspectives, but we need more than this movie. This is just a toe dip in the water of a pool of stories waiting to be told.
Even though I wish it would have gone further into this topic than it did, Love, Simon brings together ideas of consent and outing. In the movie, we see the pressure that 'coming out' has on Simon and his email beau. It's a lot to put on someone, to come out perfectly, for everyone to hear you and respect you.
In a world of shitty tabloids that try to out folks and W magazine interviews that uncomfortably try to get actors to come out, it's incredibly important to come out on your own terms. After someone finds out about Simon's sexuality and then outs him without his consent, the movie shows the harm that this can have on someone. While Love, Simon focuses on how Simon experienced the outing, I wish that more characters, like Simon's friends, Leah (Katherine Langford) or Abby (Alexandra Shipp) also spoke out about what happened to him.
The friends, family, and teachers that surround Simon play an integral part in the movie. We spend a lot of time on them, almost as much as we do on the protagonist. He has his squad: Leah, Abby, and Nick (Jorge Lendeborg Jr), and loving parents (Jennifer Garner and Josh Duhamel). We get to know Simon's community and spend a lot of time with their feelings. In a way, I wish that we spent more time on Simon's feelings, especially towards the climax. I understand the attempt to make the others full-fledged characters.
Without going too in depth in spoiler territory, the character Martin (Logan Miller) has a lot of screentime. I am not really okay with it. I need to address that he freaks me out. Martin crosses a lot of boundaries and shows stalker-like qualities towards a love interest. He does not really get rewarded for it, but still isn't deemed to be a true villain that he is. The movie gives his character an opportunity to redeem himself even though he does some pretty awful things. In the most recent episode of Pop Culture Detective, the host analyses the idea 'Stalking For Love,' and we need to get this trope thrown into the trash for good.
I am also ready to throw the mainstream rom-com trope of 'gay best friend' into the trash. It is definitely time to move past gay characters only playing the sidekick to the female heroine (example Easy A and Mean Girls). For all the notes I have for Love, Simon it is heartwarming progress from the 'GBF.'
Verdict: Watch It! It's a family-friendly story that you can definitely take your kids to. You may leave with happy tears. Love, Simon is going to make it easy for some folks to have conversations about being LGBTQ and the idea of 'coming out.' However, we still have a lot more work to do. We have a lot more stories to tell.