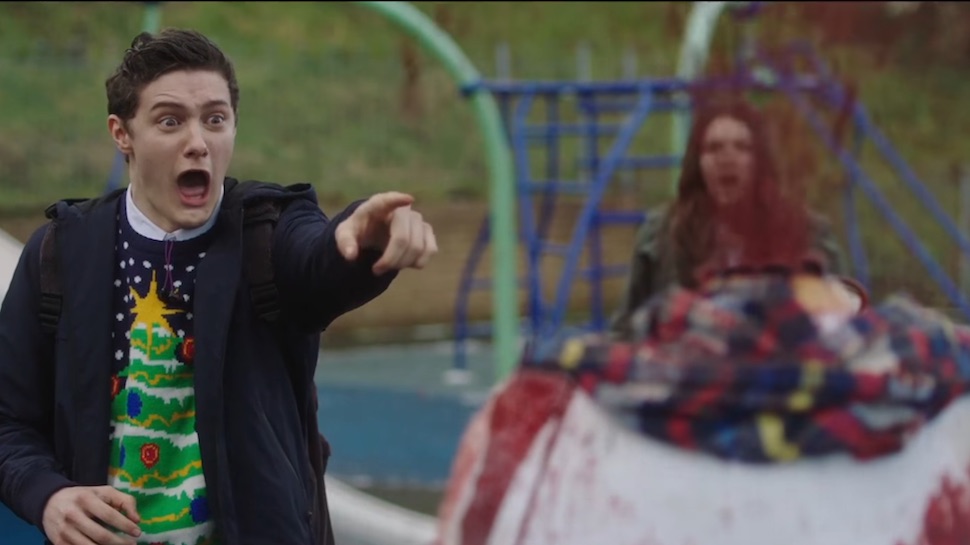 ANNA AND THE APOCALYPSE
Directed by: John McPhail
Written by: Alan McDonald, Ryan McHenry
Starring: Ella Hunt, Malcolm Cumming, Sarah Swire
Review by Mia Santos
I first heard about Anna and the Apocalypse during the Toronto After Dark Film Festival back in mid-October. It was being advertised as Shaun of the Dead meets La La Land and even though I wouldn't call myself a fan of musicals I was intrigued. My relationship with musicals has been a rocky one. Growing up, I was part of all the music programs my schools had to offer and even sang competitively. Obviously, the odd musical number was thrown in during my time performing, but between all the Rent and Joseph and the Technical Dream Coat covers, I tended to lean more towards the darker musicals like Evil Dead the Musical and Sweeney Todd. Musicals with ends that weren't such a fairytale and songs that would make you cry instead of make you want to sing in the rain.
Eventually, I outgrew musicals all together and thought them too corny for me to stomach as regularly as I did as a teenager. I tend to avoid them unless it's Jesus Christ Superstar on Easter Sunday which is a family tradition in my home. Anna and the Apocalypse take Christmas movies to another level. It adds zombies and shakes it all up with dance numbers and some decent songs in the mix but still fails to meet expectations.
The film opens with our main characters Anna and John getting a ride to school by Anna's father Tony while the radio news warns of a lethal pathogen that is invading Britain. Anna quickly changes the station to Christmas music. Due to an excited slip up by John, it is revealed that Anna, a senior in high school will not be attending university next year but taking a gap year to travel to Australia. Her father Tony is against the idea which ensues an argument between the two causing them to part ways angrily. Tony uses his recently deceased wife and Anna's mother as bait for how much he disapproves of her choice and causes Anna much distress. Anna and John go to their classes and Tony, who we learn is a custodian at the school heads to start work.
Once inside the school we are introduced to American student Steph who works on the school newspaper, runs the school charity and is stuck in Scotland for the holidays while her parents are in Mexico. Vice Principal Savage is the villain of this story. He runs a tight ship and rejects Steph's latest article for the paper and confiscates her car keys in the process stating she's parked in the faculty parking lot. This is when the song "Break Away" begins and it's the audience's first glimpse of the musical portion in the film.
The song introduces all the characters beautifully and ties them all together for us. Sarah Swire who plays Steph and Ella Hunt who plays Anna harmonize wonderfully and have powerful parts in the song demonstrating their musical chops and the trials and tribulations these angsty teens are facing. Nothing, of course, compared to the zombie apocalypse they're about to face, but we'll get to that eventually.
In true teenager trope we learn John, the dorky sidekick is in love with Anna, but Anna loves bad boy Nick. Some asshole kid we meet who seems to have a history with Anna we can't quite put a finger on just yet. There is a fun musical number in the cafeteria with the song "Hollywood Ending" lead by John. It foreshadows this film won't end like other teenage rom-com, Christmas themed flicks might. There are some fun dance numbers in this scene that give off a High School Musical vibe and a chorus that is actually very catchy. "Wo-oah, wo-oah, no such thing as a Hollywood ending…" the song goes.
We're also introduced to Chris and Lisa, friends to Anna and John and the boyfriend and girlfriend couple in the group. Chris likes to take video on his phone and aspires to be a filmmaker while Lisa has a big performance at the Christmas concert going on later that evening. I found Lisa's school performance a bit of a show stealer overall as it was the funniest scene in the entire film. Similar to Mean Girl's famous Jingle Bell Rock dance routine and something Michael Bublé would maybe croon, Lisa sings a song titled "It's That Time of Year." It's packed full of sexual innuendos and shirtless high school boys in Santa hats dancing behind her. It's the scene that got the most laughs during my viewing with lyrics like "There is a lack of presents in my stocking. And my chimney needs a good unblocking…" You get the idea!
Finally, we are offered a glimpse of the zombies that are slowly taking over and infecting the town population who are all at the concert. Except for Anna and John who didn't attend because they had shifts at the local bowling alley where they work. Instead, they both wake up the next morning to eventually discover the terror that has beset them. This is where the film turns a dark corner and eventually, our characters reunite to try to save Anna's father and get out of town. It's actually from this moment I felt the film falls flat for me.
I hoped the zombie angle would be an appealing hook, but they literally shuffle by, attack now and then. We're left with all the teenage drama between the love triangle Anna has with John and Nick, her determination to save her father who's relationship isn't fully fleshed out enough for me to buy and bad musical numbers because songs like "Human Voice" and "Soldier At War" just don't live up to the songs before them. By the end of it, the film just feels obvious and the ties the audience are suppose to have with the remaining characters—spoiler?— just isn't there.
I will say I was touched to hear this film started out as a 2010 youtube video titled Zombie Musical made by Ryan McHenry. He was also a favourite contributor to the Vine glory days. Remember Vine? McHenry was the genius who did the Vine series titled "Ryan Gosling won't eat his cereal" which racked up over two million views in its day. Ryan McHenry planned to direct this feature, but at age 27 he lost his battle to cancer in 2015. There is a scene where Chris and John are talking about the celebrities that have been bitten or probably have survived, and Ryan Gosling comes up. John exclaims "Alive or dead, Gosling is still cool." A sweet tribute to McHenry's claim to fame.
Verdict:
Skip it. UNLESS you're a massive musical buff, I don't see this film really bringing out the masses. I wanted to love it! I came in with high hopes! It's comparison to Shaun of the Dead which is a masterpiece in its own right in the zombie genre and La La Land an Oscar-winning film is deceiving. Anna and the Apocalypse has a lot to live up to against those two but falls quite short of it all.