The Harry Potter film franchise is well known for gorgeous costume design, especially when it comes to wizarding formal wear. Even the stars themselves are known to have an eye for fashion. From Emma Watson's dress at the Harry Potter and the Deathly Hallows Part 2 premiere to Ezra Miller slaying in that Hedwig inspired wardrobe for Fantastic Beasts: The Crimes of Grindlewald, wizarding fashion is always on point. It's no surprise that the fandom has some equally magically options.
So if you're looking for a holiday gift for the Potterhead in your life (or a new addition to your wizarding wardrobe), Rogue's Portal has you covered!
---
Danielle Nicole Harry Potter Book of Monsters Purse
Starting our foray into Harry Potter fashion is a look even a groundskeeper would love. Hagrid's favorite textbook is immortalized in this wonderfully fuzzy handbag from Danielle Nicole and Harry Potter. The Book of Monsters Crossbody bag is made of faux fur and has some fantastic details right down to the eyes on the front. The gold chain and accents bring a splash of sparkle to the final product, making this perfect for casual wear and more formal outings.
You can order it from BoxLunch.
Marauders Map Yoke Midi Skirt
Solemnly swear you're up to no good with this Marauder's Map shirt from Black Milk Clothing. The print is gorgeous, and the skirt flows beautifully with the stretchy, swishy fabric. The best part? IT HAS POCKETS! (I know; I'm excited too!) The skirt is available in XXS-XL.
Shop the Hogwart's Life Collection on the Black Milk website for this and more inspired pieces!
Invisibility Cloak Swan Kimono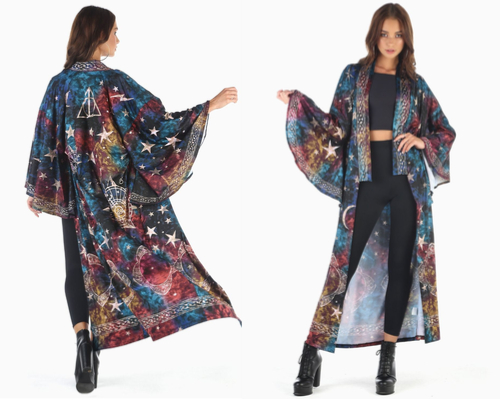 The second piece from the Black Milk Harry Potter collection is just as gorgeous as the first. Inspired by Harry Potter's invisibility cloak, this swan kimono is printed on shimmery galaxy fabric and features the Deathly Hallow insignia as well as star charts and beautiful gold trim.
You can shop for it and the rest of the collection at Black Milk.
Harry Potter Embroidered Capelet Coat

This black wool capelet is cozy and features just the right level of geek for a night out. Harry Potter fashion has never looked so sleek! The embroidery on the removable capelet proudly proclaims your intentions, too. The inner lining is the iconic map print from the books. The gold buttons add a nice, classy touch and the back embroidery will make a statement even after you walk away.
You can find this gorgeous jacket exclusively at Torrid Online!
It's Our Choices Two Tone Charm Bangle
You can carry Dumbledore's wisdom with you when wearing this charm bracelet from Alex and Ani. The quote on the silver finish charm is a small reminder of the book that started it all – Harry Potter and the Chamber of Secrets. The expandable bangle makes sure it will fit any wrist and a great gift for any Harry Potter fan!
You can order it online at Alex and Ani Jewelry.
Hedwig Owl Flirt Dress
Let's face it – everyone loves Hegwig. What better way to share your love of Harry's closest companion than this gorgeous scoop neck dress? This dress is printed from the work of artist Kay Pop, who uses original Harry Potter book pages as canvas and then paints fandom-inspired designs on them. This design features Hedwig flying over Hogsmeade, and letter clutched in her talons. The dress is available from size S-2XL.
You can order this Hot Dame's shop on Etsy!
Harry Potter Silk Ties
It's rare to see Hogwarts House attire that isn't bright, primary colors. These silk ties feature house themed filigree from the Harry Potter Hogwarts houses. The designs really stand out for their subtlety and the muted colors. It's perfect for a classy evening when you want just a little way to share your house pride.
You can find your house (and all the others) at BoxLunch – Slytherin, Hufflepuff, Gryffindor, and Ravenclaw.
Danielle Nicole Harry Potter Horcrux Collection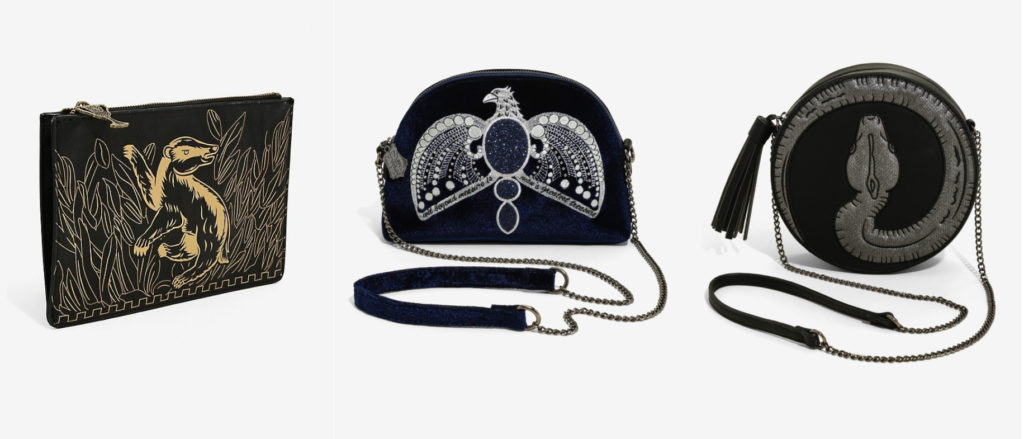 As if one gorgeous purse wasn't enough, Danielle Nicole also put out an entire collection of bags themed around Voldemort's Horcruxes. Every single one of them is absolutely gorgeous, too! Some, like the Marvolo Gaunt Ring Handbag, is a little more subtle than the others. The Helga Hufflepuff Cup Clutch is perfect for all the fancy badgers out there (That gold design! And the zipper pull!) while the Ravena Ravenclaw Diadem crossbody is absolutely gorgeous and so sparkly, too! My personal favorite is the Nagini Round Crossbody bag; the design is sleek and understated while still being very on theme.
You can shop the entire collection at BoxLunch's website.
Greeting Death Shaw Cardigan
Elhoffer Design is known for their subtle, chic fandom-inspired clothing. This small indie clothing company also focuses on ethically produced materials and construction. Harry Potter is just one of many they've tackled over the years, but the designs don't get any less appealing. This unisex cardigan depicts the iconic story of the Deathly Hallows without being too overt about the reference. The slouchy style makes for a comfortable, cozy fit while the pockets add a more practical addition to the look.
You can find it at the Elhoffer Design website, where it comes in sizes XXS-3XL.
Honeyduke's Romper
This Honeyduke's romper is one of the cutest pieces of Harry Potter fashion apparel out there! The bright colors and vertical stripes are perfect for springtime. The all-over print features classic Harry Potter confections – Chocolate Frogs, Sugar Quills, Iced Mice, Jelly Slugs, Cauldron Cakes, and more! The elastic drawstring waist makes a flattering cut on every shape and, always my favorite part, it comes with pockets! The entire design is deliciously playful!
The Honeydukes Romper is available online at Hot Topic, and it comes in plus sizes!
---
That's it for this time! What's your favorite gift ideas for Harry Potter fans? Let us know in the comments!