Category: Comics
Location: Portland, Oregon
Goal Date: Thursday, June 27, 2019
Currently Funded: $26,744 of $20,000 USD goal (FUNDED)
Campaign Type: All or Nothing
In my opinion, there aren't nearly enough ass-kicking female leads in comics. Trekker certainly has scratched that itch with its stories of space bounty hunter Mercy St. Clair. Written and drawn by Ron Randall, it's a series that just keeps on giving with every new book. With her pet fox Scuf at her side and the wonderful and evolving relationship with companion Molly, Mercy's stories are always exciting and emotionally touching to read. The character of Mercy St. Clair is so well developed and never just a pretty face. Needless to say, Trekker does classic sci-fi stories well but doesn't carry the burden of outdated science fiction tropes.
Though Trekker: Battlefields is technically book number five in the series, any new reader can jump straight into the adventure. There is a little something for everyone between the riveting pages from the action, romance, adventure, and the drama.
From the Kickstarter:
"In TREKKER: BATTLEFIELDS, Mercy reluctantly leaves the arms of her beloved Molly to sign up for her most explosive, high-stakes journey yet as she travels into the farthest, darkest reaches of the galaxy. There she is thrust into ground zero of a raging war zone. Will she survive to continue her quest for answers in her past that will determine not only her own future, but the course of her entire world? In TREKKER: BATTLEFIELDS the stakes, and the body count, rise higher than ever."

Recommendation:
Our recommendation is the $25 USD 'Tour of Duty' backer level. This includes a physical copy of Trekker: Battlefields, a digital PDF of the book, and a signed Kickstarter exclusive Battlefield Mercy print. Backers have already unlocked additional stretch goal exclusives such as the digital Trekker wallpapers, behind the scenes digital content that will be added to the book, and a cover sport varnish!
If you want to complete your collection, there is a $50 Add-On reward that compiles ALL the Trekker comics ever published to date in a digital PDF package. This can be added on to ANY reward level.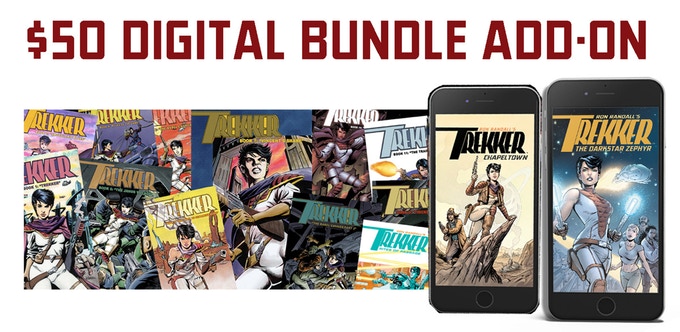 Creative Team:
The main pages of Trekker are written by Ron Randall of Helioscope studios in Portland, Oregon. Having worked with major publishing giants such as Marvel Comics, DC Comics, and IDW in the past, Trekker is Randall's own personal pet project.
Other members of the creative team include editor Alissa Salah (Sleepless), cover coloring by Jeremy Colwell (Batman/Ninja Turtles), and interior coloring assistance by Caitlin Like (Maiden in the Machine).
Stretch Goals:
Though already funded here are a couple of Stretch Goals for the Trekker campaign:
$28,500 – Inside back and front cover art to the physical rewards!
$30,500 – Battlefields Recruitment Poster for all physical rewards!
Help give the campaign a boost to meet these stretch rewards as well as check out sample pages at the Trekker: Battlefields Graphic Novel Kickstarter Page.