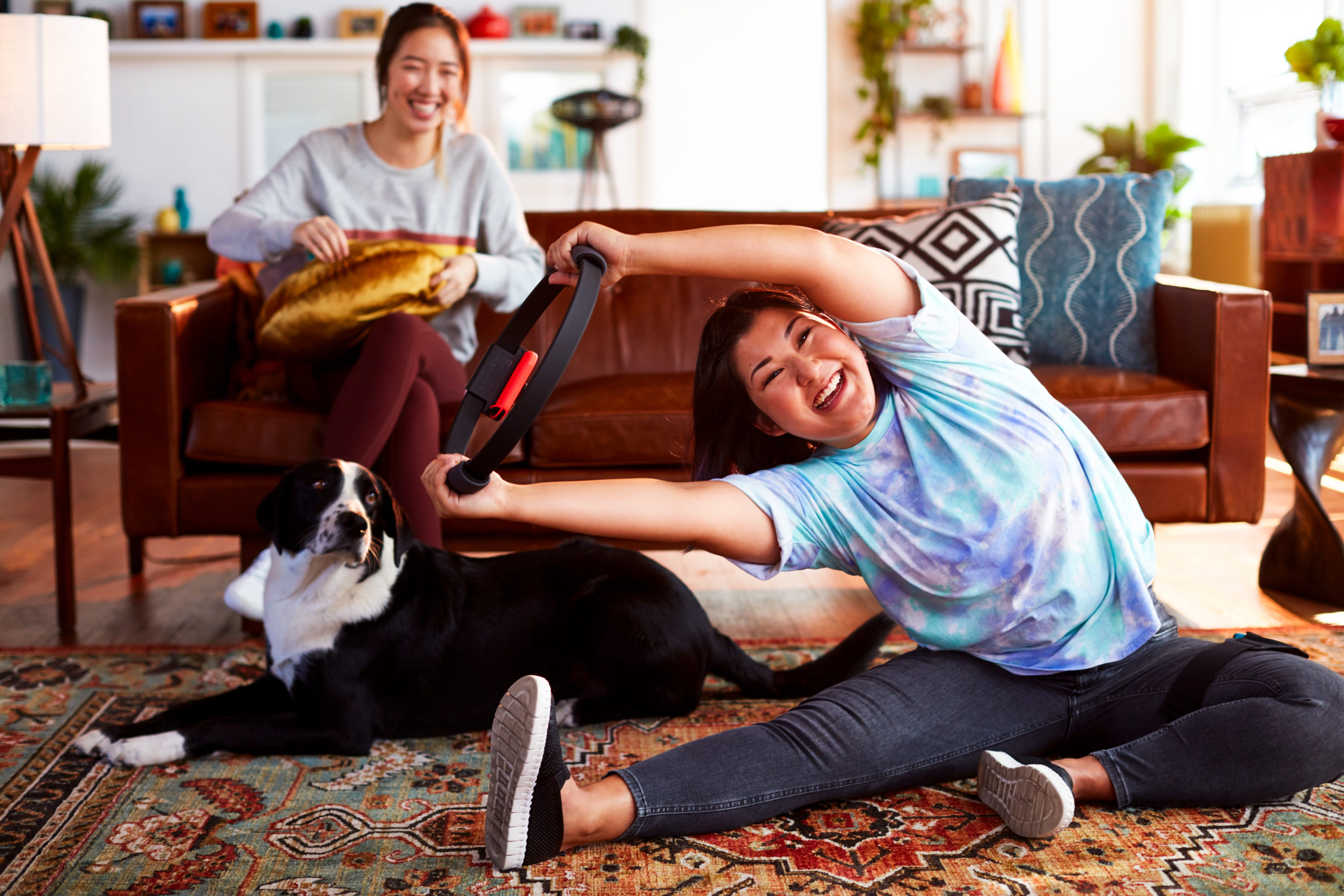 The Nintendo Switch has proven itself to be quite the diverse and accessible console for many play-styles. While the Xbox and Playstation consoles start to step away from more interactive gaming, the Nintendo Switch has embraced it. This is most notable with their latest increase of fitness games. Thanks to the clever features of the Joy-Cons and the popular Ring Fit, more and more game publishers are utilizing the flexibility of Joy-Cons in their games.
At the start of the pandemic when everyone was trapped indoors, the Ring Fit Adventure soared in popularity. It quickly went out of stock and took months to become available again. Since then, more physically interactive games have been released. So, if you're looking to be more proactive indoors while this pandemic drags on or need to get a kickstart on working out, these Nintendo Switch games can help. Check out these product descriptions from Nintendo!
Ring Fit Adventure
Explore a fantasy adventure world to defeat a bodybuilding dragon and his minions using real-life exercises! Traverse grass-swept plains by jogging in place, attack enemies with overhead shoulder presses, and refill your health meter by striking some yoga poses. Two new accessories, the Ring-Con and Leg Strap, measure your real-world actions and help turn them into in-game movements. With additional minigames and customizable workout routines, Ring Fit Adventure is great escape for players of all skill levels and schedules.
Fitness Boxing 1 and 2
Get off the couch and get moving with fun, boxing-based rhythmic exercises set to the instrumental beats of songs by popular artists. You can personalize your workouts by selecting from different fitness goals. Train your way, whether you're on your own, with a friend, at home, or on the go! Now you can work out anytime, anywhere on the Nintendo Switch system!

ARMS
Choose a fighting champion from around the world, equip your own combination of extendable arms, and then use a mix of button presses and quick hand motions to really take the fight to your opponent. Throw punches and guide them mid-flight to hit agile fighters, avoid incoming attacks with dashes, or trampoline high into the air to rain down fists from above. Power-up your punches to deal extra damage or curve your fists around obstacles to hit skittish opponents. Fill up your special gauge to dish out devastating combinations and finish them off. Unleash your inner fighter in this unbelievable sporting event!

Just Dance 2020 and 2021
Just Dance 2021 is the ultimate dance game, with 40 hot new tracks from chart-topping hits like "Don't Start Now" by Dua Lipa, "Feel Special" by TWICE, and "Señorita" by Shawn Mendes & Camila Cabello. Start a dance party your friends and family. While the majority of the songs require a subscription to Just Dance Unlimited, the playability makes it worth it.

Jump Rope Challenge
Jump rope virtually and watch the on-screen counter increase with each successful hop! A friend can join in on the fun with another Joy-Con controller as you strive for a high score. This game is entirely FREE on the Nintendo Store.

Mario Tennis Aces
Unleash an arsenal of shots and strategies in all-out tennis battles with friends, family, and fan-favorite Mushroom Kingdom characters. Whether you play locally, online, or using simple motion controls, intense rallies await! In Adventure mode, experience a new favor of tennis gameplay, with a variety of missions, boss battles and more.
Yoga Master
Yoga Master is the first wellness game of its kind built entirely in 3D and designed by experts to help you reach the perfect balance between mind and body. With a wide range of programs, lessons, and more than 150 poses from classic to urban yoga, you'll be mentored by a coach who will accurately show you exercises step by step, performing them with you.

Zumba Burn It Up!
Get your fix of the Zumba program anytime, anywhere with high-energy routines and hip-shaking jams including chart-topping hits and Zumba originals. Use the Joy-Con controllers to track your movements and get rewarded for dancing with energy and flair.
---
With a list of games like these, being active has never been so fun. The combination of fitness and gaming is truly a market worth being tapped, and there is no doubt Nintendo intends to promote and push fitness games forward. While these games are not a full substitute for a workout, they can promote and encourage physical activity. And after being on a couch for the past year in quarantine, we certainly need it.