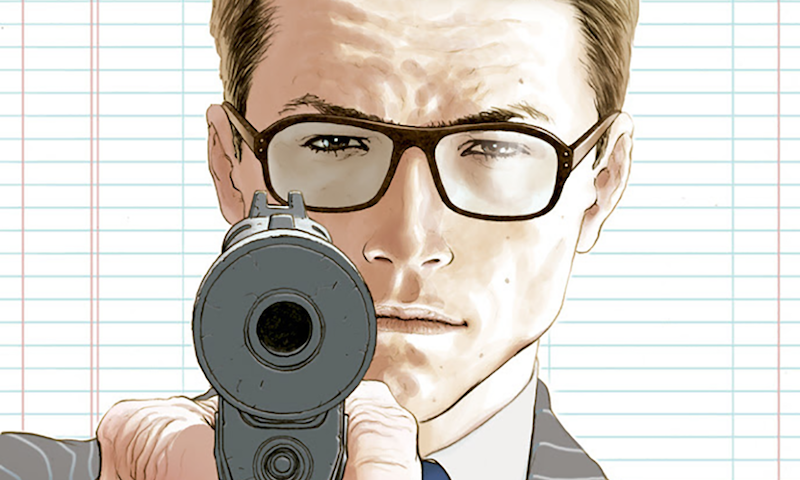 Kingsmen: The Red Diamond #1 Review
Writer: Rob Williams
Artist: Simon Fraser
Colourist: Gary Caldwell
Letterer: Peter Doherty
Publisher: Image
A review by Josh Rose
Eggsy and the Kingsmen are back in Kingsmen: The Red Diamond #1, the sequel to Kingsmen: The Secret Service by Mark Millar and Dave Gibbons. It starts out with Eggsy taking out a famous Hollywood movie star on a date but he is interrupted in the middle of it to save Prince Phillip from a group of terrorists. He succeeds in saving Phillip, but his conduct in the matter ends up with him going on a leave of absence. He goes back to visit his family in the old neighbourhood and that experience is not a positive one. Then Rob Williams introduces the antagonist for the series: The Red Diamond.
Williams is setting up a great spy story. Eggsy is a good Kingsmen agent but he's still a little rough around the edges. Williams really makes you sympathize with Eggsy as he's forced into sabbatical, and rejected by his high school crush. Williams is definitely going to be dealing a lot with the class disparity that Eggsy will be experiencing. Not only from people looking down on him in high society, but people from his old neighbourhood looking at him with disdain for acting like he's better than them.
Simon Fraser really channeled in some classic James Bond elements in Kingsmen: The Red Diamond #1. A bit of that Ernst Blofeld mystery when he was drawing the Red Diamond. He teased what he looks like but never gave a real clear shot. Imagination is a much more powerful tool and Williams definitely used some elements from the Dr. No film for the Red Diamond's secret lair.
I think that Gary Caldwell's colours in Kingsmen: The Red Diamond #1 are really good, particularly during the chase where Eggsy is trying to save Prince Phillip. He uses a lot of purples and pinks for the evening sky, and when Eggsy uses one of his gadgets, the colours lighten up the whole panel, highlighting the action.
The Verdict
Buy it! Kingsmen: The Red Diamond #1 is a great kickoff to a new series. It has some incredible action, a lot of heartfelt moments, and a mysterious, evil plot by the villain. It's a perfect jumping on point for new and old readers alike. If you liked the Kingsmen film, or any spy flick, you'll enjoy Kingsmen: The Red Diamond #1.